Box Jump CrossFit workouts are a great way to train cardio, speed and power output. In addition, they will strengthen your lower body and core, help you improve your balance and encourage better posture and mechanics.
The concept is simple: box jumps require you to jump from the ground and land on the elevated surface with both feet at the same time.
Box jumps are a great exercise to train your:
Glutes
Quads
Claves
Hamstrings
Core
Generally speaking, if doing a workout with many box jumps, you'll be better off using lower boxes, as a shorter jumping distance will allow you to perform the movement efficiently and reach the intended stimulus of the box jump.
Read More: How to Perfect Your Technique for Box Jumps
Box jumps aren't about testing how fast you can bend your legs after you jump, but about lifting your centre of mass. Which means the higher your hips travel the better the training effect of the box jumps. Sound mechanics are better achieved with boxes that aren't a real challenge to jump up to for each particular athlete.
Build explosive strength, vertical jumping power, speed strength and increase your cardiovascular conditioning with these box jump CrossFit WODs.
Box Jump CrossFit Workouts – WOD 1
AMRAP in 10 Minutes:
100 meter Row
10 Box Jumps (24/20 in)
200 meter Row
20 Box Jumps (24/20 in)
300 meter Row
30 Box Jumps (24/20 in)
etc.
Add 100-meter row and 10 box jumps after each round.
Jump up the box and extend your knees and hips at the top. If you can't jump the prescribed height safely, scale down to a height you can do.
This is the thirtieth workout in the Training Think Tank Throwdown Series.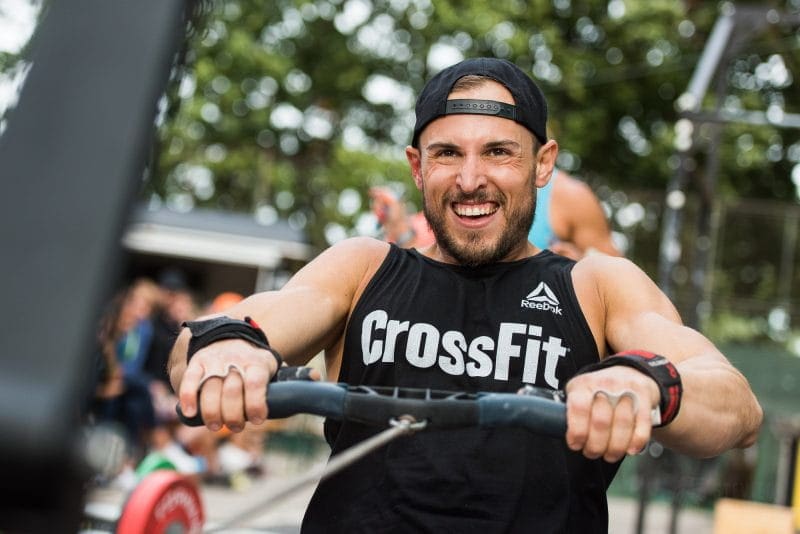 Betty Box Jump Benchmark WOD
5 Rounds for Time:
12 Push Presses (135/95 lb)
20 Box Jumps (24/20 in)
The Push Press develops shoulder strength and muscular development. Unlike many other overhead upper body exercises, the Push Press also utilises the legs. Therefore, heavier weights can be lifted in comparison to other overhead shoulder exercises that disregard the involvement of the lower body.
Push Press: How to Develop Explosive Strength and Power