6. CrossFit Pegboard Workouts – Redemption CrossFit Games 2016
For Time
3 Pegboard Ascents
21 Thrusters (135/85 lb)
2 Pegboard Ascents
15 Thrusters (135/85 lb)
1 Pegboard Ascent
9 Thrusters (135/85 lb)
Time Cap: 10 minutes
Redemption was the last of 15 workouts of the 2016 CrossFit Games. The name "Redemption" was a reference to a CrossFit Games workout from the previous year, "Pedal to the Metal 1," in which many athletes struggled on the peg board ascents.
7. Pegboard Heavy DT
5 rounds For Time of:
12 Deadlift 185/165lb
9 Hang Power Cleans 185/135lb
6 Shoulder to Overhead 185/135lb
3 Unbroken Pegboards (Touch-n-Go, no coming off)
Shared by Jacob Heppner, workout idea by Josh Bridges
8. Froning, Bridges & Hunsucker Do Pegboards
For time:
15 Peg Boards
150′ Handstand Walk
15 Rope Climbs (15′)
150′ Handstand Walk
15 Peg Boards
This pegboard workout has an incredibly high volume of ascents. Coupled with the rope climbs and handstand walks, your shoulders and arms are sure to burn.
Scale down by reducing the number of reps and try to keep breaks short.
9. Split Triplet CrossFit Games 2019
5 rounds for time of:
1 Pegboard Ascent
100 Double-Unders
10 Single-Arm Dumbbell Hang Split Snatches
10 Single-Arm Dumbbell Hang Clean and Split Jerks
♀ 55-lb. dumbbell / ♂ 80-lb. dumbbell
Athletes must alternate arms on each rep of the hang snatch.
Time cap: 20 minutes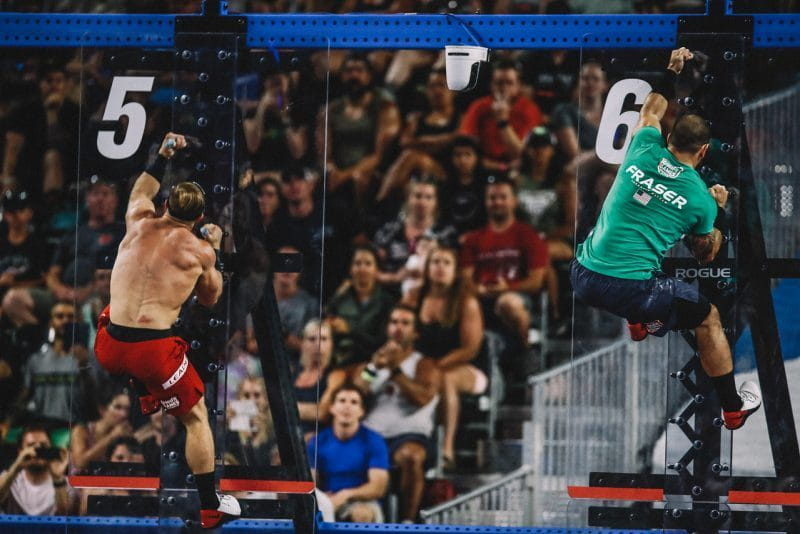 Crazy Pegboard Workout by Jacob Heppner
For time 6 Rounds of:
1 Pegboard Ascent
8 Devils Press 50/30
"I didn't realise how difficult that was" – Jacob Heppner
Read more: Welcome to Hell – Devil Press Back Workouts for CrossFit Athletes