3. DIRTY THIRTY
For Time
30 Box Jumps (24/20 in)
30 Jumping Pull-Ups
30 Kettlebell Swings (35/26 lb)
30 Lunges
30 Knees-to-Elbows
30 Push Presses (45/35 lb)
30 Back Extensions
30 Wall Ball Shots (20/14 lb)
30 Burpees
30 Double-Unders
Time Cap: 30 minutes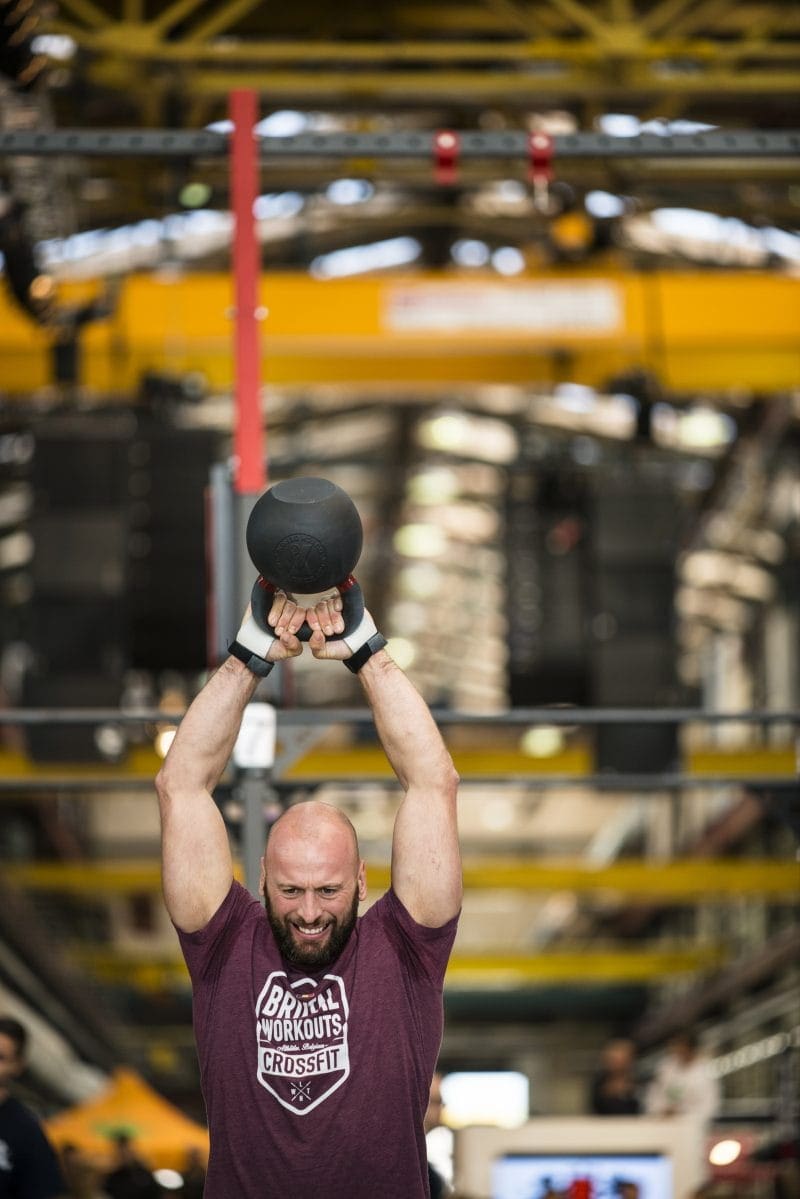 With a running clock, as fast as possible perform all of the movements in the order written.
Score is the time it takes to complete all 300 repetitions.
Movement Standards
Jumping Pull-Up: For Jumping Pull-Ups, the bar should be set up so it's at least 6 inches above the top of the athlete's head when the athlete is standing tall. At the bottom, the arms must be fully extended. Overhand, underhand or mixed grip are all permitted. At the top, the chin must break the horizontal plane of the bar.
Tips and Strategy
With the variety of movements and the relatively low volume in "Dirty Thirty," plan to go as unbroken as possible throughout the WOD. Knees-to-Elbows, for intermediate athletes, require slightly smaller sets (of 5's to 10's) compared to the other movements. The others should be done in large sets or unbroken. Rest only as you transition from one movement to the next.
Write this WOD up on the whiteboard in big, clear writing–the last thing you want to do is waste time figuring out what movement comes next.
Intended Stimulus
"Dirty Thirty" should feel light and fast. You should be breathless throughout the WOD–this is mostly a test of cardiovascular endurance. There should be very little rest. Scale the load and/or skill level as needed so you can move quickly and smoothly through this WOD. Enjoy the runner's high you get after completing "Dirty Thirty."
Scaling Options
"Dirty Thirty" is the scaled version of the CrossFit Benchmark WOD "Filthy Fifty". This WOD is manageable for all different levels of athletes. If needed, scale the skill level (see: Box Jump Scaling | Knees-to-Elbows Scaling | Double-Under Scaling) and/or the load to complete this WOD in 20 minutes or less—and mostly unbroken.
Beginner
30 Box Jumps (12 in)
30 Jumping Pull-Ups
30 Kettlebell Swings (26/15 lb)
30 Lunges
30 Hanging Knee Raises
30 Push Presses (35/15 lb)
30 Back Extensions
30 Wall Ball Shots (14/10 lb)
30 Burpees
30 Single-Unders
WOD courtesy of CrossFit Inc.