8. CrossFit Chipper WODs – JACKIE
For Time
1,000 metre Row
50 Thrusters (45/35 lb bar)
30 Pull-Ups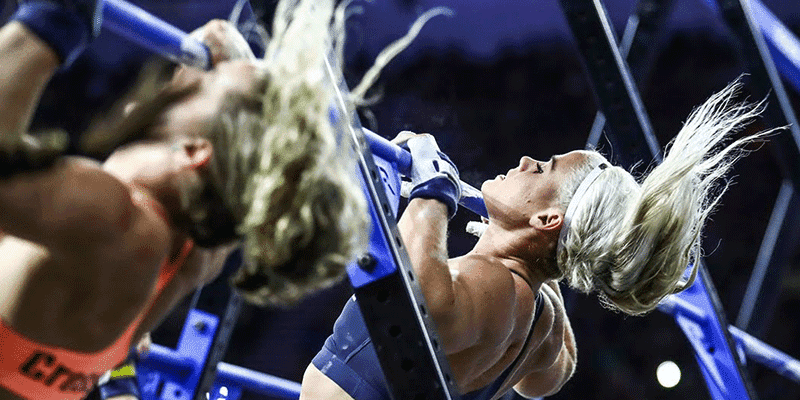 Complete the work in the order written: 1,000 Metre Row, then 50 Thrusters, then 30 Pull-Ups.
Score is the time it takes to complete all the work.
Good Times for "Jackie" (source)
– Beginner: 10-12 minutes
– Intermediate: 7-10 minutes
– Advanced: 6-7 minutes
– Elite: <6 minutes
Tips and Strategy
To achieve a "Jackie" time of 10 minutes or less, the Row must be at 85%-90% of your fastest 1K Row pace and the Thrusters and Pull-Up reps need to be either unbroken or completed in a few big sets. If you can't go unbroken yet, try one of these rep schemes:
Thrusters: 25/15/10 or 13/13/12/12
Pull-Ups: 15/10/5 or 8/8/7/7
If you don't know your 1K Row pace, you'll want to figure that out before trying this workout. Beginners may aim to complete the row in 4:00-4:30; intermediate athletes may aim for something closer to 3:15-3:30.
Intended Stimulus
The intensity of "Jackie" is high. The combination of a fast 1K Row, and unbroken or large sets of Thrusters and Pull-Ups should prove to be a major cardiovascular challenge. The load should feel light on the Thrusters. The volume of Pull-Ups should be low enough to where you can get most (if not all) of the reps done in one set. The only time you should truly rest during "Jackie" is when you're done with the workout.
Scaling Options
"Jackie" is meant to feel light and should be done fast. The intensity should be high. Scale the load and/or the skill level (see: Pull-Up Scaling) so you can finish this WOD in around 10 minutes or less.
Intermediate Option
For time:
1,000 metre Row
50 Thrusters (35/22 lb)
30 Pull-Ups
Beginner Option
For time:
800 metre Row
35 Thrusters (22/12 lb)
20 Ring Rows
WOD courtesy of CrossFit.