CrossFit Handstand Push Ups Shoulder Workouts are a great way to build strength, muscle, coordination and gymnastic skills.
Handstand push ups are a complex but fun movement which requires a fair amount of self-confidence to perform.
As a compound movement (a handstand and a push-up), they are one of the best exercises to develop shoulder strength and a stable core. The skills learnt during the handstand push-ups are easily transferable to many other CrossFit movements.
Handstand push-ups are great for:
Building incredible shoulder and upper body strength
Strengthening your core and glutes
Improving your balance
Increasing your confidence
Being comfortable in an inverted position is key to be able to string handstand-push ups together, this includes kicking in confidently and maintaining a stable position upside down.
To make sure you're reaching as far as possible and performing the movement correctly, remember the basics of CrossFit: range of motion, active shoulders and midline stability. When inverted, you'll lose height unless you fully lock out your elbows and if your shoulder blades are depressed.
Significantly arched backs, which represent a lack of midline stability, will also be detrimental to your development and get you to lose more height. Wide hand positions are used to make the movement easier because the range of motion is shorter.
So, ensure you're performing handstand push-ups properly and this will translate into shoulder strength, a stable midline and a solid upper body.
Get to work with these handstand push-up shoulder workouts.
1.CrossFit Handstand Push Ups Shoulder Workouts – Rosa Benchmark WOD
5 Rounds for Time:
10 Handstand Push-Ups
400m Run
This chipper will test your stamina and strength under fatigue. Make sure you pace your first couple of rounds so the time it takes you to complete all five rounds of the workout is similar.
2. Max Reps Push and Pull
For Max Reps in 10 Minutes:
5 minutes Strict Pull-Ups
5 minutes Strict Handstand Push-Ups
This working will make your arms burn. Try it on a day where you might want to give your legs a rest.
This is a great workout to test and increase your shoulder strength and upper body power. Pull ups develop your lats, biceps, traps and delts, while handstand push-ups target your delts, your pectoral muscles, your main back muscles and hold your whole body in a stable position.
CrossFit Handstand Push Ups Shoulder Workouts 3 by Max El-Hag
AMRAP in 15 Minutes:
3 Bar Muscle-Ups
6 Handstand Push-Ups
12 Alternating Pistols
Perform as many reps as possible of the prescribed movements in the written order in 15 minutes.
4.CrossFit Handstand Push Ups Shoulder Workouts – Everest by Ben Bergeron
21-15-9 Reps for Time:
Back Squats (315/225lb)
Strict Handstand Push-Ups
This is a brutal complex involving heavy back squats and strict handstand push ups, following the classic 21-15-9 CrossFit rep scheme.
The strict handstand push-ups will help you develop shoulder strength and build skills transferrable to many other CrossFit movements. Maintain tightness in your body and keep your shoulders active throughout.
–
5. CrossFit Handstand Push Ups Shoulder Workouts – Accumulate 100 Handstand Push-Ups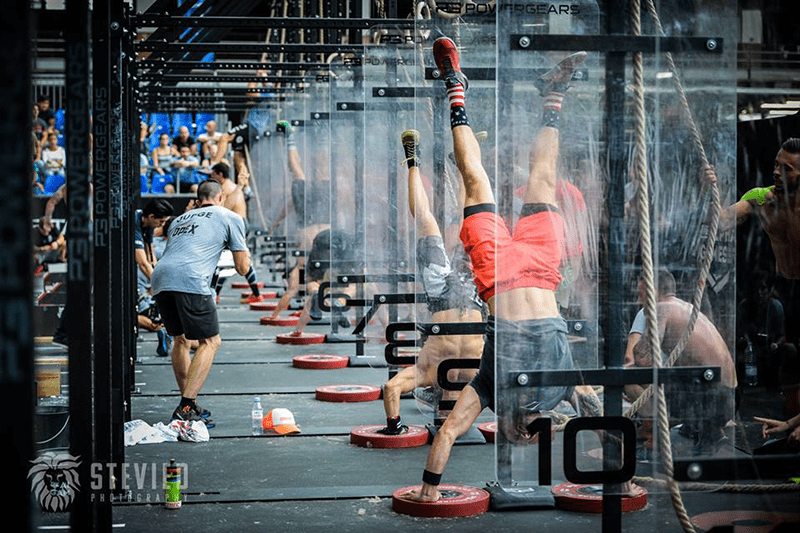 EMOM as Fast as Possible
Even minutes: Max Strict Handstand Push-Ups
Odd minutes: 50 Double-Unders
Continue until you complete 100 strict handstand push-ups.
Score is the time on the clock when the 100th Strict Handstand Push-Up is completed.
If you're unable to complete 50 double unders in less than a minute scale down the number and ensure you get a little rest at the end of every odd minute before starting with the handstand push-ups again.
For scaling of the handstand push-ups consider deficit pike push-ups, pike push-ups, deficit pish-ups or regular push-ups.
6.CrossFit Handstand Push Ups Shoulder Workouts – Josh Bridges Hotel Workout 2
For Time 10-9-8-7-6-5-4-3-2-1 Reps of:
Handstand Push-Ups
Push-Ups
Burpees
Josh Bridges posted this video to his YouTube channel to help out his viewers working out with limited equipment during the COVID-19 pandemic. This is number two of his top five hotel workouts.
This workout is a "huge upper body pump" as described by Bridges. It's a great shoulder workout which will definitely test you but might be fun.
–
7. CrossFit Handstand Push Ups Shoulder Workouts – Ledesma Hero WOD
AMRAP in 20 Minutes:
5 Parellette Handstand Push-Ups (6'' Deficit)
10 Toes Through Rings
15 Medicine Ball Cleans (20/14lb)
The "Ledesma" Hero WOD was first posted on crossfit.com as the workout of the day for Tuesday, February 8, 2011 (110208).
When originally published no deficit was specified for the parallette handstand push-ups; the 6'' were added as a recommended standard.
Parallette handstand push-ups are a variation that not only gives you less surface area to balance on (your fingers are around the parallettes) but also add range of motion to the exercise, making it harder and adding an extra burn to your shoulder workout.
A way to train to improve parallette handstand push-ups is by doing negatives:
8.CrossFit Handstand Push Ups Shoulder Workouts – Down the Mountain
For Time 10-8-6-4-2 Reps of:
Calorie Ski
Handstand Push-Ups
Hang Power Snatches (95/76lb)
Start by performing 10 reps of every exercise and decrease this number by two every round until done, working to complete this in the shortest time possible.
This shoulder workout includes a challenging triplet that will build up your shoulders and core. Be aware of fatigue even if reps decrease with every round.
9.CrossFit Handstand Push Ups Shoulder Workouts – Linchpin Test 3
3 Rounds for Time:
21 Wall Ball Shots (20/14lb)
14 Handstand Push-Ups
7 Deadlifts (315/205lb)
This is WOD #3 of CrossFit Linchpin's 12 Tests, known as the Linchpin Dirty Dozen. They were "designed by Pat Sherwood as a way for athletes and coaches to measure progress and expose weaknesses."
This shoulder workout should be completed in around 15 minutes (scale the movements or reps if you think it'll take you longer), the best athletes will complete this in around eight to 10 minutes.
Improve your handstand push-up efficiency:
10. CrossFit Handstand Push Ups Shoulder Workouts – Handstand Push-Up Partner WOD
For Time in Teams of 2:
50 Clean and Jerk (70/50kg)
50 Ring Muscle Up
100 Wall Balls (9/6kg)
50 Handstand Push-Ups
50 Squat Snatch (70/50kg)
Either divide the work in half or play to your and your partner's strengths. Switching partners every five reps is a good tactic and will keep the pace consistent throughout the workout while allowing small and efficient breaks.
There are many ways to perform a handstand push-up, have a look at this video to learn about variations: