9 FRIDAY FUN
Three AMRAPs in 21 minutes
AMRAP in 3 minutes of:
20 Gorilla Jump Squats
40 Single Dumbbell Cleans (15/10 kg) (alternating)
20 Gorilla Jump Squats
40 Single Dumbbell Shoulder-to-Overheads (15/10 kg) (alternate every 10 reps)
20 Gorilla Jump Squats
40 Single Dumbbell Hang Snatches (15/10 kg) (alternating)
Rest 1 minute
Then, AMRAP in 6 minutes of:
Same as above. Resume where you left off.
Rest 2 minutes
Finally, AMRAP in 9 minutes of:
Same as above. Resume where you left off.
On a 21-minute clock, perform as many rounds and repetitions as possible (AMRAP) of the prescribed work in the order written. Do the 3-minute AMRAP then rest 1 minute before moving on to the 6-minute AMRAP (start where you left off after the first 3 minutes). Then rest 2 minutes before moving to the final 9-minute AMRAP (again, start where you left off after the 6-minute piece).
Score is the total number of rounds and repetitions completed before the 21-minute clock stops.
Tips and Strategy
Find a pace where you can keep moving throughout the workout and still be able to breathe. Try to control your heart rate, especially on the Jump Squats—your legs are going to burn, but you'll get a break when you move on to the other movements. Instead of moving fast, think about limiting your breaks. Focus on one movement at a time. Figure out where on each movement you can catch your breath. If you stop, only stop for 2-3 breaths and continue moving.
Movement Standard: For the Gorilla Jump Squat, perform a standard deep Air Squat with both of your hands touching the ground (like a gorilla) and jump. Make sure there's air between the ground and both feet.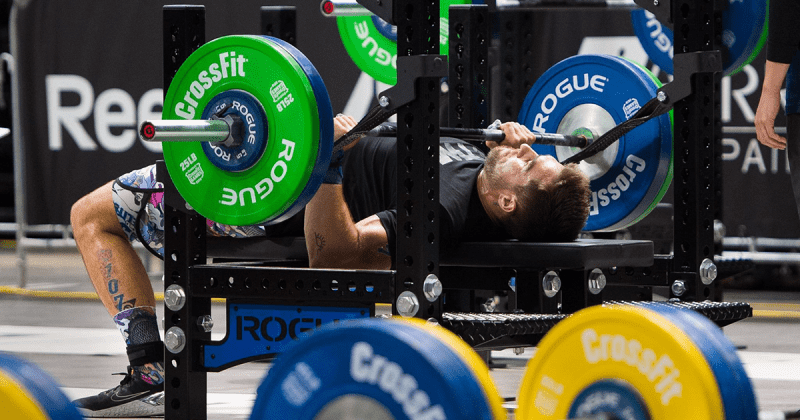 Source: Photo courtesy of CrossFit Inc.
10 LYNNE
As Many Repetitions as Possible in 5 Rounds of:
Max Bench Press (bodyweight)
Max Pull-Ups
Perform As Many Repetitions as Possible (AMRAP), unbroken, of Bench Press. Rest as needed before completing as many Pull-Ups as possible, unbroken. Continue in this manner for 5 rounds.
Score is the total cumulative number of repetitions of Bench Press and Pull-Ups across all 5 rounds of the workout.
Good Scores for "Lynne" (source)
– Beginner: <100 reps
– Intermediate: 125-225 reps
– Advanced: 250-350 reps
– Elite: 400+ reps
Scaling
Perform banded pull ups and lower the weight of the bench press.