AMRAP Kettlebell Workouts are a great way to build skill, strength and toughness for CrossFit and other sports.
AMRAP KETTLEBELL WORKOUTS
When a workout states to complete as many rounds/repetitions as possible, it's known as AMRAP. This is also known as a "time priority" (as opposed to "task priority") workout, because the goal is to do as much work as possible in a given amount of time. Also called: "For Reps," "For Rounds and Reps," or "Max Reps."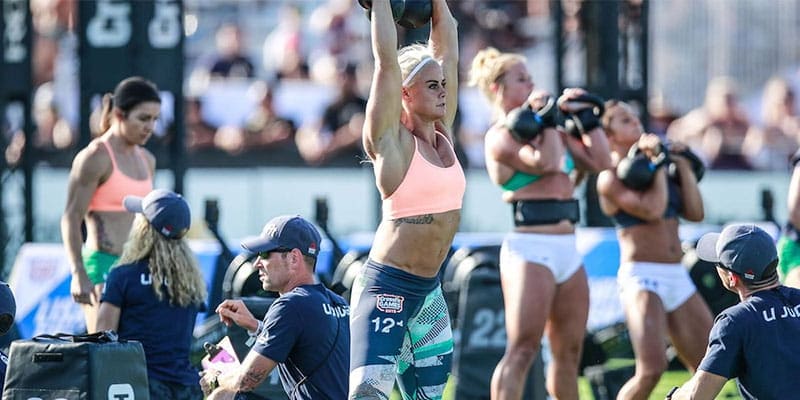 The score for AMRAP workouts is expressed as the total number of repetitions completed (eg: 303 reps). Scores for AMRAP workouts that include repeating rounds may also be expressed, for simplicity, as the number of completed rounds plus repetitions of the last incomplete round (eg: 10+13).
Example: "AMRAP in 8 minutes, 5 pull-ups, 10 push-ups, 15 double-unders" means on an 8-minute clock, complete the 5 pull-ups, 10 push-ups, then 15 double-unders, then repeat that cycle until time is up. Record your score as the total rounds and repetitions completed by the 8-minute mark. A score of 10 rounds plus 3 pull-ups would be written as 303 reps (or 10+3).
KETTLEBELL SWING
Why: The kettlebell swing is an old-school movement that's still used due to its efficacy and simplicity. It works your posterior chain (hamstrings, glutes, and erectors), power, and balance. It's a great movement to teach beginners what hip and knee extension is.
Set-Up
Start with your feet at a shoulder-width stance—or slightly wider. Hold the kettlebell handle with both hands, overhanded, between your legs.
Execution
Descend your hips back and down, but keep your hips above your knees. Maintain your lumbar curve. Keep your knees in line with your toes. Extend your hips and knees rapidly to launch the kettlebell overhead. Keep your heels down until your hips and legs extend. Keep your arms straight. To get the kettlebell fully overhead (required for the "American Kettlebell Swing" used most in CrossFit), use your arms to pull the kettlebell over the middle of your feet. To begin the next rep, sit your hips back into a partial squat and bring the kettlebell back through your legs. (If the WOD requires "Russian Kettlebell Swings," stop the Kettlebell at eye level instead of going overhead.)
Points of Performance
To get a "good rep," ensure the following:
– At the top of the swing: The kettlebell fully inverts (bell over the handle) and is centered over the feet (or at eye level for a Russian swing) with the hips/knees fully extended and the arms straight.
– At the bottom of the swing: The bell passes behind the heels.
Pro-Tip
To speed up your swing, when the kettlebell gets overhead, actively push the bell back down to the starting position. Each swing will be a bit faster, and your heart rate a bit higher, than if gravity alone brings the kettlebell back down.
Learn how to maximise your training with a single kettlebell.
1. AMRAP Kettlebell Workouts – NATE
AMRAP in 20 minutes
2 Muscle-Ups
4 Handstand Push-Ups
8 Kettlebell Swings (2/1.5 pood)
On a 20-minute clock, perform as many rounds and repetitions as possible (AMRAP) of the prescribed work in the order written.
Score is the total rounds and repetitions completed before the 20-minute clock stops.
2. JACK
AMRAP in 20 minutes
10 Push Presses (115/85 lb)
10 Kettlebell Swings (1.5/1 pood)
10 Box Jumps (24/20 in)
On a 20-minute clock, complete as many rounds and repetitions as possible (AMRAP) of the prescribed work in the order written.
Score is the total number of rounds and repetitions completed before the 20-minute clock stops.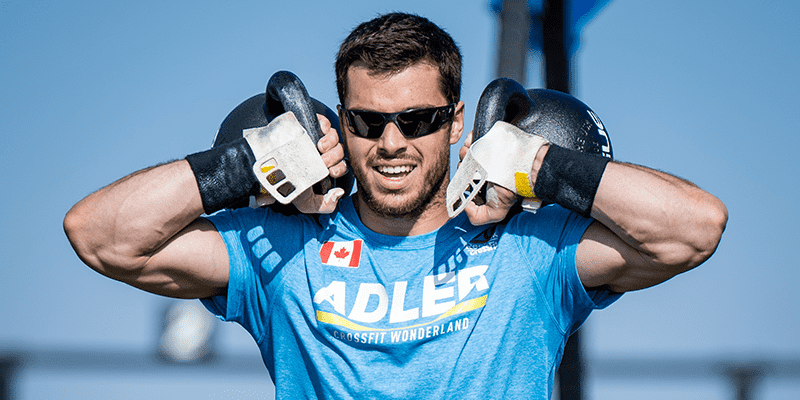 Tips and Strategy
Prior to the start, athletes should create a rep scheme they can manage for the entire 20 minutes—and fight hard to stick to the plan. This will ensure a consistent pace, and therefore a better overall score. Here's an example:
10 Push Presses: 6 + 4
10 Kettlebell Swings: Unbroken
10 Box Jumps: 6 + 4 (rest on top of the box after rep 6)
Intended Stimulus
This relatively long triplet (a workout with three movements) should feel tough yet doable. The load should feel relatively light for the Push Presses and the Swings. The Box height should feel easily clearable.
This workout has three different movements that all require fairly different skills, which makes major muscular fatigue and burnout less of an issue; this will be more of a test of cardiovascular endurance. Pick a strong pace from the beginning and hold on tight to that pace. Remember: The more times the athlete breaks up the Push Presses and Kettlebell Swings, the more they need to pick the load back up off the floor.
Scaling Options
Reduce the weight on the Push Presses/Kettlebell Swings and the lower the Box height as needed so each set of exercises can be completed unbroken or in a max of 2 sets.
Intermediate
Complete as many rounds as possible in 20 minutes of:
10 Push Presses (95/65 lb)
10 Kettlebell Swings (1.5/1 pood)
10 Box Jumps (24/20 in)
Beginner
Complete as many rounds as possible in 20 minutes of:
10 Push Presses (65/45 lb)
10 Kettlebell Swings (1/.75 pood)
10 Box Step-Ups (20/15 in)
3. RANKEL
AMRAP in 20 minutes
6 Deadlifts (225/155 lb)
7 Burpee Pull-Ups
10 Kettlebell Swings (2/1.5 pood)
200 meter Run
4. TK
AMRAP in 20 minutes
8 Strict Pull-Ups
8 Box Jumps (36/30 in)
12 Kettlebell Swings (2/1.5 pood)
5. CHRISTINA
AMRAP in 20 minutes
9 Pull-Ups
9 Squat Cleans (95/65 lb)
9 Kettlebell Swings (1.5/1 pood)
9 Toes-to-Bar
9 Push Presses (95/65 lb)
9 Burpees