13 KHBT
AMRAP in 20 minutes 19 seconds
Buy-In: 200 meter Single-Arm Kettlebell Front Rack Walk (20/15 kg)
Then, AMRAP in remaining time of:
9 Chest-to-Bar Pull-Ups
2 Snatches (61/43 kg)
10 Bar Over Burpees
5 Dumbbell Power Cleans (2×22.5/15 kg)
To begin the workout, complete the buy-in of 200 meter Single-Arm Kettlebell Front Rack Walk. For the kettlebell front rack walk, use one arm at a time. Switch as needed. In the remaining time of the 20:19 clock, perform as many repetitions as possible (AMRAP) of the prescribed work.
Score is the total number of repetitions completed before the clock stops.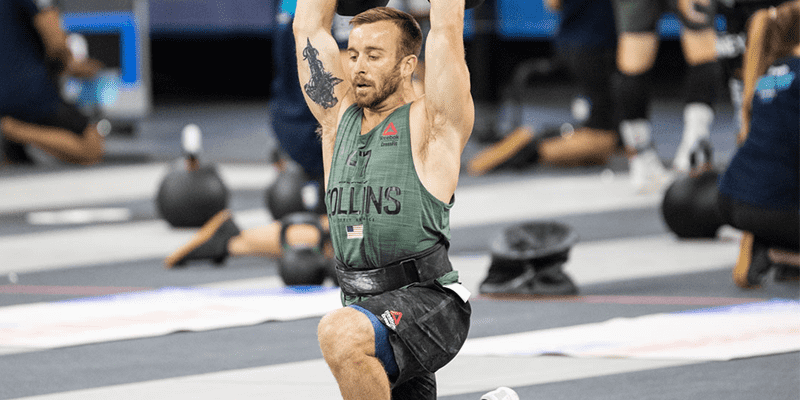 14 DON'T DROP THE KETTLEBELLS
AMRAP in 20 minutes
10 Dual Kettlebell Deadlifts (2×53/44 lb)
40 meter Dual Kettlebell Farmer's Carry (2×53/44 lb)
10 Dual Kettlebell Thrusters (2×53/44 lb)
40 meter Dual Kettlebell Farmer's Carry (2×53/44 lb)
For twenty minutes straight perform as many rounds as possible of the above exercises.
Score is the number of reps performed as a whole, each 10m are equal to 10 points or reps. Each round as a whole consists of a total of 100 points or reps.
Scaling
AMRAP in 20 minutes
10 Dual Kettlebell Deadlifts (2×44/35 lb)
40 meter Dual Kettlebell Farmer's Carry (2×44/35 lb)
10 Dual Kettlebell Thrusters (2×44/35 lb)
40 meter Dual Kettlebell Farmer's Carry (2×44/35 lb)
15 SEMPER FI
AMRAP in 20 minutes
1 Burpee
2 Box Jumps (30/24 in)
3 Kettlebell Swings (70/53 lb)
4 Pull-Ups
5 Push-Ups
6 Air Squats
Wear a Weight Vest (20/15 lb) for the first 10 minutes only
Start with a weight vest on. Perform 1 burpee, DON'T FORGET THE JUMP AND CLAP! After 1 burpee, execute 2 box jumps to a 30/24 in box. Be sure of your take-off and landing so you don't biff it with the weight vest on. Execute 3 American style kettlebell swings at 70/53 lb. Ensure the bottom of the bell is fully inverted with arms, hips, and knees at extension.
Execute 4 pull-ups of any variation, kipping, or strict, just chin over bar with any grip. Execute 5 push-ups, vest/chest to the deck, and full elbow lockout at the top. Execute 6 air squats, below parallel at the bottom and full hip and knee extension at the top. Keep your hands and elbows off of your thighs while you squat.
At precisely the 10 min mark, ditch the weight vest wherever you are, and then pick up where you left off at. For an extra challenge, this workout can also be executed where you do the first 10 minutes without a vest, and then add the vest at the 10 min mark. The original written way is the preferred way of execution.
Scaling:
Scale by not wearing a weight vest, adjusting the height of the box, or doing step-ups. Scale the weight of the KB, scale to ring rows instead of pull-ups, or banded strict pull-ups. NO JUMPING PULL UPS.
16 THE 2020
AMRAP in 20 minutes
20 Wall Ball Shots (20/14 lb)
20 American Kettlebell Swings (53/35 lb)
20 Box Jumps (24/20 in)
20 Alternating Dumbbell Snatches (53/35 lb)
20 calorie Row
These unique kettlebell exercises from 6x CrossFit Games athlete Marcus Filly will help you to improve your full body strength, movement and mobility. For more exercises and training plans, check out his website.
They are divided into the following sections to allow you to focus on the areas that you wish to improve.
KETTLEBELL EXERCISES
Overhead strength and mobility
Posterior chain development
Leg strength and mobility
Extras (including core)
SECTION 1 – OVERHEAD STRENGTH AND MOBILITY
Kettlebell exercises are a great way to enhance overhead movements, which are vital for all CrossFit Athletes. Add the following movements into your training.
DUAL BOTTOMS UP KETTLEBELL OVERHEAD CARRY
"The bottoms up KB carry, regardless of position, is a great tool to implement in training as the position of the KB pointed up towards the ceiling will put a greater demand on the grip and keep the scapular stabilized to hold good positions.
.
The dual KB overhead carry is a great way to get the upper back and scapular stabilizers firing and activated prior to an upper body training day. This is a great warm up movement."
View this post on Instagram
TALL KNEELING FILLY PRESS
Today's tall kneeling variation is one of the more challenging Filly Press variations. The tall kneeling position really limits how well the athlete can use their legs to stabilize, placing a higher demand on the glutes and trunk muscles to do this.
View this post on Instagram
SINGLE ARM KETTLEBELL OVERHEAD SPLIT STANCE HALF SQUAT ISOMETRIC
"Improving your mobility doesn't always have to look like static stretching or rolling on something. It can look like active movement. The keys to improved movement through active range of motion work is to move slowly, control all portions of the range, hold tension in the entire body, and only move so far as you can maintain good body positions.
.
This isometric hold is a great way to engage the hip flexors and strength them while under tension."
View this post on Instagram
SINGLE ARM KETTLEBELL Z PRESS
"Thoracic extension is often overlooked as a key to mobility issues that start to express in the shoulders. Ensuring your thoracic spine still has a bit of extension (despite a predominance of flexion) is important to ward off shoulder issues.
.
The Z press demands this position and therefore is one of the strength exercises that can actively help improve range of motion"
View this post on Instagram
DUAL KETTLEBELL STRICT PRESS
"Pressing progression for you. Check out FBB Ex Select Upper Pushing for a full list of 30 movement progressions."
Half Kneeling Landmine Press
Seated Single Arm DB Press
Seated Alternating KB Press
Standing Single Arm DB Press
Standing Alternating KB Press
Standing Dual KB Strict Press
View this post on Instagram