Sam Briggs
Also known as The Engine and an absolute CrossFit legend.
She's one of the most beloved athletes in the whole CrossFit community. Sam Briggs' achievements rack high and far – she's the 2013 CrossFit Games champion and has competed in them nine times.
The Leeds native entered the Masters division two years ago and competed at the 2018 CrossFit Games in the 35-39 division, coming 2nd. In 2019 however, the Engine decided to go back down to the Elite individuals and compete against the best ladies in their prime.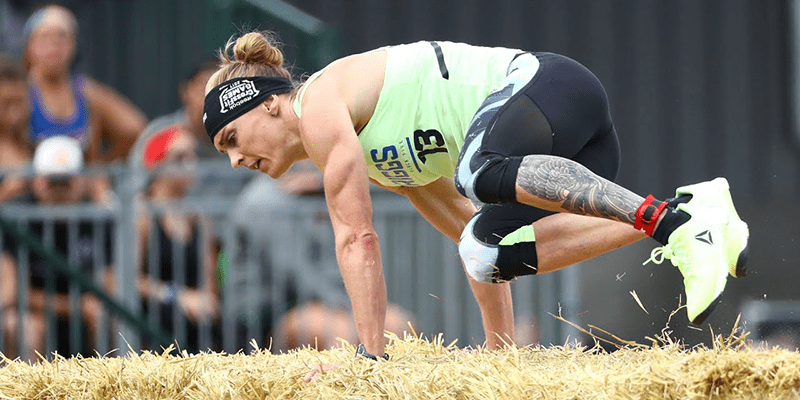 Sam had an incredibly successful 2019 season, qualifying to the CrossFit Games by every mean possible: as an Elite individual being the UK's National Champion, through the Open finishing within the Top 20, through Sanctionals after winning the 2018 Dubai CrossFit Championship and the Australian , as a team winning the 2019 Reykjavik CrossFit Championship with Team JST Compete and could have competed in the 2019 Age Group Online Qualifier if she'd so wished.
She also finished first in the "Legends" showdown at the inaugural Rogue Invitational. In Madison, she would go on to win the "Spirit of the Games" award.
Charlotte Spence
A CrossFit athlete, former Army member, Rehabilitation Instructor in the Royal Army Physical Training Corp and mum, Charlotte is definitely inspiring.
Competitively, even without an appearance at the CrossFit Games yet, Charlotte Spence is an incredibly consistent athlete. Having finished the CrossFit Open within the top 5 in the UK every year since 2016, Charlotte is also a three-times Regionals athlete.
The Lake District native joined the army at the age of 19 and served in the Royal Military Police for 8 years before transferring into the Royal Army Physical Training Corp as a Rehabilitation Instructor.
"I never used to think that I would be someone who other women could look up to and it surprises me when they do. I am no different from any other woman," she told BOXROX in an interview.
"I have recently been very touched by a number of girls (and a few guys) who have come through the rehab platoon under my care and have gone away and changed their training ethic or attitude towards what they believe they could achieve. I have even had one girl write to me to tell me I inspired her, it was extremely humbling but if I am having a positive effect I can only be happy and proud of their achievements," she continued.
"I do believe role models are important and its important to see that strong women and athletes are just normal people. If they can get where they are, there is simply no reason for you not to be able to achieve the same."