7

DOUBLE UNDERS

Now this might be one of the most universal and annoying pains from Crossfit. It is the brisk slap of the rope from a mistimed Double Under and gives you a short, sharp reminder that you need to get better at them.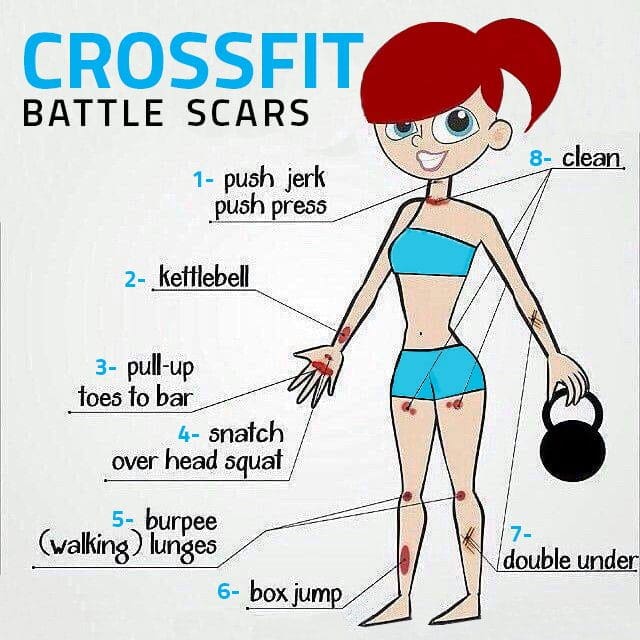 Double Unders require tremendous coordination and determination, but they will super charge your engine as well as increasing your timing and speed.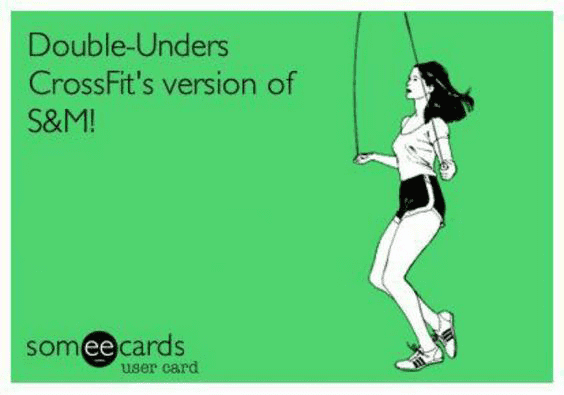 xxxxxxxxxxxxx
8

CLEANS

An awesome strength exercise, the sheer weight of the barbell on your upper body can leave bruising, but those fade, and instead, you are left with the strength of an Ox to use as you wish in your next WOD. Sometimes the shins can take a slight grazing from the path of the barbell (in the same way as a Deadlift) and you might have noticed those little marks on the tops of your thighs if you are working your way through bar complexes as well.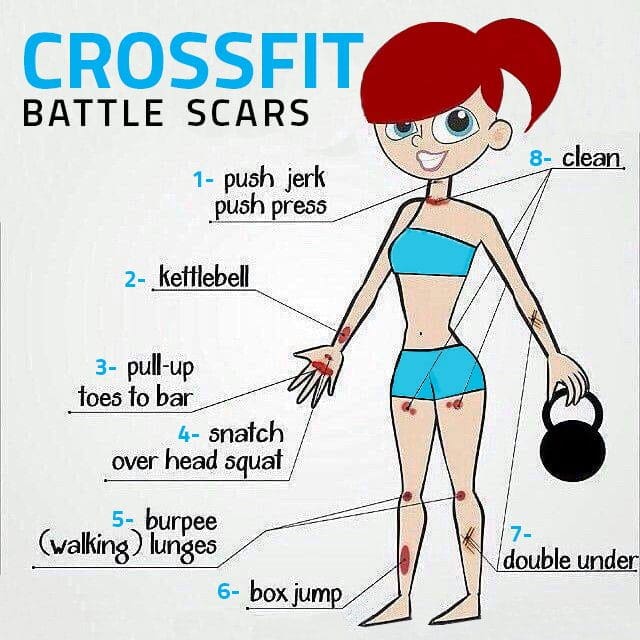 SHAKESPEARE AND CROSSFIT BATTLE SCARS
Even William Shakespeare, the famous English bard, would have got involved with the action (or perhaps pretended to, and then written about it later, from the safety of his bedroom) and wrote about the idea of battle scars. In his famous speech from the play Henry V, he eloquently described how the King encouraged his troops before the battle of Agincourt, in which they were greatly outnumbered, and reads:
'And say "To-morrow is Saint Crispian."
Then will he strip his sleeve and show his scars,
And say "These wounds I had on Crispin's day."
Old men forget; yet all shall be forgot,
But he'll remember, with advantages,
What feats he did that day.'
The above version is written in an older style of the English language, so if you translate it into a contemporary style, and hear it from the mouth of your Crossfit coach, just before you begin a WOD, it reads as follows:
'And say "To-morrow is rest day."
Where we will strip our sleeve and show our scars,
And say "These wounds I had from the WOD."
Old men forget; yet all shall be forgot,
But we'll remember, with pride and strength,
What great PRs we destroyed that day.'