Vanessa Hudgens
A teenage star from High School Musical movies or Sucker Punch movie which she also trained hard for. The coach Logan Hood had her and other actresses do Kettlebell Swings, Kettlebell Push presses, Goblet Squats and Deadlifts. She enjoyed these exercises and worked her way up to deadlifting 180 lbs.
https://www.instagram.com/p/By-VNjFhrOP/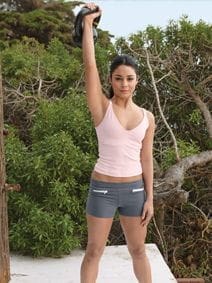 Vanessa working on single arm Kettlebell presses.