1. ADDRESSING TIGHT SHOULDERS AND OVERHEAD MOBILITY
"A great drill to get into those tight shoulders adapted from the #gandalf by James @imfitlondon
Keep the top arm's elbow locked out throughout, then reach for the floor starting at the same side's toes then working forwards and across until you're in line with the opposite toes and at the base of the box/wall. Keep the ribs down and tucked for bonus points!"
https://www.instagram.com/p/BJSP3MoDwU_/?taken-by=f_m_hacks
2. WORKING ON ACTIVE RANGE (OVERHEAD)
Having good flexibility doesn't always mean being able to use it. Develop the capacity to move into your shoulder range yourself with this simple drill. Make it easier by elevating yourself on mats, make it harder using more or bigger plates.
2 sets of 10 on each side.
https://www.instagram.com/p/BLNR5IRA6A5/?taken-by=f_m_hacks
3. IMPROVING OVERHEAD SQUAT MOBILITY
"If you struggle to stay upright when performing overhead squats, give this a try.
By exaggerating the fault using the bands, we teach the body what muscles it needs to engage to stay in a better position. Gray Cook calls this Reactive Neuromuscular Training – show your body more clearly what it's doing wrong and it'll figure out how to correct it itself. Great to build into your warm-up for OHS or snatches."
https://www.instagram.com/p/BK8LX7Ij0V8/?taken-by=f_m_hacks
4. ALLEVIATING TIGHT ANKLES
Think about all the movements which are directly and indirectly influenced by tight ankles. By improving your ankle mobility, you are increasing the range of motion for your:
Squat
Clean
Snatch
Deadlift
Boxjump
Wallball
To see why ankle mobility has such an important role, it's necessary to firstly understand dorsiflexion.
DORSIFLEXION
The ankle is a hinge joint. So it mainly consists of two movements:
Down, the plantar flexion, like you want to step on your tiptoes.
And up, the dorsiflexion, like you want to stretch your tiptoes up to your knee.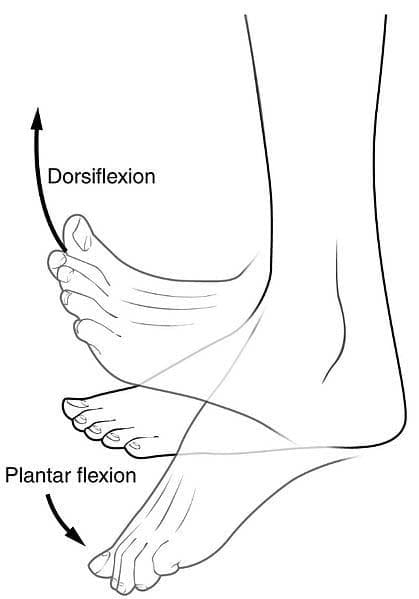 Try these tips to help alleviate tight ankles.
–
5. IMPROVING SQUAT DEPTH
The squat is essential for building strength, toughness, muscle, coordination and is a part of a huge number of different exercises in Crossfit.
If you're reading this, I don't need to tell you the benefits of squatting deeper. But just in case you forgot, they include stimulating more muscle, developing and retaining greater range of motion, burning more calories, catching more cleans and snatches, and dipping it even lower in the club.
Check out the article below to go into more depth (literally).
3 Top Ways to Squat Deeper and Improve your Mechanics
SQUAT MORE OFTEN
SQUAT WITH MORE VARIETY
SQUAT FROM THE BOTTOM UP
The drills below are helpful to work on your depth.
–
6. STRENGTHENING THE HIP HINGE MOVEMENT
"Warm up your hip hinge in all three planes.
Building in some unilateral work is amazing for your hip stability, which has mobility benefits too.
By lengthening the glute in all three planes (flexion, adduction, internal rotation) this also serves as a great activation drill before lifting heavy as we're asking it to fire from its weakest position. Regress the drill by using markers higher off the floor. Progress the drill by placing them further away and further around. Key cues: stay controlled as you touch the ground, and try to keep your foot flat. Don't worry about flexing the spine, we're working on the hips in this drill."
https://www.instagram.com/p/BLvMK7bgGVo/?taken-by=f_m_hacks
7. TIGHT HAMSTRINGS
"Tight hammies can hold back your hinge. Teach your body to accept a greater range with this drill. Prop up one foot with a med ball and keep the knee locked out. Use the opposite hand to pick up and put down a dumbbell (5kg is plenty) working further and further away from the standing foot. Hold a high band for support. 3 x 5 reps each side.
By reflexively firing the muscle from its lengthened state, adding instability and using fine motor control, we develop skill and active range of motion. This gets the new range to stick better than the classic toe touch you've aimlessly been doing your whole life.
Progress the drill by losing the band, moving the db further forward and/or to the side and upping the weight."
https://www.instagram.com/p/BJs1U5TDJLM/?taken-by=f_m_hacks
8. GROOVING A BETTER OVERHEAD POSITION
"Groove a better overhead position with this simple but effective drill. Using the fixed length of the gymnastics rings we pull our shoulders into more flexion as we go through our press movement, teaching our body to accept the range in a way that carries over directly to the barbell.
Key cues: keep chin tucked and ribs down, with shoulders relaxed. Let the rings pull you into end range. Step further and harder as the set progresses to add more ground reaction and stimulate more reactive contractions that will make the new range stick."
https://www.instagram.com/p/BK3GfykD5ld/?taken-by=f_m_hacks
More mobility tips:
10 Unusual Mobility Exercises All Crossfitters Should Add into Their Training