Rory van Ulft is an 8-year old child who can deadlift 102kg, clean & jerk 47kg and snatch 35kg. The Canadian athlete has a dream of competing in the Olympics.
Rory van Ulft has already won multiple youth Olympic weightlifting championships. Weighing less than 30kg, the young athlete has already broken the American National record set in 2019 by Lilli Shelton for girls aged 13 and under.
2021 US Youth National Championships – 30kg, 13-year old and under:
Snatch 35kg (8kg above previous national record)
Clean & Jerk 47kg (12kg above previous national record)
Total 82kg (20kg above previous national record)
On the photo below, posted on Rory's Instagram stories, she is deadlifting up to 102kg from an elevated platform.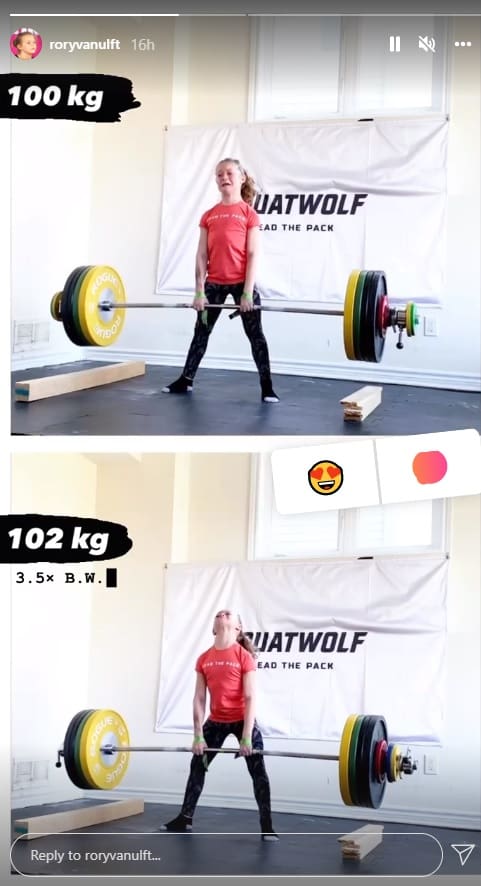 Watch Rory van Ulft Preparing to Defend Her Youth National Championship
In an interview for Insider, Rory's parents said the little girl started weightlifting to complement her gymnastics training. After adults started gathering around to see Rory's lift, her father Cavan decided to check her lifting numbers only to discover that she would rank top 10 in North American for her class.
Her dream now is to compete at the Olympics as a weightlifter.
Read More: 10-Year-Old Wins Dead-Hang Challenge Set by Mat Fraser