11. CALVARIO
Three 6-minute AMRAPs in 24 minutes
AMRAP in 6 minutes:
5 Sumo Deadlift High-Pulls (60/40 kg)
10 Hang Squat Cleans (60/40 kg)
15 Push Presses (60/40 kg)
Rest 3 minutes
Then, AMRAP in 6 minutes:
50 Double-Unders
100 meter Shuttle Sprint
250 meter Row
Rest 3 minutes
Then, AMRAP in 6 Minutes:
15 Pull-Ups
30 Box Jump-Overs (60/50 cm)
45 Air Squats
Complete all three AMRAPs including rest between each with a running clock. Score is the total number of points for all three parts. For the first and third AMRAPs, assign one point per rep. For the second AMRAP, assign one point for every 10 reps (eg: 50 DU = 5; 100 Shuttle Sprint = 10; 250 meter Rowing = 25).
12. POKE THE BEAR
AMRAP in 20 minutes
Cash In:
100 meter Farmers Carry (85/55 lb)
Then, AMRAP of:
5 Bear Complexes (135/65 lb)
10 Bar Over Burpees
15 calorie Assault Air Bike
Finally, Cash Out:
100 meter Farmer's Carry (85/55 lb)
1 bear complex consists of: 1 power clean, 1 front squat, 1 push press, 1 back squat, and 1 push press.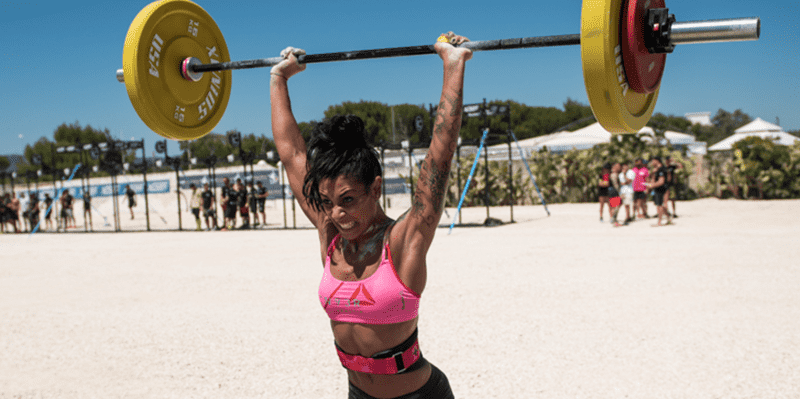 Source: RX'd Photography
13. ASSAULT BATTLE BOX
AMRAP in 24 minutes
4 Front Squats (135/95 lb)
8 Power Curls (135/05 lb)
12 Push Presses (135/95 lb)
16 Box Jumps (24/20 in)
24 calorie Assault Air Bike
For the power curls, use a barbell. Athlete may use the hips for power to drive the barbell up.
14. ARTIE STEVENS
AMRAP (with a Partner) in 29 minutes
5 Rounds of:
Minute 1: Wall Ball Shots (20/14 lb)
Minute 2: Toes-to-Bars
Minute 3: Box Jumps (24/20 in)
Minute 4: Push Presses (75/55 lb)
Minute 5: Row (calories)
Minute 6: Rest
Partners switch every :30 seconds
Teams of 2 complete all five rounds together, with the first partner accumulating as many reps as possible in :30 seconds, then switching to the second partner who then also completes as many repetitions as possible in the remaining :30 seconds. Score is total reps as a team.
15. AMRAP Barbell Shoulder Workouts – PALMER
AMRAP (in a team of 5) in 17 minutes
3 Rounds of:
1 minute Double-Unders
1 minute Wall Ball Shots (20/14 lb)
1 minute Sumo Deadlift High-Pulls (50/35 lb)
1 minute Push-Presses (70/50 lb)
1 minute Box Jumps (24/20 in)
1 minute Rest
This workout requires five team members to perform the prescribed work together. If performing the workout with gym equipment, use barbells, and other available equipment. But this workout was designed for military units, so it was originally intended to be done with a skipping rope or sash cord for double-unders, a 20-lb medicine ball or austere medicine ball for wall ball, a .50-cal ammo can for sumo deadlift high pulls, a 25-mm ammo can for push presses, and two Stryker tires for box jumps.
Each athlete will start the workout at a specific exercise station. The soldiers will rotate to the next station after a minute of exercising, completing as many reps of the exercise as possible. The clock does not stop between exercises. After each five-minute round, at the completion of all five stations, there is a one-minute break. One point is given for each rep of each exercise. Spotting will not be permitted at any time during the workout.
Score is the total number of reps combined from each member.