3 – Home Workout for Legs and Core
5-minute AMRAP of:
5 Jumping Lunges
10 Mountain Climbers
Rest 2 Minutes, then AMRAP in 5 Minutes of:
5 Tuck Jumps
10 Squat Jumps
With a running clock, perform as many reps as possible of 5 jumping lunges and 10 mountain climbers. When the first five minutes are up, without stopping the clock, rest two minutes. At the end of the two-minute rest, perform as many reps as possible of 5 tuck jumps and 10 squat jumps.
Score is the total number of reps completed at the end of the second 5-minute AMRAP.
Jumping lunges are a great exercise to strengthen your thighs as – when done correctly – they target your:
Quadriceps
Hamstrings
Glutes
Hip flexors
Calves
Core
Tuck jumps and squat jumps are also two leg-heavy exercises and will help to strengthen your thighs. To perform a tuck jump start standing tall with your feet around shoulder width apart. Drop into about a quarter of a squat to engage your leg muscles and use this to explode into the air.
Once in the air, keep your back straight and tuck your knees towards your chest before landing as softly as possible.
Squat jumps simply require you to perform an air squat but, instead of finishing the repetition by extending your knees and hips, jump high into the air.
4 – Track and Legs
5 Rounds for Time:
With a running clock, perform five rounds of 400m sprints and 25 air squats at the end of each run.
Score is the time on the clock at the end of the 5th round.
Your thighs are indispensable when running and sprinting will help you strengthen them. Don't underestimate this workout – your legs will feel shaky after a couple of rounds as they get no break.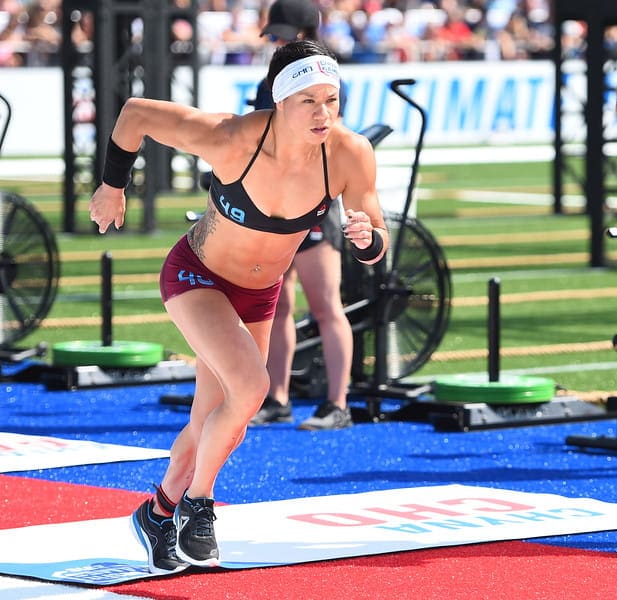 Source: Courtesy of CrossFit Inc.