CrossFit Rowing Workouts are a great way to test and improve your mental fortitude, engine and ability to never give up. Mental strength is a skill that can be trained, so approach these CrossFit rowing workouts with that in mind. Not only will they help you to get significantly fitter, they will also help you to improve your mental toughness.
ROWING TIPS
Firstly watch the video below to brush up on your rowing skills.
Now dive into the following CrossFit rowing workouts and choose a selection that you would like to add into your training.
CROSSFIT ROWING WORKOUTS
BOAT RACE
3 Rounds for Time
500 meter Row
400 meter Run
Rest 3 minutes between rounds
Score is total time (including rest) it takes to complete all three rounds.
Strategy: Speed on both the row and the run are important, but since the row comes first, a good starting place for athletes is to row right around their 2k row pace per 500 meters. If they are comfortable running quickly under fatigue, aim to go a few seconds faster than that pace. Whenever we row in a workout, we have to take into account the difference a few seconds makes in the grand scheme of what other movements are included. For example, rowing at a 1:35 pace vs. a 1:40 pace per 500 only results in a 5 second difference, but is quite a bit more difficult in the effort it takes to complete. With the run to follow, we want to make sure we balance out these two movements. If going 5 seconds slower on the row means they can go 10 seconds faster on their run, they will have a better overall time. Both movements are meant to be fast each round, especially with the rest included, but finding this balance will results in the best possible scores for individuals.
GLEN PENDLAY
For Time
1,000 meter Row
10 Ground-to-Overheads (135/95 lb)
750 meter Row
10 Ground-to-Overheads (135/95 lb)
500 meter Row
10 Ground-to-Overheads (135/95 lb)
250 meter Row
10 Ground-to-Overheads (135/95 lb)
Modifications
For Time (with a Partner)
2,000 meter Row
20 Ground-to-Overheads (135/95 lb)
1,500 meter Row
20 Ground-to-Overheads (135/95 lb)
1,000 meter Row
20 Ground-to-Overheads (135/95 lb)
500 meter Row
10 Ground-to-Overheads (135/95 lb)
TTTTD24
AMRAP in 35 minutes
From 0:00-30:00, perform:
Then, from 30:00-35:00, perform:
Scaling
AMRAP in 35 minutes
From 0:00-30:00, perform:
Then, from 30:00-35:00, perform: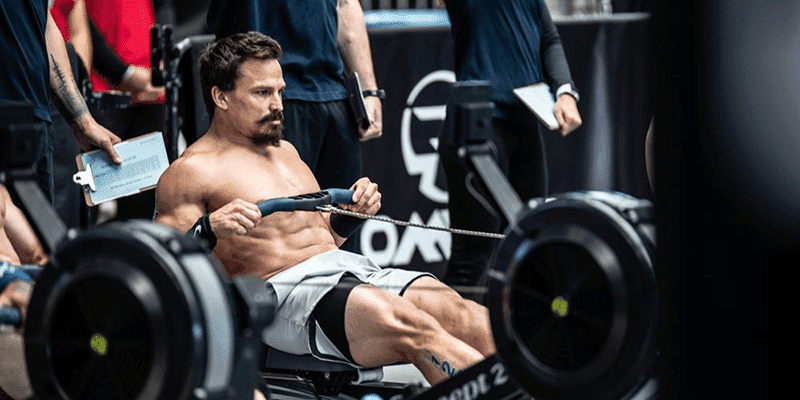 ROW 500m x2
2 Rounds for Time
500 meter max effort Row
90 seconds Rest