CrossFit gymnastics workouts are a brilliant training tool to develop key aspects of fitness such as strength, agility and balance.
Gymnastics in CrossFit involves bodyweight movements – from simple air squats and push-ups to more complex movements such as muscle-ups and handstand walks – without an external load and isometric holds.
"If gymnastics movements are performed properly, they influence every aspect of your life and have a dramatic effect on your fitness," states CrossFit.
"Nothing beats gymnastics in terms of developing the four neurological components of the 10: coordination, agility, balance, and accuracy. Furthermore, gymnastics training produces impressive strength gains without requiring an external load."
Chipper workouts require athletes to complete the prescribed workload in the shortest amount of time. Whether a low or high number of reps, you'll be tasked to go quick – and most times a lower workload doesn't mean a workout's easier, as the intensity will increase.
Improve your strength, agility and balance and add these intense chipper CrossFit gymnastics workouts to your training.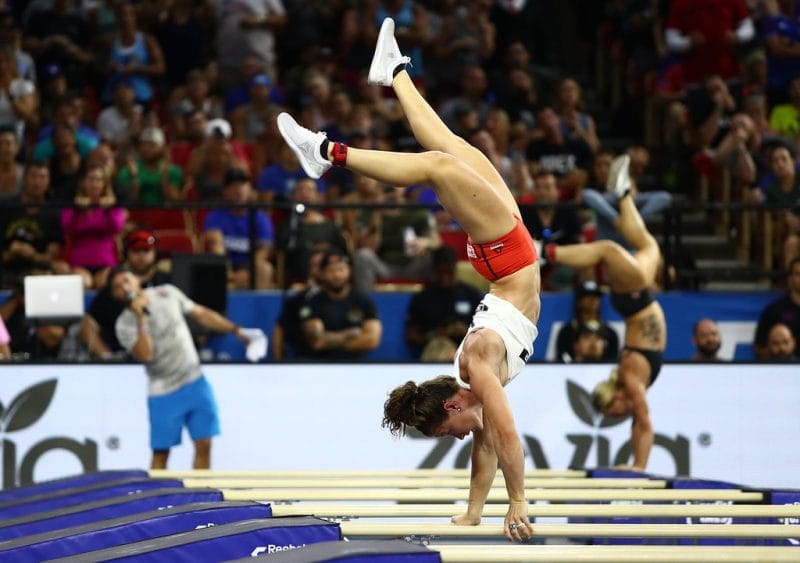 CHIPPER CROSSFIT GYMNASTICS WORKOUTS
Aiyana Jones Memorial WOD
7 Rounds for Time:
5 Strict Handstand Push-Ups
16 High Box Jumps (30/24 in)
2 Strict Muscle-Ups
Perform seven rounds of the prescribed work in the order written for seven rounds.
Scaling Option
7 Rounds for Time
5 Wall Walks / Pike Box Handstand Push-Ups
16 High Box Jumps (30/24 in)
2 Strict Chest-to-Bar Pull-Ups / Strict Low Ring Rows
"Strength is required for proper form, and proper form is required to demonstrate body control. As such, gymnastics has a clear emphasis on strength in body-weight movements.
"More than anything else, strict form establishes mastery in a movement, and for this reason we promote strict movement before we apply momentum.
"The strength gains from mastering the strict movements are well worth the effort, and the possibility of injury is reduced substantially when strict movements are practiced first," states the CrossFit Gymnastics Training Guide.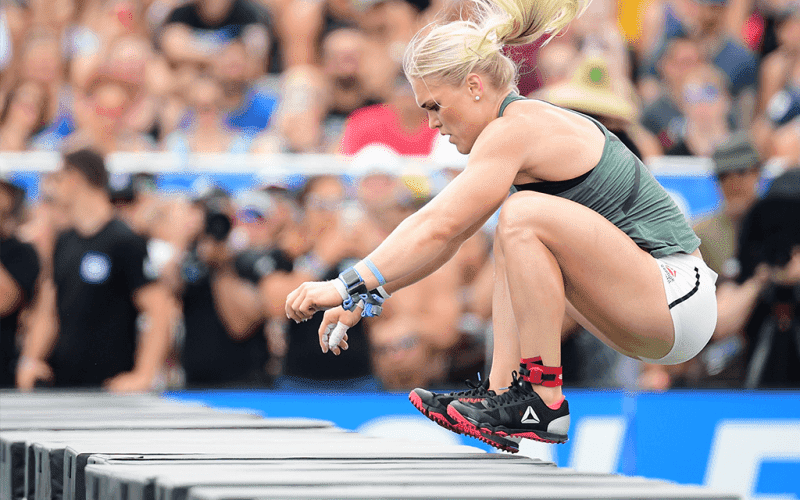 This workout is dedicated to Aiyana MoNay Stanley-Jones, born on July 20, 2002, who was a 7-year-old African-American girl shot and killed by police in Detroit during a raid. This workout was designed by Iron Roots Athlete @iron.roots.athelete.
Shep Memorial WOD
For Time:
1 mile Run
20 Handstand Push-Ups
40 Pull-Ups
60 Air Squats
4 Rope Climbs
800 meter Run
15 Handstand Push-Ups
30 Pull-Ups
45 Air Squats
3 Rope Climbs
400 meter Run
10 Handstand Push-Ups
20 Pull-Ups
30 Air Squats
2 Rope Climbs
200 meter Run
5 Handstand Push-Ups
10 Pull-Ups
15 Air Squats
1 Rope Climb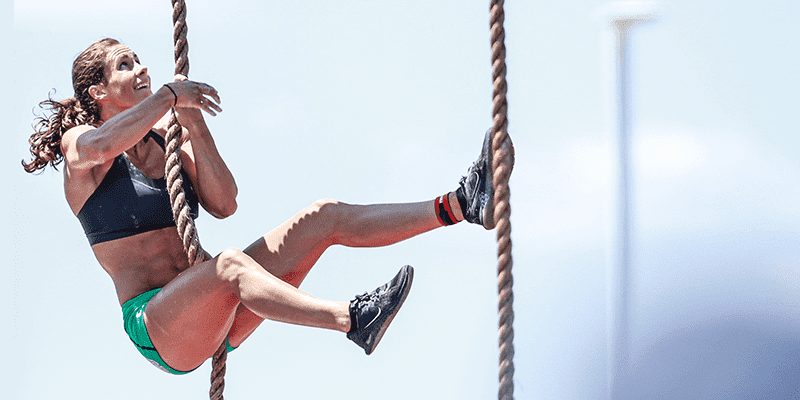 The combination of the exercises on this chipper gymnastics workout will challenge your strength, agility and balance. As a relatively long workout, not only will you need great endurance to keep a strong pace throughout, but you'll also have to rely on good arm strength to finish the last round of handstand push-ups, pull-ups and the rope climb.
You'll be testing your gymnastics skills right after some metabolic work.
Chipper Gymnastics Workout
For Time
10-31-10-31 reps of:
Wall Ball Shots (20/14 lb)
Toes-to-Bars
MedBall Ball Facing Burpees
After each round, complete:
Strategy: Choose the loading and movement difficulties that will allow you to work through the 31 reps in less than 5 sets. The real fitness of this workout comes out if you can balance moving fast with achieving large sets.
Reduce the weight of the wall ball or perform hanging knee raises to scale this workout. You can also swap out the handstand walk for a good bear crawl.
Workout by Ham Plan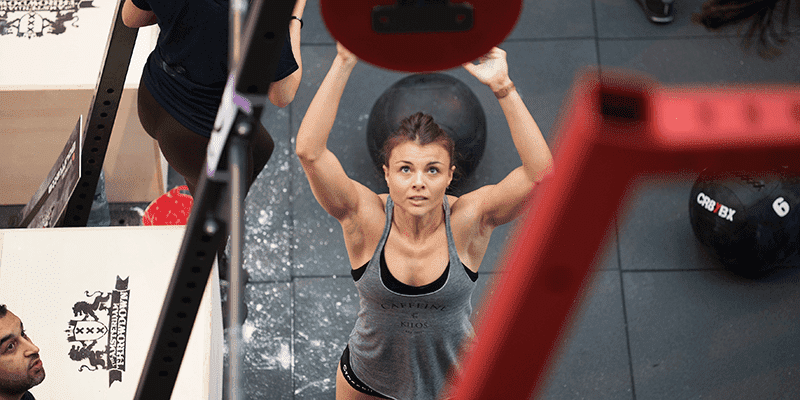 Quarter Pounder
25 Rounds for Time:
4 Burpees Over Something
3 Handstand Push-ups
2 Pistols
1 Ring Muscle Up
Scaling: Swap out the handstand push ups for a weighted shoulder to overhead movement and sub the pistols for two reverse lunges (one per leg).
"Always demand strength, strength, and more strength. Also consider the mobility and flexibility of the athlete. Are certain areas restricting proper movement or position?
"If strength and mobility are in line, determine if the athlete needs work on spatial awareness or coordination. These are the basic requirements of skill progressions," states the CrossFit Gymnastics Training Guide.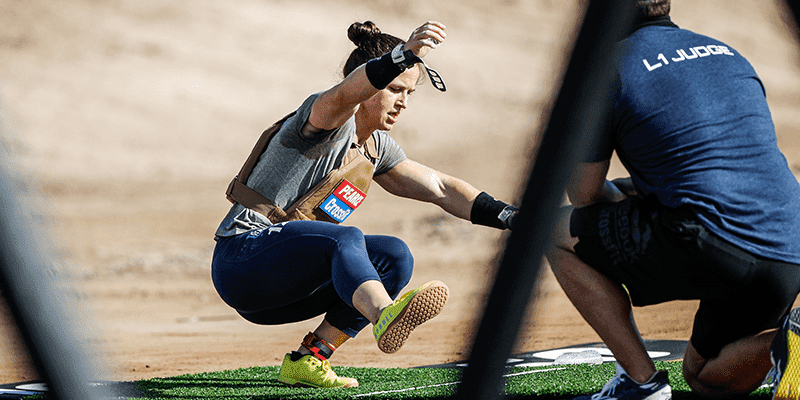 Unbroken Challenge
7 Rounds for Time:
15 Wall Ball Shots (20/14 lb)
12 Pull-Ups
200 meter Run
Perform all exercises unbroken. You score is the time it took you to complete seven full rounds.
If you can't perform 12 unbroken pull-ups for seven rounds then grab a band.
The importance of grip strength in CrossFit gymnastics workouts can't be undermined. The biggest biceps and lats are of little use if you cannot also hold onto the bar.