Welcome to Comptrain Fight Club. The first rule of Comptrain Fight Club is…well you get the idea.
Workout Description:
3 Rounds of 1:00 Max Reps of each of the following exercises in a row:
Thrusters (95/65#)
Power Cleans (95/65#)
Box Jump Overs (24/20″)
Pull Ups
Assault Bike Calories
1 min Rest between each completed round.
Check out Ben Bergeron's other athletes taking on this punishing WOD.
BROOKE WELLS
"F I G H T C L U B ??? If you don't check the clock every two seconds during the thrusters ?, almost eat it on box jumps, tear your grips in the middle of a pull up set (hence the scream ??‍♀️), or throw yourself on the ground when you finish….. did you really try hard enough?! ?☠ Who hit this @comptrain.co workout today?! ??"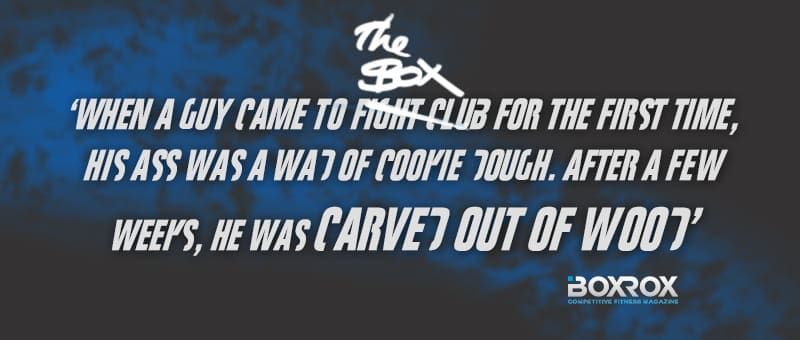 Ben Bergeron trains some of the world's fittest athletes. A former Ironman triathlete turned CrossFit Games competitor, Ben has coached athletes to six world championships. As coach to the reigning Fittest Man and Fittest Woman on Earth, he is considered one of the top coaches in the sport of CrossFit.
BETTER PEOPLE MAKE BETTER ATHLETES
Ben's approach
to creating the world's fittest athletes starts with building better people. It's his belief that behind every champion, regardless of sport or discipline—better people make better athletes. Mental toughness is the hallmark of all Ben's athletes, and the secret behind their success.
Despite what we're led to believe, greatness is not for the elite few. The mindset of a champion is uncommonly rare, but it doesn't have to be—every one of us is capable of it. Ben has dedicated his life to helping others become the best version of themselves. He founded CrossFit New England in 2007, where he coaches regular people on their quest to improve their fitness, health, and approach to life beyond the gym. He currently programs for tens of thousands of competitive athletes on both CompTrain and CompTrain Masters, and shares best practices for gym owners and coaches through seminars and events around the world.