These running, rowing and swimming based conditioning workouts are designed to test your engine and considerably improve your ability to endure. They involve carefully calculated rest periods and times, and require you to track your pace, steps and timing during each round. Use a solid, reliable and tough tracker such as the G-SHOCK GBA-800 Connected Watch to do this.
WORKOUT 1 – ROWING
Choose from the following 3 categories based on your fitness level and experience.
Performance "RX": 3x1000m row + 20 box jumps 30/24".
Fitness: 3x1000m row + 20 box jumps 24/20".
Basic: 3x800m row (or less) + 20 box jumps (or step ups) 20/16 or lower.
Rest 1:30 between rounds. If you recover quicker than that, and your breathing returns to a normal pace before the end of the 1:30 then begin the next round and record how fast you recovered. Monitor this over time, and as your aerobic capacity improves, you will notice how the time it takes you to recover properly will shorten.
Workout Tips
This is an interval workout and is meant to be done quickly since you are able to rest at the end of each round.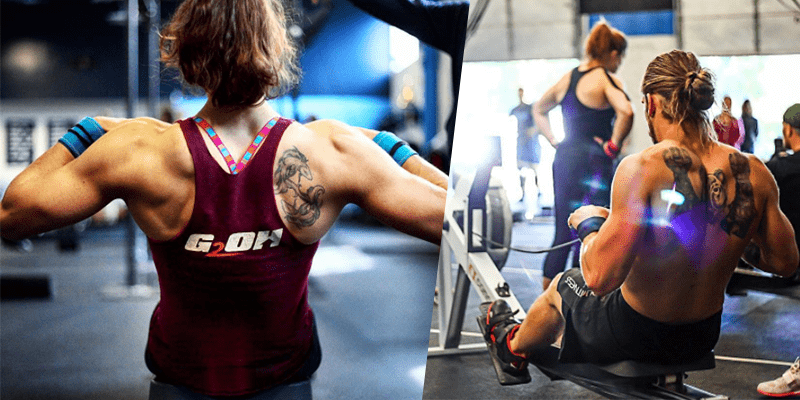 The rowing will have to be paced out so you don't get overly fatigued. Its not an all out sprint. You have to find a good pace and try to hold on to it. I personally would row a 1:45 or lower pace then go as fast as possible on the box jumps. The box jumps are tricky once you get off the rower. Since you build up lactic acid up in your legs it sometimes becomes hard to jump off the ground.
Beginners, this is a good workout for you since the movements aren't complicated. You can always scale down the rowing amount and lower the height of the box. If jumping isn't an option because of injury or confidence then step ups are allowed.
These type of workouts a are a big part of my fitness. They test how hard you can push your body.
CONDITIONING WORKOUTS – RECORDING YOUR PROGRESS
The G-SHOCK GBA-800 Connected Watch is a perfect device for timing and recording your progress during these workouts.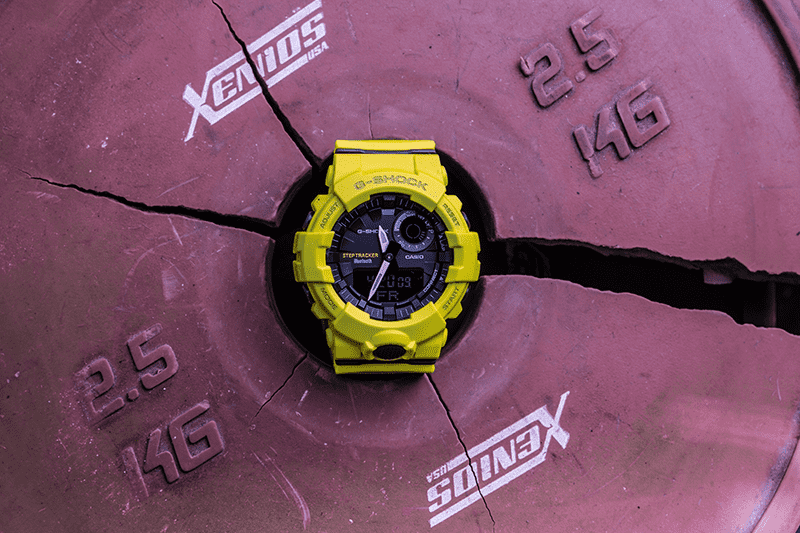 The features include app-based auto time setting correction and other features for more efficient timekeeping, and an Auto Double LED Light to facilitate workouts in areas where lighting is dim.
The small cases of these models are great for active training. Back wings on the inside of the bands where they connect to the case, a new band ring shape that prevents sliding, more band holes to allow better tightness adjustment, and a soft urethane band, which maintains its suppleness even after long wear all add up to a more comfortable fit.
A mid-size design that's optimal for running and training, Bluetooth®, phone app linking and much more makes the GBA-800 the perfect choice for everyday wear and fitness training.
WORKOUT 2 – RUNNING
3x (600m, 60sec rest, 200m, 20sec rest, 500m, 50sec rest, 300m, 30sec rest, 400m)
w/ 5 min rest between sets.
Workout Total: 6000m
Workout Pacing: Pick a pace that is 2-3sec/100m slower than your 1-mile PR pace.
As example, an athlete with a 1 mile PR time of 8min (or 30sec/100m) would have a target pace of 32-33sec/100m.
If you are unsure of your 1 mile PR time, try that first. People concentrate heavily on recording PRs with weights and lifts, but having the same attitude towards conditioning and monostructural work will significantly help you to improve.
Running is important monostructural work
Workout Focus: Be patient.
HOW TO TRACK YOUR FITNESS OVER TIME
It is vital to track your results with conditioning workouts, so that you can measure your progress over time.
Connecting the Casio G-SHOCK Series watch to the app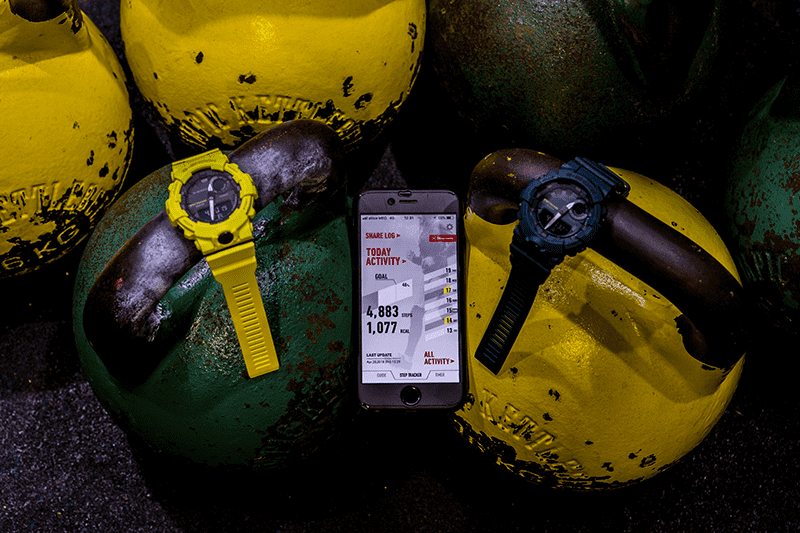 While linked with the G-Shock connected phone app, you can configure settings for a step count log with five exercise intensity levels, calorie calculations, and step targets. The ability to use the app to create timer combinations and send them to the watch, to store stopwatch measurement data, to view data and more all combine to help you plan and record your workouts, making them more effective and enjoyable.
With this recorded data you can then easily track and measure your progress over time.
WORKOUT 3 – 1k SWIM WITH A TWIST
Conditioning workouts – 5 rounds for time
200 m swim
10 Burpees
15 Push Ups
20 Air Squats
25 Sit Ups
Most swimming pools are 25 m long, competitive pools are 50 m long. 200m should be 4 rounds there and back in the pool. It is good to have some sort of a mat under yourself while doing the sit ups since the bank is not as smooth as a regular gym floor and you can't wear as much clothes to protect your skin. This is good for the burpees too.
Since the G-SHOCK GBA-800 Connected Watch is water resistant up to 20 bar, use it to measure your pace during the swims. Focus on your breathing as you will be swimming with a much higher heart rate and this will make it more difficult.
Conditioning Workouts – Swimming Technique
Inter-spacing the swimming sections of this workout with burpees, sit ups, squats and push ups means that even if you are a strong swimmer, it is worth thinking tactically about how you attack these portions of each round. Focus of efficiency of your stroke, long smooth pulls through the water will allow you to move faster with less effort. This means you can then move quickly through the other exercises in each round.
Time each 200m and see how your speed varies throughout the entire workout. Don't burn out on the first or second length, as losing your breathe in the pool will have huge negative effects on your technique, and overall time at the end.
Now its time to choose your next conditioning workout and start building an unstoppable engine!