Gary Featherstone and Peter Burke, the box-owners of Crossfit 353, are giving us a little insight into what happens at their BOX! Enjoy another episode of our Europewide BOX interviews.
Short Facts
Name: Crossfit 353
Address / Location: St. Michael's College, Ailesbury Rd, Ballsbridge, Dublin 4
BOX-Owner: Gary Featherstone & Peter Burke
Open since: August 2013
Info:
How did you come to CrossFit?
We come from a big rugby playing community. Both Pete and I were forced to stop rugby through injury. CrossFit helped bridge the gap between competition, sport, community & comradery.
Why did you open your own box?
We wanted to share with others our passion for Crossfit and its holistic transformational effects on the body & mind. (We also wanted to enjoy what we did for a living) ;).
Why exactly should I join YOUR box? What makes it standout from others?
You're welcome to join if you like…you should definitely drop by and work out with us. We've some great trainers, great athletes and a super friendly and encouraging environment-whatever your level, you'll work hard & come away feeling great!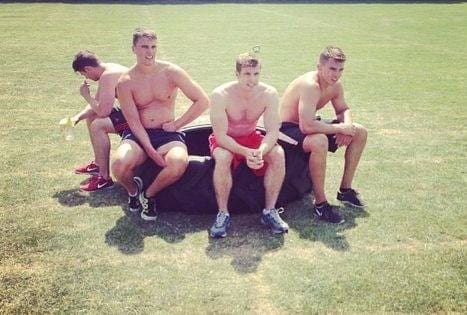 How does your member structure look like? (Number of members, Male/Female, Young/Old, any competitive athletes?)
At the moment our membership numbers are about 50/50 male female. We've been lucky to have trained athletes from 16 to 65 in our box and regularly have a good mix in classes. We are still relatively young, but have a few potential competitive athletes down the line.
Do you have additional training possibilities (Yoga, Gymnastics etc.)?
We have recently introduced a yoga slot which is proving very popular as a compliment to our regular CrossFit schedule. We certainly want to investigate specialty offerings/classes in the near future.
Do you consult your members in nutrition questions?
We try keep the dialogue pretty informal with our members as regards diet & nutrition. We have held talks recently around the benefits of Paleo & Zone Diets. We believe diet is about trial & error and finding out what works best for you to achieve your fitness goals. We are here for support and advice at all stages along the way.
If I start as a beginner – how does my training in the first month look like?
Beginners will participate in scaled back versions of general classes. They will be looked after by a coach who will teach them the 9 fundamental movements  over the course of a few weeks. Each class they will also participate in a moderated wod relative to their capacity and abilities.
Do you organize any internal or open competitions?
We have small internal competitions monthly and are looking into having a wider competitions with some of the other boxes in Ireland in the new year
Do you have links to other boxes?
The CrossFit community in Ireland is still small but it's growing fast. Our friends Chris & Lucy Kenefick in CrossFit Return (Co. Cork) have been a huge help to CrossFit 353 the whole way along. Also Rob & Alex in CrossFit Navitas have gone above and beyond when we've asked them for help so a big thanks to CrossFit Return & CrossFit Navitas for their ongoing support.
Can I drop in if I am passing your city? Who do I have to contact?
Absolutely!! Drop us an email to info@crossfit353.com. We'd welcome you with open arms.
---
You want to see your box featured here? Get in touch!
For any comments, questions or suggestions use the comment box below ↓