THE SEVEN (ADAPTED)
7 Rounds For Time
7 Handstand Push-Ups
7 Thrusters (135/95 lb)
7 Knees-to-Elbows
7 Deadlifts (245/165 lb)
7 Bicep Curls
7 Kettlebell Swings (2/1.5 pood)
7 Chin-Ups
Complete 7 rounds of the movements in the order written. Each round is made up of 49 repetitions: 7 Handstand Push-Ups, 7 Thrusters, 7 Knees-to-Elbows, 7 Deadlifts, 7 Bicep Curls, 7 Kettlebell Swings, and 7 Chin-Ups.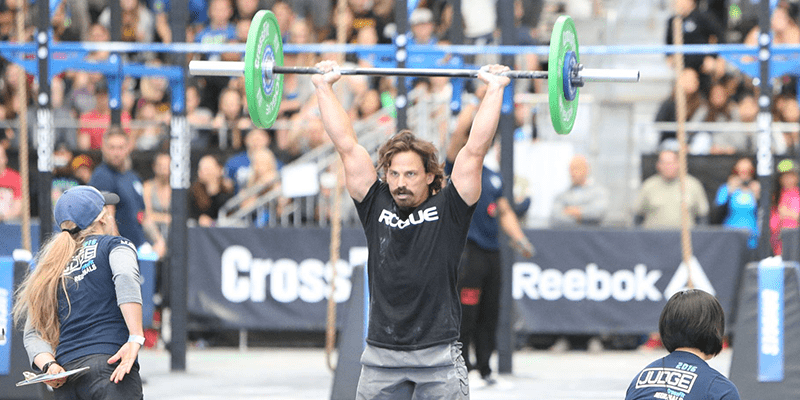 Source: Photo courtesy of CrossFit Inc
Score is the time it takes to complete all 7 rounds.
Good Times for "The Seven" (estimated)
– Beginner: 40-49 minutes
– Intermediate: 33-39 minutes
– Advanced: 25-32 minutes
– Elite: <24 minutes
Arm Workouts – Scaling Options
This workout is meant to be relatively long—30+ minutes for most athletes. The load should feel moderate—not maximal. Scale the volume, the load, and/or the skill level so you can complete this workout in under an hour.
The rest in this WOD is during the transitions—when you move, for instance, from the thrusters to the knees-to-elbows. If you have to break up the sets of 7 reps into smaller bits, then either the load is too heavy and/or the skill level is too high.
Arm Workouts – Intermediate
5 Rounds
7 Push-Ups
7 Thrusters (95/65lb)
7 Knees-to-Elbows
7 Deadlifts (155/105 lb)
7 Bicep Curls
7 Kettlebell Swings (53/35lb)
7 Chin-Ups
Arm Workouts – Beginner
5 Rounds
7 Box/Bench Push-Ups
7 Thrusters (45/35lb)
7 Hanging Knee Raises
7 Deadlifts (95/65lb)
7 Bicep Curls
7 Kettlebell Swings (35/26lb)
7 Ring Rows