Timm von den Busch, Peter Dortnbusch und Marvin Maxwell, the box-owners of Crossfit Crefeld, are giving us a little insight into what happens at their BOX! Enjoy another episode of our Europewide BOX interviews.
Short Facts
Name: CrossFit Crefeld
Address / Location: Hochstadenstr. 5, 47829 Krefeld, Germany
BOX-Owner: Timm von den Busch, Peter Dornbusch, , Marvin Maxwell
Open since: 8th Dezember 2013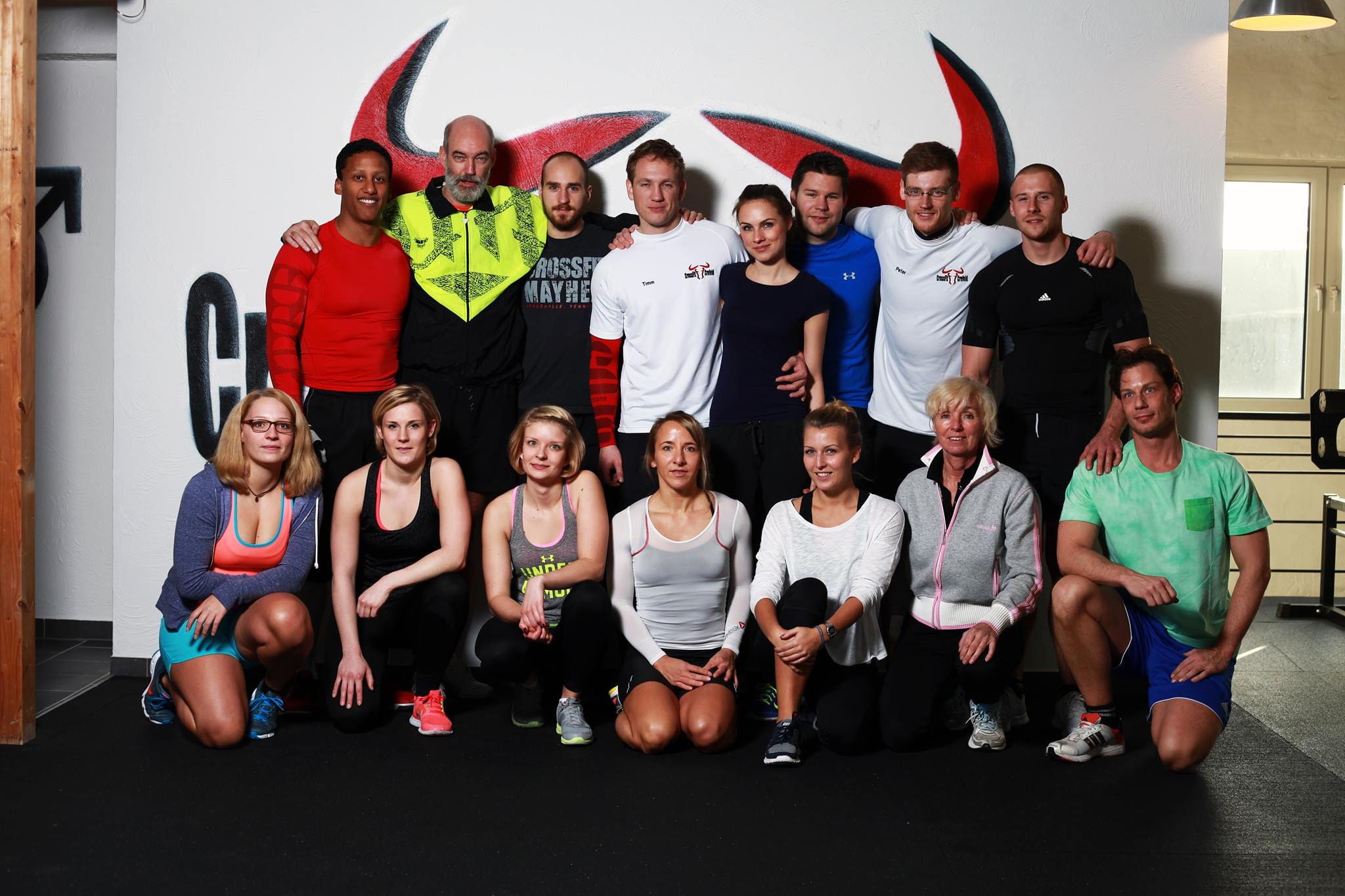 Info:
How did you come to CrossFit?
Timm first heard about CrossFit in 2012, due to the search of new Sports which we could try out. We then experienced CrossFit on our own, which blasted our overall fitness and enthusiasm for this sport. After that, we decided to take the Trainers Level one Course to improve our own technics.
Why did you open your own box?
During the year, while waiting to take the Level one Course, we discovered that CrossFit is more than just a Sport. It is about the people, to give them back what they have forgotten: Sport is not just lifting weights to get the biggest bizeps at the gym. It is community, it is fun, to move heavy loads right, to push yourself and others further – together
Why exactly should I join YOUR box? What makes it standout from others?
Because we care about every single member and not just the mass.
How does your member structure look like? (Number of members, Male/Female, Young/Old, any competitive athletes?)
At the moment most members are pretty young, average is: 27
Male /Female : 3/1
We want to put some Athletes in to the Games next year as we have discovered some with great potential.
Do you have additional training possibilities (Yoga, Gymnastics etc.)?
Olympic Weightlifting – We would like to have a professional Weightlifter in house once a month, for better and faster progression in technics for every member who is interested (starting in February – limited to 10 people). Conditioning, twice a week – CrossFit style – this will never be boring. Hero-WOD's on Sunday, everyone is getting exited there J
Do you consult your members in nutrition questions?
Yes we do, if they like to hear about it. If they are getting to lift more and more weight we recommend to have a look into the Zone Diet.
If I start as a beginner – how does my training in the first month look like?
First we will proceed with your technics in our Rookie workouts with small weights, putting on more and more weight over time (few weeks), if the technic is healthy. After you mastered the Rookie workouts (Level 1) and, where we will have a lots of conditioning, besides the technics, we will put you to the next level, always keeping an eye on your technics.
Do you organize any internal or open competitions?
Personal: Wall of "you vs. you challenge" – Everybody can write down his goals, what he/she wants to achieve at the training (i.e. Muscle up or 120kg Clean). They have to say what they want to do for that (i.e. eat clean) and what the box can call them, if they did not achieve this goals.
Internal: We have a leader Board, where all official WODs (Girls and Heroes) are listed. Everybody can have a look at the board and compete with others, aswell as themselves, if they already have a time in the WOD
External: We would like to promote CrossFit even more in an open competition in the summer, where everybody could join and participate. Something like the CrossFit Crefeld Sommerspiele – sunny sweating
Do you have links to other boxes?
Timm has been in contact with CF Dortmund and CF Essen, but we want to extend our connections to the other boxes in the near future. To reach out to the community and improve our relationships to them. We try to exchange Shirts in every box where we can get to.
Can I drop in if I am passing your city? Who do I have to contact?
Of course, everybody is welcome and can join us to enjoy CrossFit – there would be a drop in fee, though. But for the 20€ you will get a CFC Shirt. Just send us a message on Facebook – CrossFit Crefeld – a mail info@crossfit-crefeld.de , or give us a call on the phone number listed on the hompage: www.crossfit-crefeld.de.
---
You want to see your box featured here? Get in touch!
For any comments, questions or suggestions use the comment box below ↓