6. PAINSTORM XXI
For time
30 Burpees
30 Deadlifts
30 Burpees
30 Cleans
30 Burpees
30 Strict Presses
30 Burpees
30 Push Presses
30 Burpees
30 Jerks
30 Burpees
30 Swings
30 Burpees
30 Sumo Deadlift HIgh-Pulls
30 Burpees
30 Snatches (Left Hand)
30 Burpees
30 Snatches (Right Hand)
30 Burpees
30 Man Makers
Use one pair of Dumbbells (55/35 lb) throughout
Use the same pair of dumbbells throughout. Originally the WOD was designed as "choose your own weight." If you're looking for an Rx weight consider 50/35 lb.
One man maker consists of a dumbbell push-up, two renegade rows (one per arm), and a squat clean thruster.
Score is the time on the clock when the last repetition of Man Makers is completed.
Movement Standards
Most of the weighted movements (Deadlifts, Cleans, Strict Presses, Push Presses, Jerks, Sumo Deadlift High-Pulls, and Man Makers) are intended to be done with two Dumbbells.
As in most CrossFit workouts, olympic lifts (Cleans & Snatches) are power (not squat) unless otherwise stated.
Snatches are with a single Dumbbell, one arm at a time.
Dumbbell Swings are an uncommon movement and this workout (which is from 2007) does not explicitly state whether the swings should be single- or double-dumbbell swings. But double Swings would be awkward, so we assume it's single Dumbbell Swings. We also assume the swings are Russian style (to eye height) instead of American (overhead), which is safer since dumbbells don't have handles for swings.
7. Dumbbell Workouts for Time – WADE
5 Rounds For Time
11 One-Arm Dumbbell Power Snatches (50/35 lb)
12 One-Arm Dumbbell Thrusters (50/35 lb)
11 Weighted Pull-Ups (50/35 lb dumbbell)
Alternate arms on each snatch and thruster
8. Dumbbell Workouts for Time – SWOLE-TEL
Four Parts in 12 minutes
EMOM for 3 minutes:
15 Dumbbell Rows (2×30 lb)
10 Push-Ups
EMOM for 3 minutes:
10 Dumbbell Rows (2×40 lb)
10 Push-Ups
EMOM for 3 minutes:
5 Dumbbell Rows (2×45 lb)
10 Push-Ups
Then, AMRAP in 3 minutes:
Dumbbell Rows (2×30 lb)
Perform the entire workout with a running clock. No rest between sections. Score is total number of dumbbell rows completed in the final 3-minute AMRAP section of the workout.
9. Dumbbell Workouts for Time – HOTEL HELL
For Time
100 Dumbbell Hang Clean Thrusters (2×35/25 lb)
5 Burpees to start, and at the top of each minute
Start with 5 burpees. Then complete as many hang squat clean thrusters (aka: "hang clusters") as possible until the minute is up. Repeat until 100 total are completed.
Score is the time on the clock when the last thruster is completed. If athlete does not finish score is number of rounds and reps completed.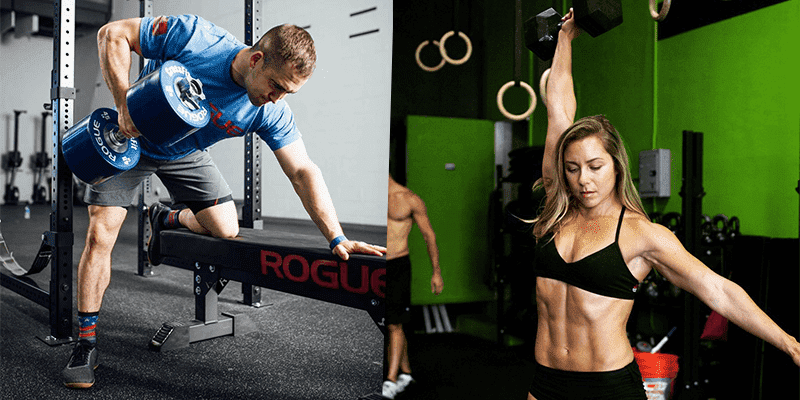 10. JOSEPH MARCHBANKS JR.
For Time
10-9-8-7-6-5-4-3-2-1 Reps of:
Alternating Dumbbell Snatches (75/45 lb)
Handstand Push-Ups
With a running clock, as fast as possible perform the prescribed work in the order written. Perform 10 Alternating Dumbbell Snatches and 10 Handstand Push-Ups before moving on to 9 Alternating Dumbbell Snatches and 9 Handstand Push-Ups and so on.
Score is the time on the clock when the last round of handstand push-ups is completed.