MEN 45-49
Joel Hughes
Justin Lasala
Chad Augustin
Bernard Luzi
Clint Paddock
Mike Rando
Bob Ruano
Giulio Silvino
Bob Jennings
Bruce Thomas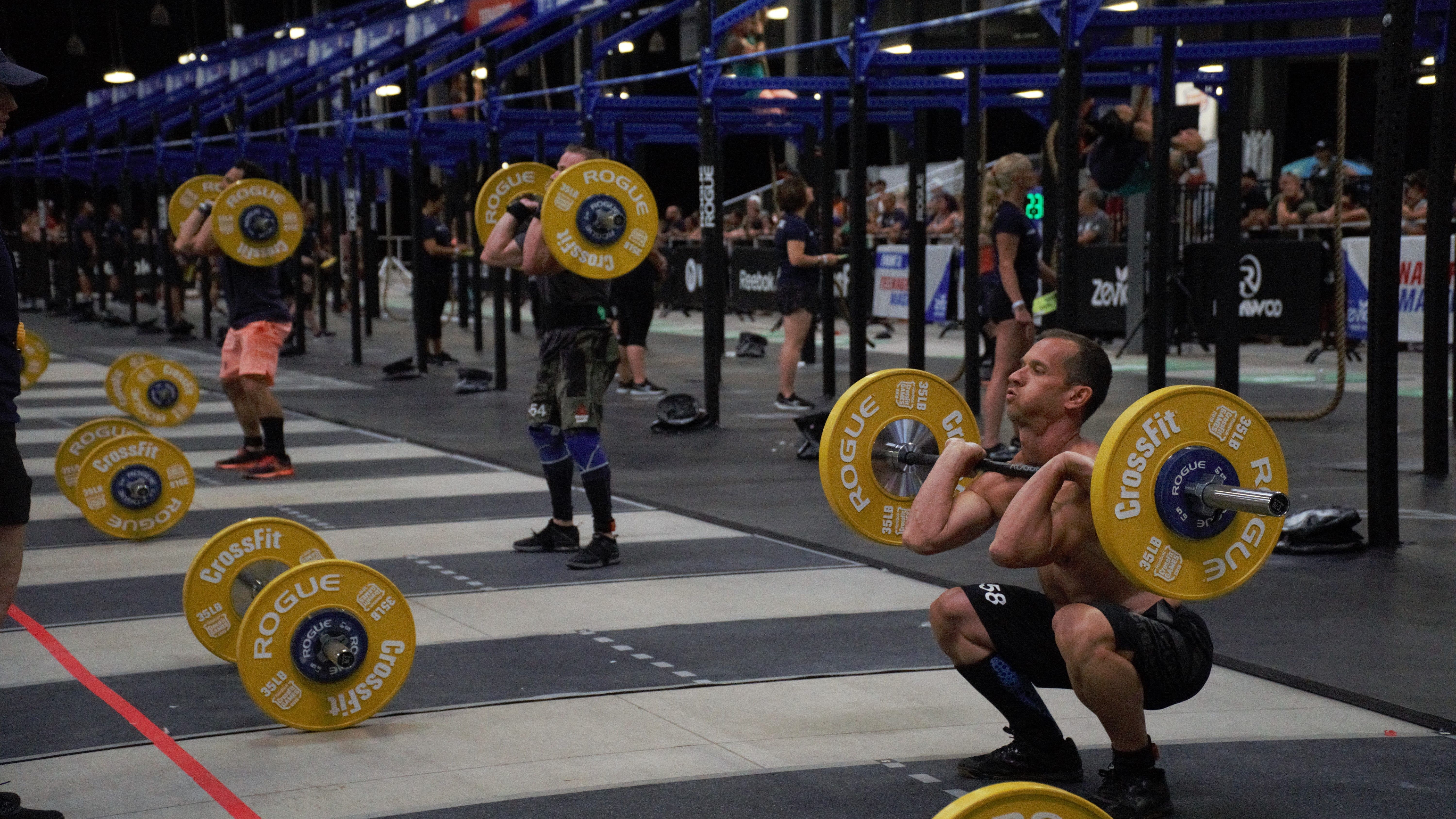 Source: BOXROX
It was Joel Hughes' first year at the Games and the American took the title of Fittest on Earth (men 45-49). Winning three events and never finishing lower than third, the rookie had an impressive event.
He was followed by Justin Lasala, who was competing at the Games for the third time this year, but moved up one category this year. On an Instagram post, he shared:
"I'm always thankful for the opportunity to compete against the best. With all of the changes this year, making it to the Games is an accomplishment in itself."
https://www.instagram.com/p/B0yxt64AniN/
WOMEN 45-49
Janet Black
Semma Burba
Jolaine Undershute
Tracy O'connell
Stephanie Brennan
Nicole Abbott
Cheryl Brost
Aida Koepplinger
Jennifer Dieter
Elena Kulik
Six years CrossFit Games masters athlete, Janet Black went into the Games this year ranked first worldwide in her age division after the Open and second in the Age Group Online Qualifier. She won three events and was the only woman in the age division to finish the Bicouplet 1, the last event of the competition, in time.
Bicouplet 1:
21-15-9 reps:
Snatches
Chest-to-bar pull-ups
♀ 55 lb. ♂ 85 lb.
https://www.instagram.com/p/B0xAuiHgjRJ/
MEN 50-54
Kevin Koester
Gregg Geerdes
Vic Mcquaide
Jody Hendrix
Leonardo Wernersbach Lima
Patrick Murray
Paul Mccrary
Charles Russo
Ryan Joe Hamby
Mark Ziolkowski
https://www.instagram.com/p/B0s_gFDgRrh/
2017 Games winner (men 50-54) came back strong this year and took another title – two CrossFit Games appearances and two wins. It was a close competition between him and second place, Gregg Geerdes, who finished only 10 points behind him.
WOMEN 50-54
Jana Slyder
Chris Nelson
Joyanne Cooper
Francoise Mahier
Maricruz Prieto
Belinda Halcrow
Tia Vesser
Alexia Fineman
Deborah Schedue
Jessica Clevenvik
It was the second time at the CrossFit Games for Jana Slyder and first as a 50-54 masters athlete. She ranked 1st worldwide after the Open and won three events last week at the Games. She won the Ruck event with an impressive time of 35:37.15, faster than the last three Elite individual women, using the same weights (and running the same distance) as them.
https://www.instagram.com/p/B0yXWLTnYin/
Jessica Clevenvik withdrew from competition after the fifth event.
MEN 55-59
Joe Ames
Ken Idler
Allen Duarte
Kurt Stein
Bruce Young
Will Powell
Stuart Swanson
Vincent Lopez
Rob Bernet
Joe Ames and Ken Idler were tied on points by the end of the competition, both finishing with 530, but with two second-place finishes, it was Joe Ames who took the title of Fittest on Earth (men 55-59). Third place Allen Duarte wasn't far behind either, finishing only ten points behind the two leaders.
This was Ames' second CrossFit Games title, as he won the 2015 Games (men 50-54).
https://www.instagram.com/p/B0w26ImAFw4/
WOMEN 55-59
Laurie Meschishnick
Linda Elstun
Marion Valkenburg
Hylie Thompson
April Watkins
Lynne Knapman
Judith Tynan
Sue Velott
Debbie Downing
Mary Beth Prodromides
One of the two Canadian Masters winners this year, Laurie Meschishnick is a seasoned Games atheltes, with six masters appearances. This was her third Games podium and best result so far. She won three out of seven events, finished fourth once and second three times.
https://www.instagram.com/p/B01kpC-AACP/
Mary Beth Prodromides withdrew from competition after her fifth event.
MEN 60+
Paul Perna
Gord Mackinnon
Dan Brannagan
Carl Giuffre
Hilmar Hardarson
David Hippensteel
Michael Brown
Ken Wellner
David Hardie
Tom De Nolf
60-year-old Paul Perna made her second Games appearance last week and took the Fittest on Earth title (men 60+). He was followed by Games veteran Gord Mackinnon, who won the Masters Men (50-54) division back in 2012.
You can read more about him and other masters athletes here.
WOMEN 60+
Susan Clarke
Patricia Mcgill
Pauline Sciascia
Sue Lawson
Diana Flynn
Julie Holt
Carol Lynn Thistle
Elizabeth Cole
Christine Long
Debby Cook
The impressive Susan Clarke continued her winning streak at this year's Games. This was the fourth gold medal for the Canadian athlete, who has competed at the CrossFit Games four times and always finished on the highest spot.
She won every single event and finished with a 160 point lead over second place Patricia Mcgill, winning with 700 points – the perfect score.