Shoulder Workouts – JONAH LOMU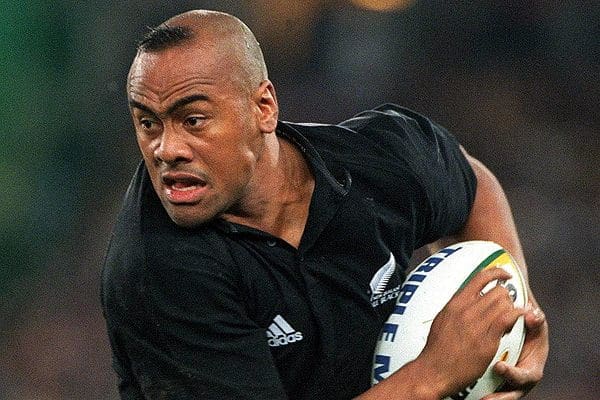 For Time
1975 meter Run
11 Sandbag Ground-to-Over-Shoulder (55/45 lb)
11 Thrusters (135/95 lb)
11 Handstand Push-Ups
11 Hang Squat Cleans (135/95 lb)
11 Chest-to-Bar Pull-Ups
11 Shoulder-to-Overheads (135/95 lb)
11 Back Squats (135/95 lb)
11 Power Cleans (135/95 lb)
37 Wall Ball Shots (20/14 lb)
40 Kettlebell Swings (1.5/1 Pood)
Jonah Tali Lomu, MNZM (12 May 1975 – 18 November 2015) was a New Zealand rugby union player of Tongan descent. The significance of the numbers from the WOD: born in 1975, played left wing (#11: in Rugby all shirts imply position) scored 37 tries from 63 tests at international level, died at age 40.
He was the youngest ever All Black when he played his first international in 1994 at the age of 19 years and 45 days. Lomu finished with sixty-three caps and scored 37 international tries. He has been described as the first true global superstar of rugby union and as having a huge impact on the game. Lomu was inducted into the International Rugby Hall of Fame on 9 October 2007, and the IRB Hall of Fame on 24 October 2011.
He made a comeback after undergoing a kidney transplant in 2004, finally retiring from professional rugby in 2007. He died suddenly on 18 November 2015.
SCAPULAR HEALTH: MASSAGE AND RECOVERY
It's important to mention that massage can really help to unglue tissues around your scapula. Spending years in bad shoulder positions can cause the muscles to stiffen and knot, so to help them activate properly use a lacrosse ball, tennis ball or 'peanut' and place it in the area between your scapulae and spine. Apply some gentle pressure by leaning against a wall or lying on the floor and move the ball up and down this area and wherever you feel a few lumps or knots, keep the ball in there until you feel it start to loosen. Spend five minutes on the left and right side and after you'll feel like you've got a brand-new set of shoulders.
Incorporating these exercises into your training, either as a warm up or post-WOD accessory work will only take about 30 minutes a week but will go a long way to making you a stronger athlete and keep you Crossfitting for years to come.