Short Facts
Name: CrossFit TB (Tom's Box)
Address / Location: Libellenweg 10, 3006 Bern, Switzerland
BOX-Owner: Tom Krebs
Open since: 1 of July 2013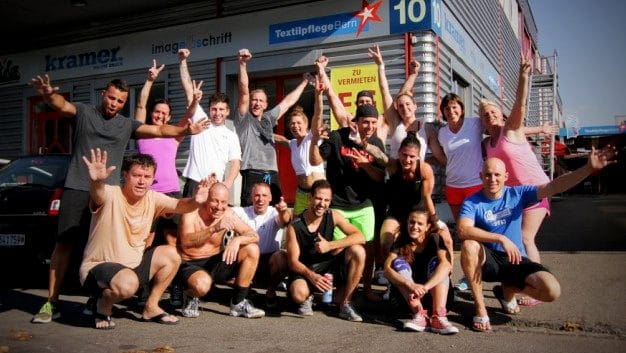 Info
---
How did you come to CrossFit?
About three years ago I saw a client at the gym I was working in at that time. He was doing a different kind of workout. One I've never seen before. I was attracted instantly by this new sport and the whole ideology behind it.
Why did you open your own box?
In the beginning I took a share in Crossfit box that was already established. But after three years I resigned my partnership due to different points of view on community and approaches towards training methods. Therefore I was able to open my own gym – CrossFit Tom's Box.
Why exactly should I join YOUR box? What makes it standout from others?
That's quite hard to explain. But I think in the first place because we are a very sympathetic and motivated community. And secondly because we provide high quality approach.
How does your member structure look like? (Number of members, Male/Female, Young/Old,  any competitive athletes?)
We have about 65 members with the gender ratio around fifty-fifty. The age gap ranges between 20 and 70. Yes there are some competitive athletes as well.
Do you have additional training possibilities (Yoga, Gymnastics etc.)?
Yes – we offer yoga to our athletes.
Do you consult your members in nutrition questions?
Not deliberately. Just if someone asks me for advice.
If I start as a beginner – how does my training in the first month look like?
First I check your mobility, stability and exercises techniques. Through that I can determine the weaknesses and strengths with the goal of working on both of them.
Do you organize any internal or open competitions?
Not yet.
Do you have links to other boxes?
I cultivate some friendships with other CrossFit Boxes in Switzerland, Germany and Austria.
Can I drop in if I am passing your city? Who do I have to contact?
Yes of course! You can contact me over phone,  e-mail or homepage – www.crossfittb.ch. All the info can be found on the site.
---
You want to see your box featured here? Get in touch!
For any comments, questions or suggestions use the comment box below ↓