A few weeks ago, the Dubai Fitness Championship (DFC) final took place and welcomed 80 athletes during 5 amazing days of tough events!
When I saw the leaderboard with names like Mat Fraser, Ben Smith, Annie Thorisdottir, Sam Briggs and Thuri Helgadottir, my first reaction was "Wow, all these great competitors in one place !"
I followed one particular athlete, Nathalie Geurts, who is unknown internationally yet has had good results in European competitions, and won the Belgian open in 2016. She finished the 5 days in 28th position whilst Sara Sigmundsdottir (3rd at the CrossFit Games 2016) won the competition.
It was on Saturday I met Nathalie and her husband Pieter Vanbussel (who is also a European competitor) at their box: CrossFit Bilzen – Box 1984 (Belgium). The atmosphere was relaxed and fun. The coaches and the members were getting ready for a 50 minute WOD. Work, passion, sharing and fun seem to be the spirit that Nathalie and Pieter want to spread in their box.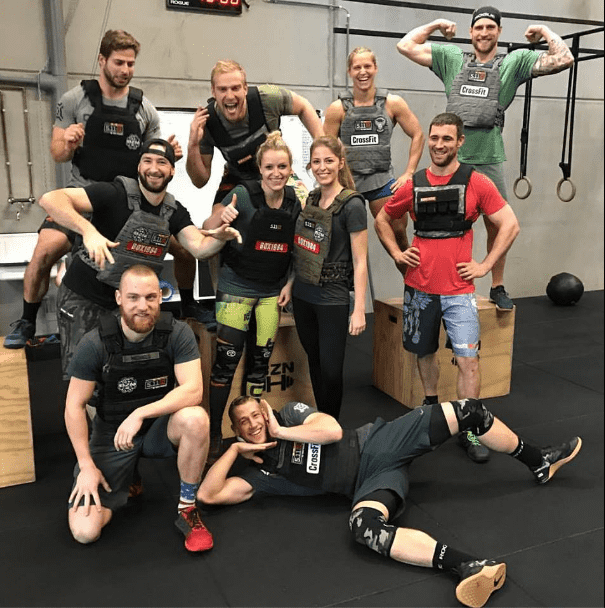 Let's see how an athlete can reach a high level and compete at International competitions.
1. CHALLENGE YOURSELF
Before she started Crossfit, Nathalie did a lot of regular fitness and she was also an Indoor Cycling instructor. She also liked going out for long runs. Pieter also trained hard, ran and practiced
Muay Thai. They have both competed in several Final European competitions and achieved good results.
Competition time at the German Throwdown

© CrossFit Bilzen

"I love Crossfit because it's so varied and at the same time so complete. The fact that I can challenge myself over and over again motivates me extremely. The feeling after a good WOD is like a drug to me. Feeling and seeing the improvements in my body and my fitness is what drives me
every day. Crossfit is my medicine… Pieter totally agrees with me!"
2. TRAIN BOTH YOUR PHYSICAL AND MENTAL STRENGTH
When Nathalie heard she had qualified, she was completely blown away. It took a couple of days for her to realise fully that she would be there amongst all these famous competitors doing Crossfit on a high professional level. She was both excited and scared, but thanks to great support, her proud husband, she believed in herself.
Some athletes that she went up against also participate in the Games, and the WODs themselves were tough. Nathalie confessed :
"It was hard and intense, not only physically but also mentally. Although I knew I wasn't going to finish high in the leaderboard, I wanted to give the best I had. Already after the first 5 events on day 1, my body felt so tired though…not exactly sore but tired, empty. Starting with a 36 km bike was something I'm not used to and so quite challenging for my
legs :-). So you can imagine, the final day, I really had to push myself way over my limits. However, I have to say that the events were very well thought out and perfectly organised. I truly loved every event, even though there were many where I had to fight my weaknesses."
3. BE HONEST ABOUT YOUR WEAKNESSES, AND CONSTANTLY WORK ON THEM
Training and practice on the field are some of the keys to improve and learn about our weaknesses.
The Belgian athlete realized that she still has lots and lots of work to do : "It was an unforgettable experience to be on the same competition floor as these top world athletes. Even now, sometimes I still think it was a dream. It was challenging though, not only physically but definitely also mentally. And I learned that both aspects still need a lot of work and fine tuning! But I came back inspired, extremely motivated and hungry for more!"
She adds that she will attack her weaknesses as much as possible and keep on training as hard as she can.
4. DUBAI FITNESS CHAMPIONSHIP: HAVE A PLAN
An athlete who wants to improve and to compete needs a program and good support.
Nathalie told me that she put a lot of trust in the program "The Training Plan" created by Jami Tikkanen. As a big support, she can count on her half and partner wod, Pieter : "I cannot be more proud of my wife, I know she works hard for it and Dubai was a great reward and fantastic experience, for both of us. She stood her ground amongst world class athletes, so again, I'm a super proud husband!"
5. BE DRIVEN BY YOUR PASSION
In personal as in professional life, when you love what you do and work for it, everything is possible.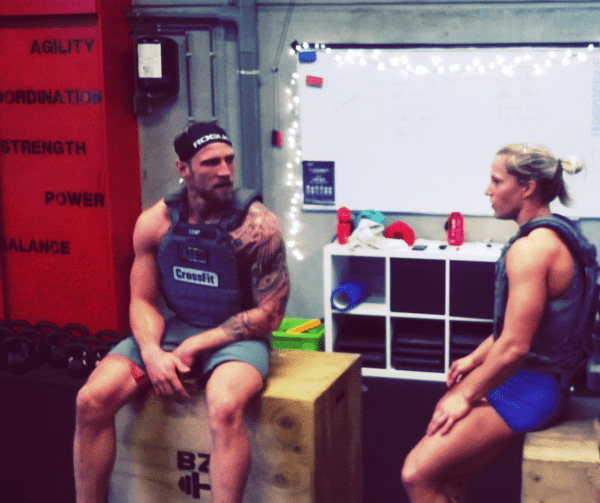 Nathalie and Pieter are the perfect example of this.
They both love Crossfit, they understand each others' addiction.
They know what it takes to chase goals (not only in training but also as owners of their box and the will to satisfy their members).
They support, coach and motivate each other.
They can share ideas and talk on the same level. "That's priceless. And we never fight about coming home late from training (laugh). We do talk a
lot about Crossfit, also at home, and sometimes this can get annoying. I compare my training results with Pieter all the time, which sometimes can end up in a big discussion
because I couldn't beat him again (joke or not).
6. BE HUMBLE
When I visited the couple at their box, I saw what, according to me, distinguish a good athlete to an exceptional athlete. Training with their members, having some fun and motivating each other seem to be their leitmotiv. I asked to Nathalie which competitors have impressed her during the DFC and she humbly answered :
"Although I'm absolutely impressed by the performances of the top 3 European ladies (Sigmundsdottir, Briggs, Thorisdottir), I have to say that I met so many good athletes, I was quite impressed by all of them. It was very nice to meet Laura Horvath, Allessandra Picelli and Kari Pearce, not only because they are world class athletes, but these ladies are so nice and friendly, humble and for me that's what makes an athlete a great and inspiring one. And when Ben Smith said "good job" after the WOD, I must admit I was quite honoured. The Smiths' brothers by the way are super cool dudes: very friendly, relaxed and "down to earth". That's the way I like it 😉 "
7. TRAIN HARD AND BELIEVE IN YOURSELF
Tackle your challenges and never let anyone bring you down! Most of all: enjoy the journey!
Here is the last (but not least) advice from Nathalie.
"It will be hard but it will be worth it."