Eddie Hall, former World's Strongest Man, showed his punching power recently while attempting to break a world record of the hardest punch ever recorded. "The Beast" is set to fight Hafthor Bjornsson on September 18.
UFC fighter Francis Ngannou is the record holder of the hardest punch ever recorded. Utilising a machine called Power Cube, Ngannou recorded a punch of 129,161 units, back in 2017, and it is still the world record.
Utilising the same machine, Eddie Hall attempted to break that record to show his punching power ahead of the fight with Hafthor Bjornsson. Unfortunately, he did not break the record but came close with a punch recording 113,999 units.
Jump to minute 4:50 to see Eddie Hall's punching the machine.
Eddie Hall vs Hafthor Bjornsson, Josh Bridges vs Jacob Heppner
The Beast posted the video to show his preparation ahead of the boxing match against his rival Hafthor Bjornsson on September 18. Bjornsson broke Hall's deadlift world record, but not at an official event, and since then both men have been throwing shade at each other.
Thor and Eddie Hall has a history outside of the rings. They both competed side by side for the World's Strongest Man on multiple occasions. In 2017, Eddie Hall became the World's Strongest Man ahead of Thor, who finished in second place. A year later, the Icelandic powerhouse managed to secure the title.
Hafthor The Mountain Bjornsson has fought two exhibition boxing fights to prepare for Eddie Hall. After his latest, he told Eddie Hall to "schedule an MRI now, because I'm knocking you out."
The fight card will also put face-to-face two CrossFit legends: Josh Bridges and Jacob Heppner. This is the first time in history that two CrossFit athletes will go head-to-head in the boxing ring.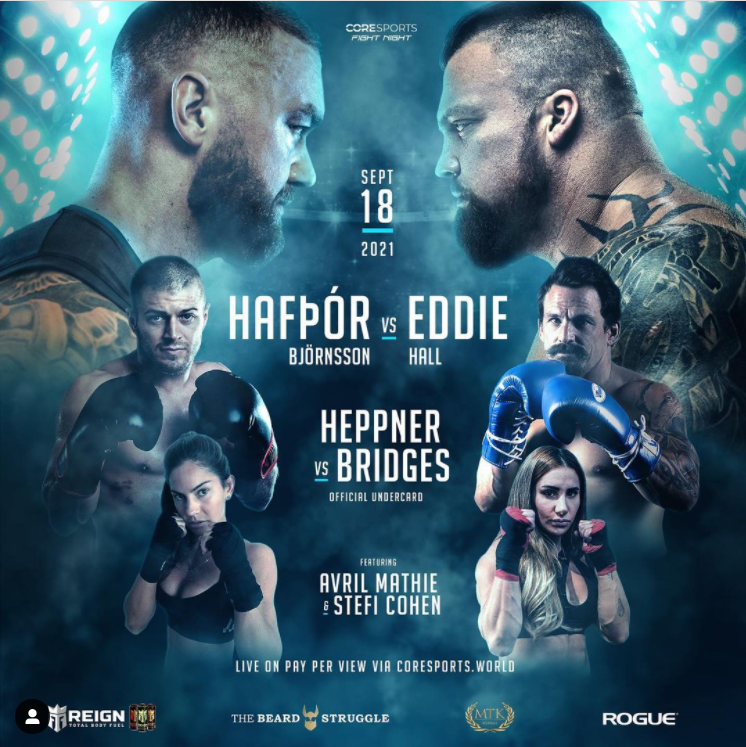 The card will also feature Stefi Cohen, the co-founder of Hybrid Performance Method, a program that has Mat Fraser as one of the coaches. She also is a 25x world record holder and has a doctorate in physical therapy.