In April 2017, Elisabeth Akinwale sat down with Kevin Brathwaite to address the question of race in CrossFit.
The five-time CrossFit Games athlete recently re-posted the two-part filmed conversation, stating "Maybe more people are open to hearing now."
You can find the full conversation below:
https://www.instagram.com/p/CBLIChhjRro/
https://www.instagram.com/p/CBLKcR1DG8X/
Elisabeth starts off by addressing representation of people of colour in CrossFit, and stating that race does matter.
"I know it makes a difference," she said about participating at the CrossFit Games as a person of colour. She knows she got most of her following because she inspired others and she's felt her impact on the scene.
Yet the couple acknowledge that, if it's not something that affects you, it's probably not something that you've payed attention to.
She moves on to explain she has been asked to address the topic of diversity at the CrossFit Games in the past, to which she replies:
"I'm one of two black women at the Games. That's not a platform for me to stand on and talk about the appropriate levels of diversity, because it's not there," she said back then.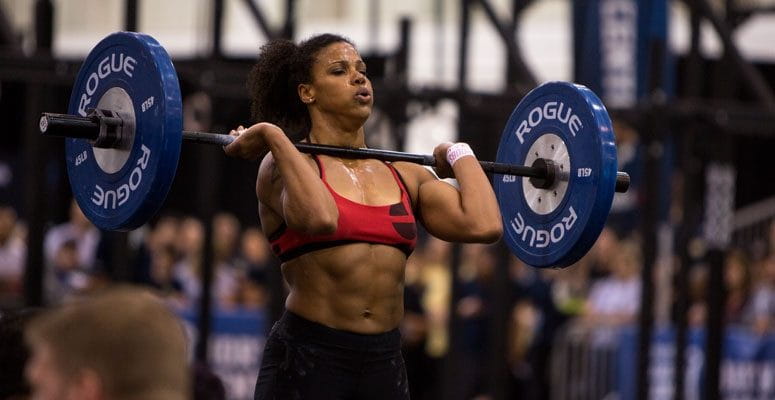 "Why don't black folks do CrossFit?"
Elisabeth knows they do.
One's ought to distinguish between CrossFit as a training methodology someone does in their communities and the Elite CrossFit competition.
When it comes to communities, there's people from all walks of life in Boxes around the world, regardless of race, beliefs or background.
Despite this, there's a frequent response when people ask the above question, and the answer is: black people can't afford CrossFit. Which is generalising a stereotypical view that people of colour are urban people, are poor people.
"Leadership matters and seeing yourself represented when you come in the door, it does make a difference to people if they decide to continue or try CrossFit," Elisabeth points out.
But what matters most, and what most CrossFit gyms are most proud of, is the community – that is part of the value (and value justifies the price). While access is a problem, it goes across all racial lines.
So you ought to address the community, and if the community might make you feel like an outsider, there might not be much value in your membership. Sometimes, the value isn't necessarily there depending on what the community looks and feels like.
When it comes to the CrossFit Games, Elisabeth points out that (during her time as a competitor) being at the top required a lot of outside support. Support that sometimes seemed lacking from the most relevant brands (e.g. no POC on their social media feeds).
"It's easy to think that everything is equal and everything's fair," said Kevin. "And if you deserve it you'll be there or you'll get all of the things that come to you, and that you can get in in spite of that.

"It's not that easy. It takes being excellent to get invited to some of those things, and even then you're not completely invited. People expect to see you conform to whatever is before you. It's not just based on the merit of it, it's based on if you're willing to hang out and do the things that we do or be part of that. That's not the same for everyone."
Elisabeth concludes that fitness is important. People shouldn't fight for their place on the table, the table should set so it's welcoming and inclusive.
In 2017, Elisabeth said she wants to move forward with a type of fitness that is affirming for everyone, but especially people like herself. Affirming to the people that have consistently been underrepresented, consistently been shot out.