So how do you find the perfect sports bra? 
Finding the right fit involves much more than just your cup size. Standard size charts are fine for measuring your band size, but every women's chest is unique, so you will need to check a few more things before you find a great fit.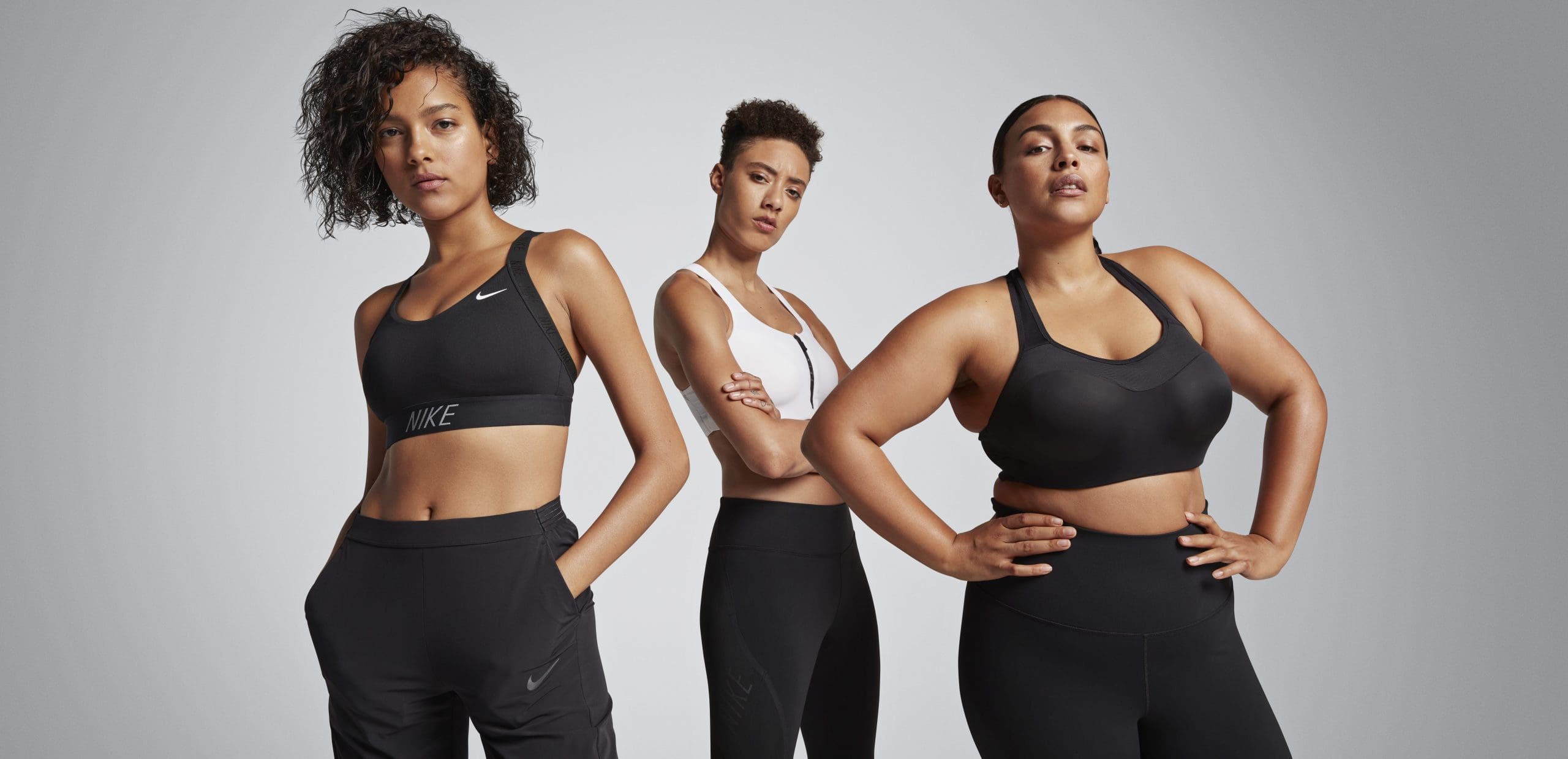 FINDING THE RIGHT MEASUREMENTS
Sure this sounds obvious, but a little self-analysis can go a long way in order to find the perfect fit. If you've changed size, gained or lost weight, refined your diet, had a baby, or altered your workouts, then your measurements may be different from the last time you checked. Take the time to measure yourself again before you make a selection.
FIRST MEASURE YOUR BAND
Wrap the tape around your ribs, just under your breasts. Make sure the tape stays snug and parallel to the floor. Breathe in, out and relax. Measure to the nearest ½ inch or centimeter.
THEN MEASURE YOUR CUP
Start at your breastbone and pull tape across your nipple to where your tissue ends—right under your armpit. Without squishing, keep tape flush with your skin. Now measure to the nearest ½ inch or centimeter.
Now that you have an accurate, up to date measurement, you can move onto the next step.
TESTS TO DETERMINE A GOOD FIT
A sports bra has to support you during all kinds of different workouts. Whether you are working your way through box jumps, rope climbs, running, lifting or whatever else your workout throws at you, you need to be able to know that your sports bra will support you through the full range of motion, however you move. This is also especially important for mobility and flexibility work, as well as yoga and pilates. Try the following tests to find out if a particular sports bra is right for you:
1. Check the back and sideways motion
Turn sideways and check the back of the rib band. It shouldn't pull up and ride higher than the front of the bra. If it does, the band might be too large or the straps too short. A smaller band can help to solve this problem.
2. Checking the bottom and overhead motion
Raise your arms and make sure your breasts don't try to escape the bottom of the bra. They should feel supported during the whole range of motion. Try going down to a smaller band size if you do experience this problem.
This is especially important when it comes to overhead movements such as thrusters, kettlebell swings or clean and jerks.
3. Check the cup size and support whilst moving
You need to move around in your equipment if you want to find a perfect sports bra. Run a few sprints and perform full body exercises such as box jumps and burpees to see how it holds your body whilst in motion. Folds, wrinkles, or other looseness in the cup are your clue to go down a cup size. Especially in longer workouts involving many different kinds of movements, finding the right size will give you more support and prevent chafing that can happen when your cup is too loose.
DIFFERENT TYPES OF SUPPORT
It is a good idea to choose your sports bra based on what activities you do and what type of training you are involved in. Use the following as a guide to make the right choice.
Light Support
Yoga, pilates, barre, core exercises, mobility work and stretching.
Medium Support
General gym and box workouts, short distance running and weightlifting.
High Support
Long distance running, dance and high intensity workouts involving many repetitions of jumping and overhead movements.
OTHER TIPS TO FIND THE PERFECT SPORTS BRA
For larger chested ladies
If you require a C-cup and up, it really comes down to minimal stretch and maximum adjustability.
If you notice that the bra pushes your chest too far upwards, get a bigger sized cup. Check that the band size is not too restrictive either.
Encapsulated styles that keep breasts separated will help to prevent chafing and bounce during exercise (check the model on the right). Wide padded shoulder straps are also a practical way to offer more support, and front closure styles (as you can see on the left) are also a good selection.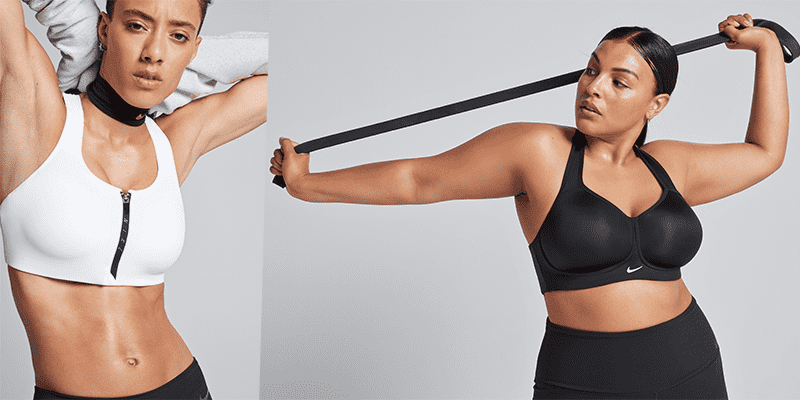 STYLE
Now you know your exact measurements and what to look for when you choose your perfect sports bra, you need to rep your own style.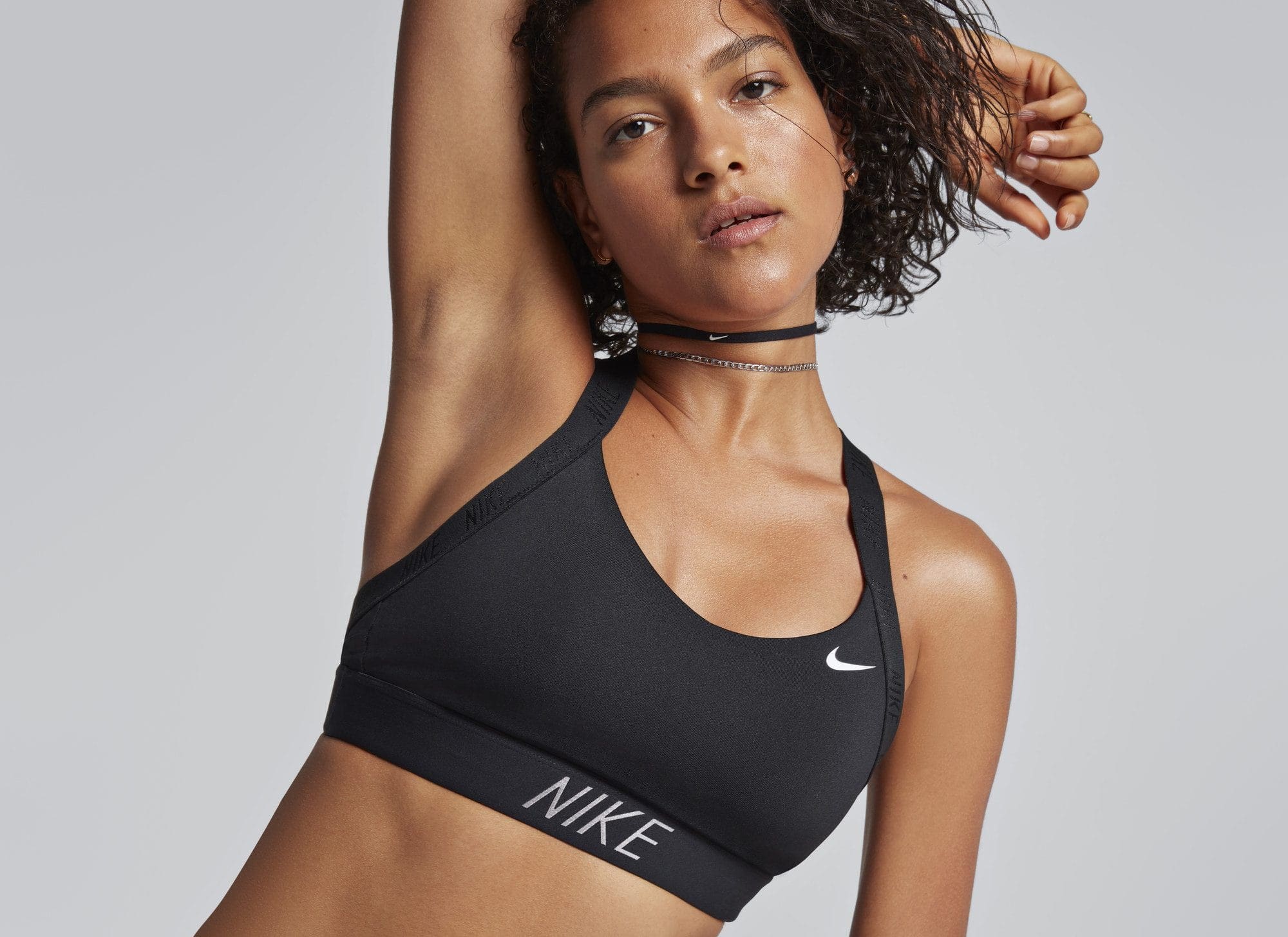 Minimal lines and a clean, pared back aesthetic characterise these Nike sports bras. A reduced, tonal palette is used to create style and athletic elegance in each unique design.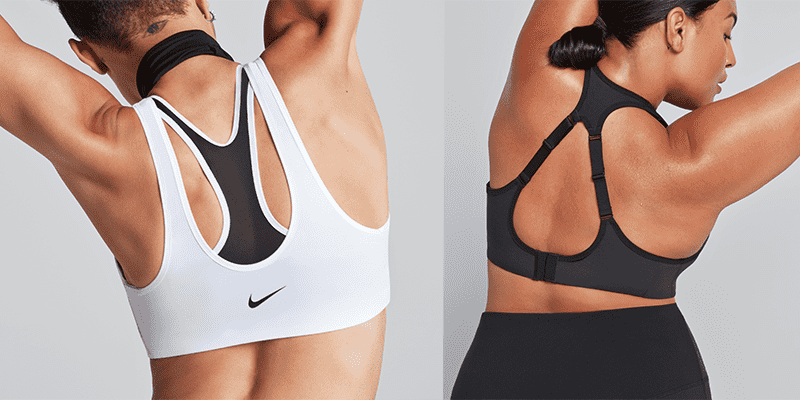 Try a cross over design for a simple and bold statement.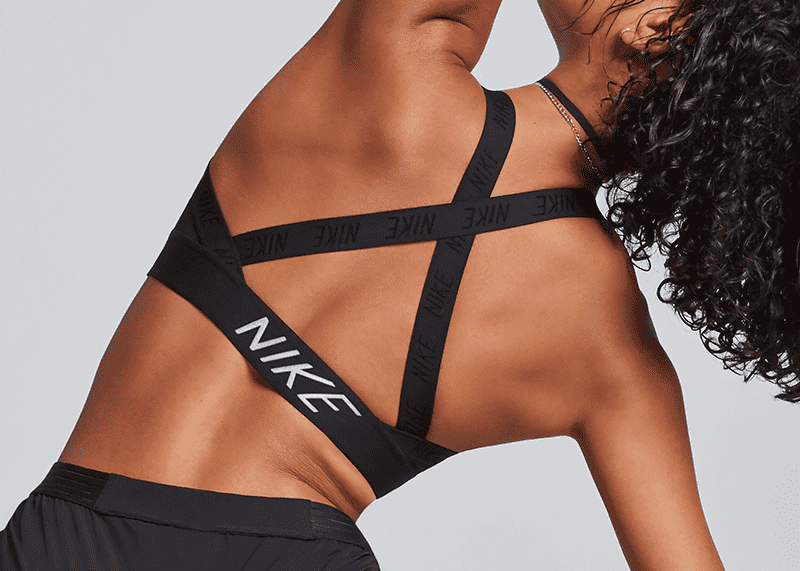 Find your perfect sports bra