Garret Fisher hit a new pr of 138 kg / 305 lb in order to secure first place in the 1rm Snatch Event at The 2017 CrossFit Games. 
Click right on the instagram post to watch the video of his lift.
The rookie Tommy Vinas took second place overall with an aggressive and powerful lifting style. Fikowski was calm and relaxed, and enjoyed a bit of posing whilst he secured third place for himself.
FINAL LIFTS
Garret Fisher – 305 lb / 138 kg
Tommy Vinas – 302 lb / 137 kg
Brent Fikowski – 300 lb / 136 kg
Elijah EZ Muhammad – 297 lb / 135 kg
Mat Fraser – 291 lb / 132.5 kg
Ben Smith – 290 lb / 132 kg
Ricky Garard – 287 lb / 130 kg
Jason Smith – 287 lb / 130 kg
BK Gudmundsson – 286 lb / 129.5 kg
Samuel Kwant – 285 lb / 129 kg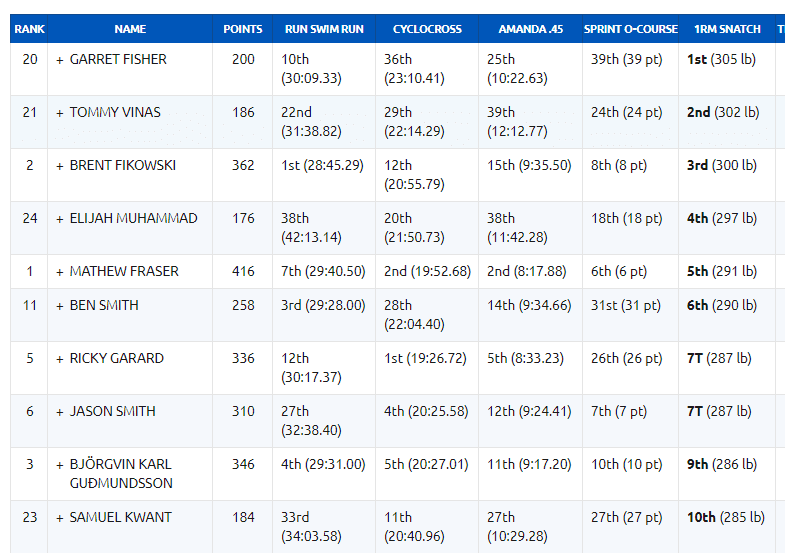 MORE OF THE ACTION
MORE INFORMATION ABOUT THE 2017 CROSSFIT GAMES 
NEWS – Kristin Holte and Ricky Garard Win The Cyclocross Event
Two More Athletes Pull Out of CrossFit Games Due to Injuries
CROSSFIT NEWS – Update from Camille Leblanc Bazinet About Her Dislocated Shoulder