Girl CrossFit workouts are important training milestones withing the CrossFit training methodology. They act as a great way to test your fitness against your previous self and see how you have improved and developed. Firstly, you should always compete against yourself as it is the best way to measure progress. But if you also enjoy the competitive element of CrossFit then check the following workouts to see how good you are.
Each of the following Girl CrossFit workouts comes complete with the RX, scaled and beginner options. You will also find a list that tells you where your score will place you in relation to other CrossFit athletes based on your time or how many rounds and reps you completed.
Each workout also contains strategy tips so that you can improve, whatever level you are currently at.
Have fun and keep enjoying your training.
Girl CrossFit workouts
CINDY
AMRAP in 20 minutes
5 Pull-Ups
10 Push-Ups
15 Air Squats
On a 20-minute clock, perform as many rounds and reps as possible (AMRAP) of the work in the order written. 1 round is equal to 5 Pull-Ups, 10 Push-Ups, and 15 Air Squats.
Score is the total number of rounds and reps completed before the 20-minute clock stops.
Good Score for "Cindy" (source)
– Beginner: 11-12 rounds
– Intermediate: 13-17 rounds
– Advanced: 19-22 rounds
– Elite: 24+ rounds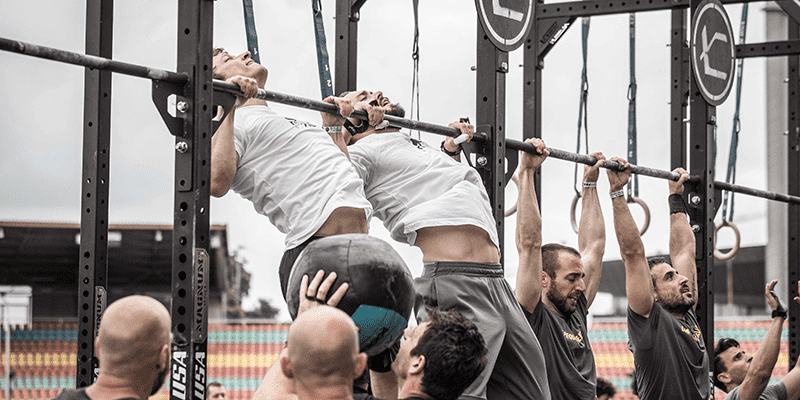 Scaling Options
If Rx pull-ups or Rx push-ups aren't something you can do yet, choose a challenging scale that still allows you to reach full range of motion. Pull-ups where the chin never actually makes it over the bar or push-ups where the chest never touches the ground will not help you get any closer to an Rx pull-up or push-up. Full range of motion movement is better.
Beginner
5 Ring Rows
10 Incline Box/Bench Push-Ups
15 Air Squats
STRATEGY
–
FRAN
21-15-9 Reps For Time
Thrusters (95/65 lb)
Pull-Ups
Perform the 21 Thrusters and 21 Pull-Ups, then 15 Thrusters and 15 Pull-Ups, then 9 Thrusters and 9 Pull-Ups, as fast as possible.
Score is the time it takes to complete all 90 reps.
Good Times for "Fran" (source)
– Beginner: 7-9 minutes
– Intermediate: 6-7 minutes
– Advanced: 4-6 minutes
– Elite: <3 minutes
Scaling
This WOD is meant to feel light, fast, and evoke pain—the good kind of pain. Both the thrusters and pull-ups should be done in large or unbroken sets. Scale the movements so you can go FAST—sets of two and three repetitions won't get your lungs/legs/arms burning in the way they were intended to burn for this WOD.
Intermediate
21-15-9
Thrusters (75/55 lb)
Pull-Ups
Beginner
21-15-9
Dumbbell Thrusters (2×15/10 lb)
Ring Rows
STRATEGY
–
GRACE
For Time
30 Clean-and-Jerks (135/95 lb)
Complete 30 clean and jerks for time. Power cleans or full cleans are acceptable. You may re-set after the clean, or catch the bar in the rack position for the clean and push straight into the jerk without pausing. Push jerks or split jerks are acceptable. Snatches are not allowed.
Score is the time it takes you to complete all 30 reps.
Good Times for "Grace" (source)
– Beginner: 6-7 minutes
– Intermediate: 4-5 minutes
– Advanced: 3-4 minutes
– Elite: <2 minutes
Scaling
"Grace" is one of the fastest CrossFit benchmark workouts. Reduce the load so you can perform multiple reps unbroken and complete all the reps in less than 5 minutes. Athletes less familiar with Olympic lifting should take time to drill the mechanics of each movement and reduce the load drastically.
Intermediate Option
30 Clean-and-Jerks for Time (115/75 lb)
Beginner Option
30 Clean-and-Jerks for Time (75/55 lb)
STRATEGY
–