Ever wondered what went on at a local box in Croatia? Boris Cvilinder is here to tell us exactly that with his run-down on the happenings over at the CrossFit Fanatic Box.
Some Facts:
Name:  Fanatic Box CrossFit
Address / Location: Baštijanova 1a, Zagreb, Croatia
BOX-Owner: Boris Cvilinder
Open since: July 2013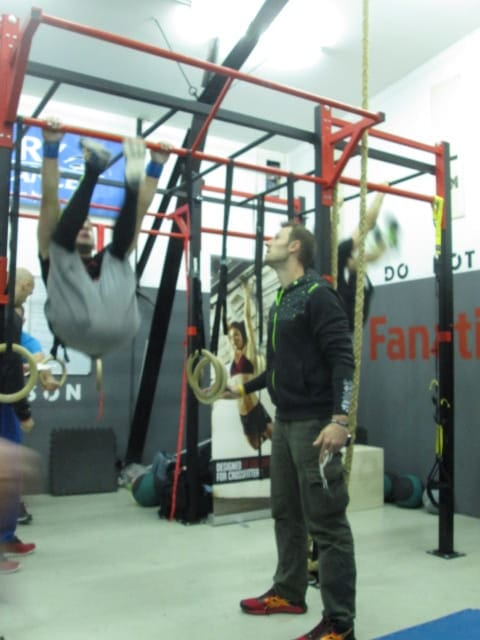 Info:
How did you come to CrossFit?
Working as a coach in the last couple of years I was based solely on functional training. Following the workshop of Mr. Tomislav Jurak in Zagreb about CrossFit I knew immediately that this was the way I want to go, and after more than 10 years of triathlon I needed a new challenge.
Why did you open your own box?
Because I believe that the only way they can offer and do CrossFit in the full sense of the word and be part of this wonderful community.
Why exactly should I join YOUR box? What makes it standout from others?
We are based on work in small groups of up to six members because we believe that the only way you can provide a safe and high quality training. Our strength is the individual approach to each member. We are a real family.
How does your member structure look like? (Number of members, Male/Female, Young/Old,  any competitive athletes?)
Our members are really diverse from people who want to lose weight, who want to improve their fitness level, who want to feel better, which have specific health problems until a competitor who wants to do CrossFit as a sport. In sum equal number of men and women by an average of 20-48 years
Do you have additional training possibilities (Yoga, Gymnastics etc.)?
After completing Endurance seminar and as still active triathlete thinking of starting Endurance classes and running school. One day a week is specialized for working with the Kettlebell.
Do you consult your members in nutrition questions?
Of course at least twice a year we do a workshop for our members of the importance of quality and proper nutrition.
If I start as a beginner – how does my training in the first month look like?
First we scan the movement, if there are no restrictions, moves with the tests on the basis of which member of the group adequately determine their capabilities. If there are restrictions on the movement focuses primarily on mobility and quality of movement.
Do you organize any internal or open competitions?
Sure. So far we have organized a club and an open competition with typical CrossFit Endurance challenges and tasks.
Do you have links to other boxes?
Unfortunately not, but I believe it will be that things will soon change.
Can I drop in if I am passing your city? Who do I have to contact?
Absolutely, in our box are all welcome, and not only that, we enjoy exchanging experiences with people who are connected and which bear some other experiences from other countries, it is always fun. All necessary contacts can be found on our website and book your place by e-mail.
---
You want to see your box featured here? Get in touch!
For any comments, questions or suggestions use the comment box below ↓