From CrossFit Mainz in Germany, here is Achim Lausecker to give 
Short Facts
Name: Crossfit Mainz
Address / Location: Oppenheimer Strasse 44, 55268 Nieder Olm, Germany
BOX-Owner: Achim Lausecker
Open since: September 2011

Info:
How did you come to CrossFit?
Looking back, it's actually a quit funny story. I was member in a common fitness center where the owner was a good friend of mine. He told me about weird but great workouts called CrossFit. I tried Cindy and got hooked immediately. Meanwhile we exchanged roles and my friend sold his gym and is now a member of CrossFit Mainz.
Why did you open your own box?
It was the typical reason overheard and read so many times. I wanted to train by myself with a few friends with no Box in the surrounding. So we started with about 30 square meters but had to increase the space month by month. We started with almost no equipment and funded everything with members donations month by month. In retrospect this and the fact that I run the box part time gave us the opportunity to grow naturally without any financial pressure.
Why exactly should I join YOUR box? What makes it standout from others?
You shouldn't join exactly our box. You should join the box where you believe you will have the most fun, find great trainer and could enjoy the best community. Oh wait.. so at the end of the day.. you have to join CrossFit Mainz.
How does your member structure look like? (Number of members, Male/Female, Young/Old, Athlete/Amateur)
We have about 120 member, 60:40 Male:Female, with a greater number of masters athletes. By the way one of our Masters, Gerd Corvers is one of the best Masters Athletes in Europe. He won the Masters Devision of the Nordic Showdown 2013, finished third in the French Throwdown and only missed the podium of the London Throwdown 2012 due to the unfortunate rules (he lead the leader board unbeatable after day one and only missed a cut on day 2).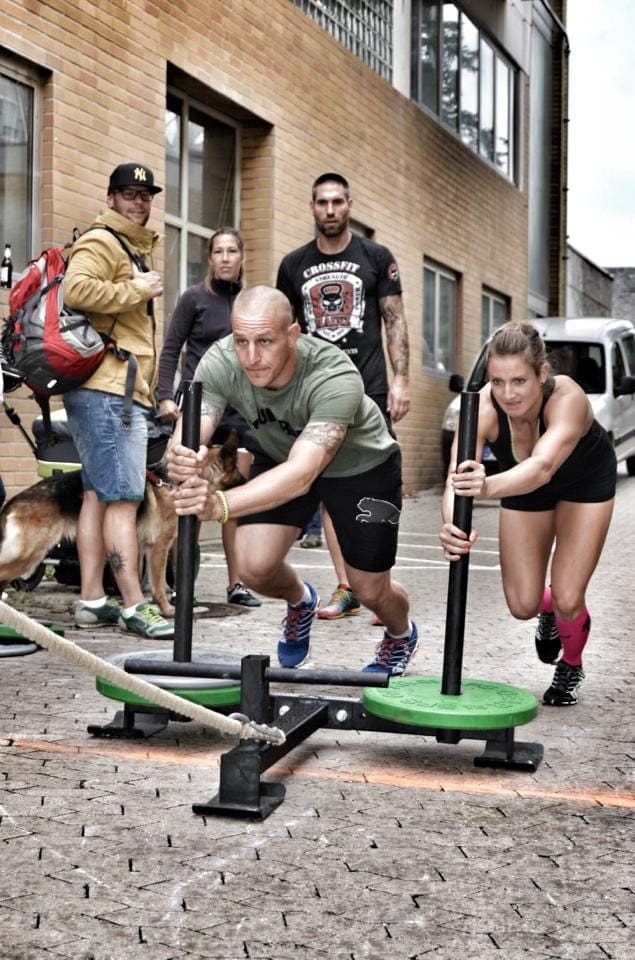 Do you have additional training possibilities (Yoga, Gymnastics etc.) ?
Every now and then we offer some Power Yoga classes. Additionally we have Skill classes. Our Box and the WODs are always packed so there is not much space for other things. We are very proud that we have CrossFit Kids since October 13. Eva Schaab, our CF Kids Trainer does a perfect job to get the kids involved and teach them a healthy lifestyle.
Do you consult your members in nutrition questions?
Yes, but not organized. I believe that there is no general way of teaching how to eat to perform and feel best. There are too many individual needs and dependencies. Paleo for example is a great way but to be honest not one stone age man bought his meat at the supermarket or drank almond milk. Grass fed? You must be very rich to afford this in Germany.
If I start as a beginner – how does my training in the first month look like?
We start with a 3 day introduction class. After that you already join the herd but always scaled.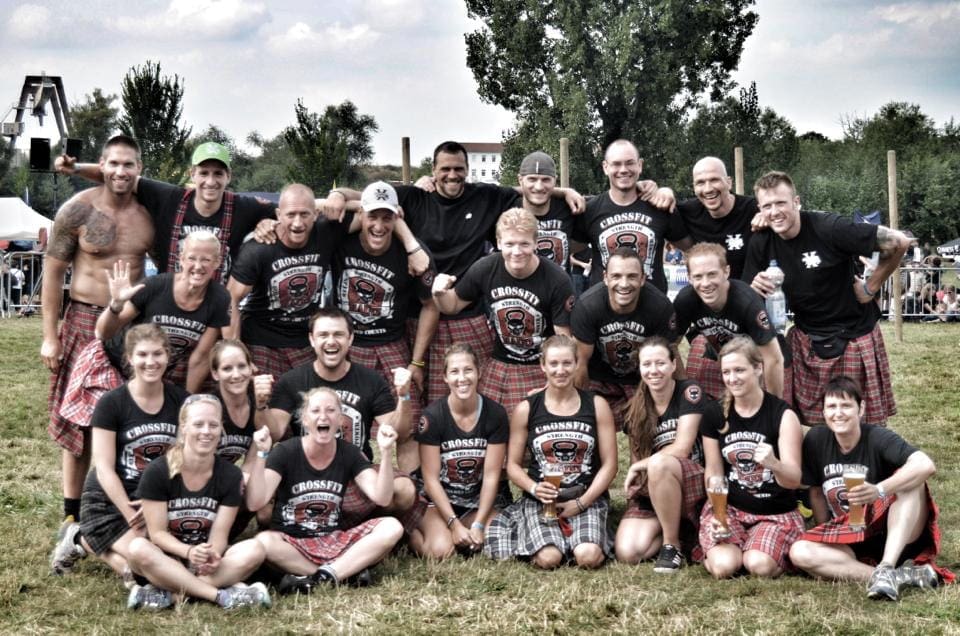 Do you organize any internal or open competitions?
There are so many competitions these days we don`t have to organize our own. In 2013 we took part in local Obstacle runs (Braveheart Battle), Highland Games (Mainland Games), the Cry me a River Challenge,  the CF Open, Rob-O-Challenge, the London, French, Portuguese and Nordic Throwdown, and a couple more.
Can I drop in if I am passing your city? Who do I have to contact?
Wrong question. It is essential to drop in if you are passing the city. Just visit our homepage, check the schedule and drop me a message.
What's your take on Fitness?
Fitness is what you make it. You don't have to master olympic lifts, muscle ups or other special techniques. If you want to be a competitive CrossFitter you have to. If not you should do whatever makes you happy and healthy.
---
You want to see your box featured here? Get in touch!
For any comments, questions or suggestions use the comment box below ↓