Kettlebell Workouts – Filthy 50
For time:
50 box jumps (24/20 in)
50 jumping pull-ups
50 kettlebell swings (1/.75 pood)
50 walking lunge steps
50 knees-to-elbows
50 push presses (45/35 lb)
50 back extensions
50 wall ball shots (20/14 lb)
50 burpees
50 double-unders
Perform all 500 repetitions in the above order. Perform all 50 box jumps, for example, before you move onto the 50 jumping pull-ups.
Score is the time it takes you to complete all the reps.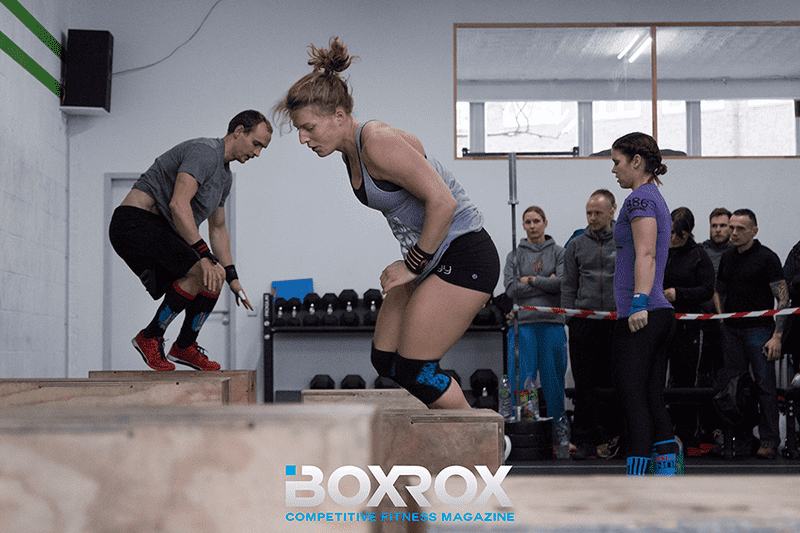 Good Times for "Filthy Fifty"
– Beginner: 24-30 minutes
– Intermediate: 19-23 minutes
– Advanced: 15-18 minutes
– Elite: <14 minutes
Scaling
A classic chipper of 500 reps, this longer workout is characterized by intermediate-level body-weight movements and light loads intended to allow people to keep moving with limited rest. Newer athletes should reduce the volume and/or modify movements to ensure large sets and short rest breaks (see: "Dirty Thirty").
Intermediate Option
For time:
50 Box Jumps (20/16 in)
50 Jumping Pull-Ups
50 Kettlebell Swings (12/8 kg)
50 Walking Lunge Steps
50 Knees-to-Elbows
50 Push Presses (33/22 lb)
50 Back Extensions
50 Wall Ball Shots (14/10 lb)
50 Burpees
50 Double-Unders
Beginner Option
For time:
30 Box Jumps (16/12 in)
30 Jumping Pull-Ups
30 Kettlebell Swings (8/4 kg)
30 Walking Lunge Steps
30 Hanging Leg Raises
30 Push Presses (22/11 lb)
30 Back Extensions
30 Wall Ball Shots (10/8 lb)
30 Burpees
30 Single-Unders