BOXROX Interview with Kevin Winkens
5th Central Europe Throwdown, 7th CMAR, 3. Antwerp Throwdown, 3th Irish Throwdown, 5th German Throwdown,2nd Athens Throwdown. These impressive stats belong to Kevin Winkens. Germanys fittest Men in 2017 and german bearer of hope at the Meridian Regionals.
He owns and trains at CrossFit Lost Legion in Mönchengladbach. His sense of humor is definitively already on Games level and the accompanying German crowd will give it´s best to push this auspiciously Athlete in the Spanish Caja Mágica.
Hey Kevin, can you give us a brief bio about yourself, where you're from and how you got into Crossfit?
I was always very sporty. I played Football,Tennis, was Mountain-biking and hit the gym. That´s where I first came in touch with CrossFit and finally decided to open my own Box, CrossFit Lost Legion.
Current 1RM PRs
Deadlift: 210kg

Back Squat: 185kg

Bench: 130kg

Squat Clean: 145kg

Snatch: 111kg
Favourite exercises?
Ring Muscle Ups, Handstand Walk
Least favourite Exercises?
Heavy Deadlifts
What does a typical training / coaching day look like for you ?
Coffee in the morning straight into a walk with my dog James. Then I usually coach 1 hour before I start my first session.
Then I have 1 hour personal training or office work, then again a walk with James. Around 3pm I start the second session and coaching again 3-4 hours in the evening.
When I'm home about 9-10pm I just grab a snack and watch some youtube stuff, I'm a little fanboy of some youtube guys.
What is your biggest weakness in Crossfit? How have you worked on this aspect of your fitness?
I'm one of the weaker guys so everything thats heavy is a weakness, for almost a year I stick to a weightlifting program 3 times a week.
Who do you think will win the 2017 CrossFit games in the Male and Female categories?
Mat Fraser is too good to lose, so he will win! On the female side I think sara sigmundsdottir can make it but I count on Tia-Clair Toomey!
How does it differ to compete as an individual, and as part of a team? Which do you prefer?
I mean I have always the fear of letting someone down when I'm on a team competition, if you compete as an individual it's just you against your best version of yourself.
If I fail then, I'm just mad about my performance.
Where do you see the German CrossFit Scene in comparison to Europe and the rest of the World? What does Germany need to do in order to get athletes onto the podium at The CrossFit Games?
It's just a matter of time, CrossFit in Germany gets more popular, and on the leaderboard in Europe this year you see whats going on.
In the next few year more german athletes will be on top of the game, hopefully also at the CrossFit Games!
What are your goals for the Regionals and what do you think of the workouts?
I mean I hate everything heavy, so there is nothing really heavy this year, but the dumbbell is a big one. The workouts in general are pretty cool, I like the Muscle Up + Overhead Squat one.
I try my best to get close to the top 10 but my goal is just to make my friends, family and my coach proud.
How do you brace yourself for the Regionals?
You know the Workouts before, so i try to do them a few times. Not too often to not be uncertain for the results. I also watch the other Regionals and see how the Athletes go for it.

If you could switch jobs with Dave Castro for a day and program one extra event for the upcoming Regionals to suit your strengths, what would you choose?
Ok easy, how about a classic Fran?! Good time to get a sub 2' 😀
Speaking about the Regionals, can you tell us more about how CrossFit Inc support the athletes?
It's my first time at Regionals, I just don't know yet what situation it is to be there. Hopefully a good warm-up area and some tasty food!
Next to the accommodation and flights which you have to pay and organize by yourself there is a 200€ attendance fee. Without sponsors this would be a really tricky part. As an Athlete you not only train for the Regionals. During the Season i am at different Competitions every 3 Weeks and i am very thankful that i have the opportunity to go there.

Do you train with other international Athletes and see any differences between them and you? Is there any kind of German "Style" of CrossFit?
I don't train often with international Athletes but I know a lot of them, there is no difference. Thats cool about CrossFit, everyone is nice and friendly and most of them put in just hard work like I do.
If you were the coach, which 4 athletes (2 men, 2 women) would make up your 'World' Crossfit team?
Froning, Fraser, Davidsdottir and Toomey, at least I could coach them to handle my dog.
What common mistakes do you see many beginners making, and what should they do to avoid them?
Most people want too much in a short time, get your goals for a year and make it happen. I started with a goal of someday making it to Regionals, but it took be 4 years.
Its much better to set little goals and reach them from time to time, and listen to your body while doing it.
How do you develop and train your mind to be strong for Crossfit events?
That's what my coach is for, I'm so good at negative self talk. But I know my body pretty well, so pacing should be always a strength of mine.
What does your training plan look like?
5 days of 2 sessions a day, 1 active recovery day (usually swim or run for 1 hour) and 1 rest day (being a normal person and eat some ice-cream!
Do you follow a specific nutrition plan?
I just eat how I feel, but from monday till friday no sugar, that's the only rule I follow.
What is your favourite cheat meal?
ohhh man where should I start, it's too much! But let's say brownies with ice-cream is damn good!
What 3 foods would you recommend that every athlete should eat?
Vegetables, Fruits and Bacon because it's lit.
How does CrossFit influence your daily life?
There is no time for something else, I'm a box owner and Athlete, but I love it!

Do you see any influences or benefits from CrossFit for wider society?
Because of CrossFit a lot more people getting fit and CrossFit connects people, you can go for a drop in at any place in the world and you would make friends easily.
What one book would you recommend that everyone should read?
I don't read books but I can say you should not read to much newspapers, most of the time there is more nonsense than anything good in it.
Can you tell us one surprising thing about yourself that people would never guess when they first meet you?
I look like Bilbo Baggins from the Hobbit, people would never think that I that I made it to Regionals.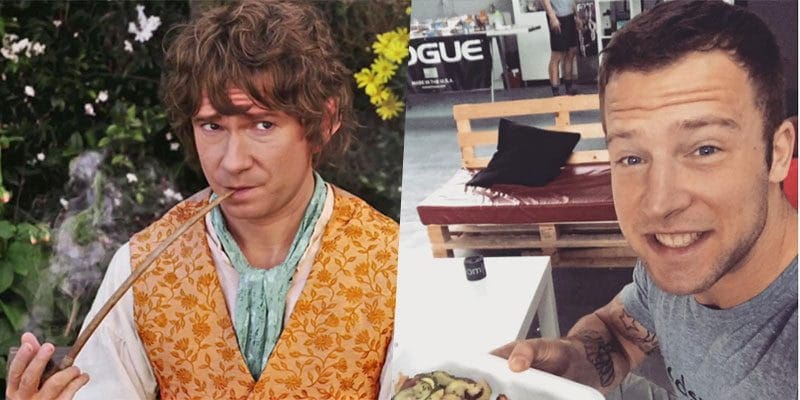 Good luck for the Weekend, Kevin!