Albéric Françon, the box-owner of KULTUREFIT Crossfit Toulouse, is giving us a little insight into what happens at his BOX! Enjoy another episode of our Europewide BOX interviews.
Short Facts
Name: KULTUREFIT CrossFit Toulouse
Address / Location: 64 route de Grenade 31700 BEAUZELLE (France)
BOX-Owner: Albéric Françon
Open since: January 2012
© Savannah Wishart
Info:
How did you come to CrossFit?
I discovered CrossFit during my studies to become a sports teacher in 2009. I did some research on the web, watched many videos, and off to practice I went: "Fran" was the first workout I did … at that very moment I decided it would become my new lifestyle.
Why did you open your own box?
Opening my gym, was a dream come true as it was all I had in mind during these past years. My CrossFit Box is like a huge playground, and a place to share my passion for this type of training.
Why exactly should I join YOUR box? What makes it standout from others?
We are close to our members, we have created a place that offers a combination of efficient and effective workouts which delivers results. We share moments of conviviality from 10am to 20pm non-stop.
© Savannah Wishart
How does your member structure look like? (Number of members, Male/Female, Young/Old,  any competitive athletes?)
We are getting close to 300 athletes. Their ages vary from 15 to 58 years old, and nearly 35% of them are women. Many of our athletes are in competition because we believe this is a great way to maximize and identify their strengths and weaknesses. Thanks to these competitions we can better their progression. My coach, Yohann Gigord and his girlfriend are excellent CrossFit athletes however we also have few others athlete who have a good level. (Yohann, 2 times competitor Regional Europe, 3rd place at Nordic Showdown, French Throwdown and Italian Throwdown).
Do you have additional training possibilities (Yoga, Gymnastics etc.)?
My coach and I are both very fond of initiating people to weightlifting. The courses we offer are exclusively around this discipline. In 2014, we will include Gymnastics courses.
Do you consult your members in nutrition questions?
We try to respond to their requests and, if necessary, we will recommend that they consult a specialist.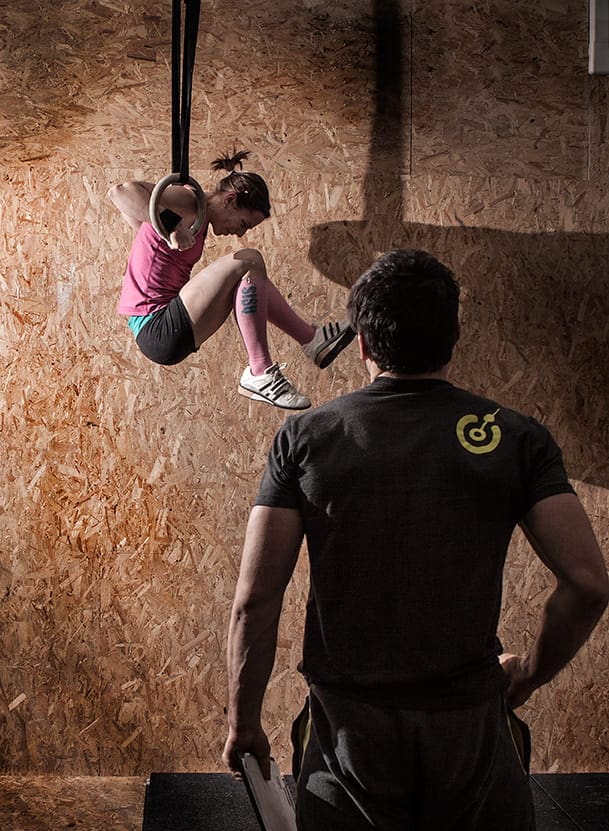 © Savannah Wishart
If I start as a beginner – how does my training in the first month look like?
First we will do an introductory session that will allow me to identify several things: your strength, your coordination, the way you move … etc. After that lesson, you will take a few appointments to set up a total of 6 sessions to learn the fundamentals (squat, weightlifting movements etc.)
Do you organize any internal or open competitions?
Last year, with two friends, also owners of a CrossFit Box in the south of France, we organized a competition. It was a great experience, allowing all of our members to compete. This happened when CrossFit was introduced in France.
Do you have links to other boxes?
I talk a lot with Marvin of CrossFit Montpellier, Nicolas of CrossFit Lyon and Boris of CrossFit 064.
© Savannah Wishart
Can I drop in if I am passing your city? Who do I have to contact?
I would welcome you with great pleasure. Contact me by e-mail : kulturefit@gmail.com
The photocredit goes to Savannah Wishart from Primal Revolutions.
---
You want to see your box featured here? Get in touch!
For any comments, questions or suggestions use the comment box below ↓