Mat Fraser grew up in Colchester, Vermont playing  football and spending time outdoors. Despite his success in football his heart was in Olympic weightlifting.  In 2008, Mat Fraser packed his bags and moved to the Olympic Training Center in Colorado Springs, Colo. By thirteen Fraser won his first national title and in 2009 he was the junior national champion in Olympic weightlifting.
He trained in Ohio for two years before he broke his L5 vertebrae while preparing to compete in Romania at the Junior World Weightlifting Championship. "It was just a combination of lifting too heavy, too often and without the right preparation," Fraser said. The injury required surgery and shattered his dreams of earning a spot on Team USA for the 2016 Olympics.
Fraser began lifting again at Champlain Valley CrossFit in 2012,temporarily hitting a WOD. Fraser continued with CrossFit, noticing the advantage he had with an Olympic weightlifting background, . In the 2013 CrossFit Open, Fraser qualified for the North East Regionals. He went on to place 5th overall, missing the 2013 Reebok CrossFit Games by two spots. The rookie athlete came back for the 2014 CrossFit open with a 1st place win at the East Coast Championship. Mat Fraser qualified for the 2014 Reebok CrossFit Games at the Northeast Regionals. He went on to place 2nd at The Games in 2014. In 2015 , Fraser placed 2nd for the second year in a row. Fraser was not satisfied, "Second place sucks."
The 2016 season was all Mat Fraser. He placed 7th in the open, and 1st in the East Regional. With ten finishes in the top five at the 2016 Reebok CrossFit Games, Mat Fraser was crowned the fittest on earth.
Highlights
2016 – 1st Place – CrossFit Games
2016 – 1st Place – East Coast Championships
2015 – 2nd Place – CrossFit Games
2015 – 1st Place – East Coast Championships
2014 – 1st Place – Granite Games
2014 – 1st Place – Crush Games
2014 – 2nd Place – Crossfit Games
2014 – 1st Place – Northeast Regionals
2014 1st Place – East Coast Championships
2013 5th Place – Northeast Regionals
2013 1st Place – East Coast Championships
2013 1st Place – Beast of the East
Personal Stats
Nickname: Mat
Age: 27
Weight: 185
Height: 5'6″
From: Vermont
Current Residence: Vermont
Began Crossfit: 2013
Affiliate: Champlain Valley CrossFit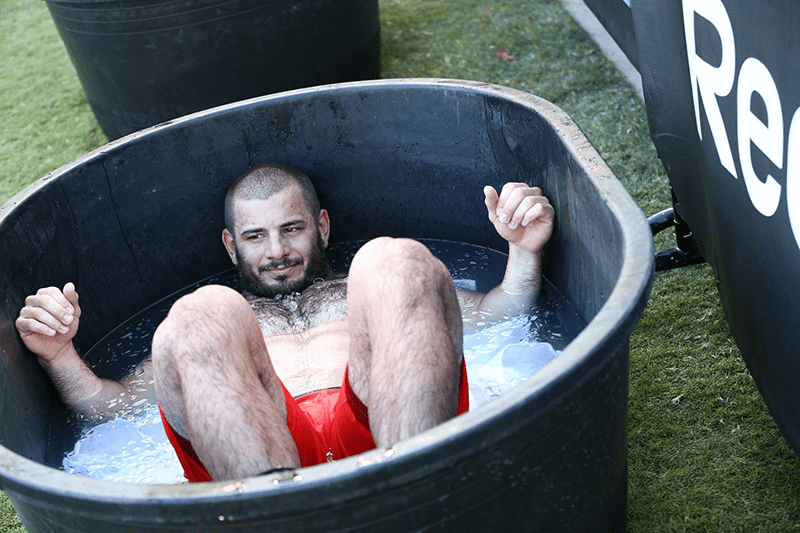 Barbell Stats
Snatch – 315#
Clean & Jerk – 375#
Back Squat – 485#
Front Squat – 405#
Jerk – 395#
OH Squat – 385#
Fran – 2:09
Isabel – 1:19
Grace – 1:23
50 HSPU – 55 Seconds
CrossFit Games Winner Mat Fraser Explains The Mentality of A Champion
5 Crossfit lessons to learn from Mat Fraser
---
mat fraser ice bath crossfit games photographs © CrossFit Inc