Nicole Carroll, Julie Foucher and Matt Chan have all resigned from their positions within CrossFit HQ.
Their decision comes after a highly disrespectful email sent to a nine-year affiliate owner became public and an insensitive tweet mocking the murder of George Floyd and the current coronavirus pandemic.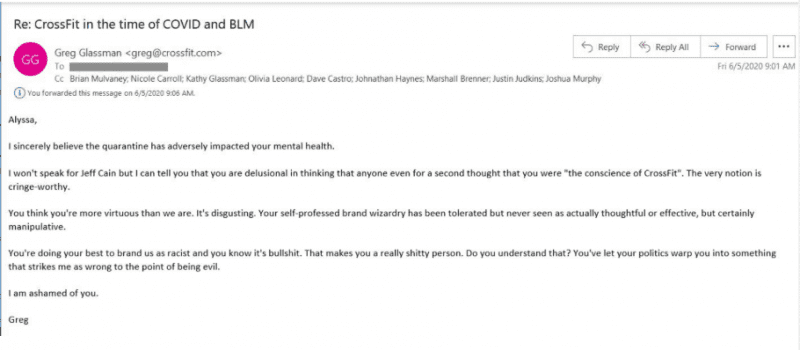 Source: Rocket Community Fitness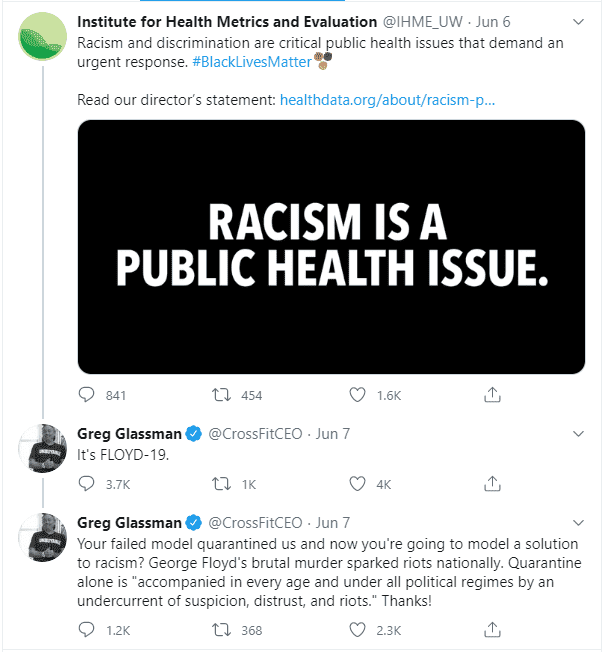 Nicole Carroll was the Director of Training at CrossFit and had worked for the brand for over 16 years. According to the Morning Chalk Up, she resigned via email late Sunday night.
"Unfortunately, a line has been drawn to where each of us will be held accountable for words that do not represent who we have been. Our loyalties will come into conflict with our values; individually and as a community," Carroll wrote on her email.
"We will be subjected to defend ourselves against all matter of attacks. The pain and lived reality of the black community has been mocked, and the sincere hurt, confusion, anxiety and hopelessness that I know many of you feel over current events has been disregarded."
She continues to say CrossFit employees have been left to decide between their livelihood and aligning with something they do not believe in, at a time of great economic and social instability.
"In my greatest of conscience I can not stand with that," Carroll continues before announcing her resignation as Director of Training from CrossFit Inc.
JULIE FOUCHER AND MATT CHAN RESIGN
Former athletes, CrossFit Games podium finishers and CrossFit Seminar Staff members Matt Chan and Julie Foucher took to social media to announce their resignations.
"I cannot continue to work for an organisation that is run by someone who is so disrespectful to his affiliates, his community, and the world," she wrote in a post addressed to Greg Glassman. "My moral compass will not allow me to stay silent or defend this type of behavior, which is what I'd be expected to do if I were still working for the company."
https://www.instagram.com/p/CBKKcT1BNzQ/
Matt Chan also publicly announced his resignation through an Instagram post.
"Insensitivity is a part of racism that has been brushed under the rug by many 'non-racists'. By unconsciously minimizing insensitive statements, we perpetuate the problem leading to systemic acceptance," he wrote.
"Greg Glassman's insensitive statement on twitter comes at a time when the CrossFit community needs support NOT a leader who undermines their hard work during such uncertain times," he concluded.
https://www.instagram.com/p/CBJn8ZAjUOk/
The resignations come as hundreds of Boxes around the world have decided to disaffiliate from CrossFit unless changes to the management of CrossFit are made.
Many brands who have supported CrossFit in the past have also cut ties with the company.
Greg Glassman apologised for his remarks on Monday. You can read his full apology below: