We had a lot of ideas. Gastro project? Own products? An Event?
How did we come up with an idea for a Paleo Convention?
We also wanted to make the broad spectrum of this lifestyle accessible to as many people as possible, those who still had no point of contact and those who are deterred perhaps from the "Stone Age Image" – thanks to all media!
So we came up with the concept for the Paleo Convention! The most important four areas for a full and healthy life are: diet, exercise, thought, social interaction. All this could be combined in the event "Paleo Convention".
One part is the market and trade – these are available against a small fee of two euros. This part offers visitors 20-30 European exhibitors and food stands as well as sports competitions and shows (calisthenics, Outdoorgym) and plenty of opportunities to soak in the sun not only for vitamin D, but also to get to know other interested parties. The second part is the symposium with presentations and workshops. In the exclusive area about 200-250 visitors have the opportunity to learn from our fantastic speakers.
What about the experts and speakers?
We have, in addition to many renowned experts from Germany, invited some international guests. Among Paul's and my favorite Paul Jaminet ("Perfect Health Diet"), delighted the "Fitness Explorer" Daryll Edwards from London and Adel Moussa. His blog suppversity.com is loved by the professionals since five years and quoted by Robb Wolf, Mark Sisson and other sizes of the community.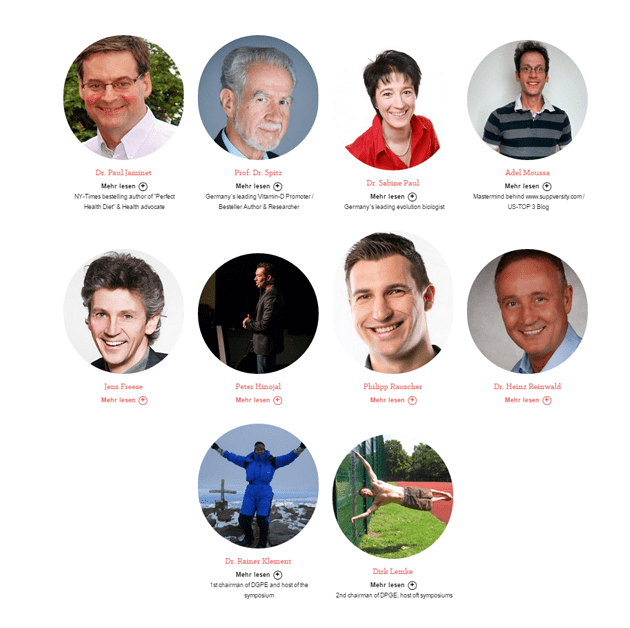 In addition, participants can take part in numerous workshops (Kettlebell, Animal Movement, yoga, handstand, etc.).
Can I also join the movement and Paleo workshops?
You have to. The workshops run in parallel to the lectures. So everyone can decide whether they prefer to do something for the brain or for legs. The Movement Workshops will always take about 45 minutes and take place in small groups.
Barefoot Academy with Emanuel Bohlander ("Learn to run")
Kettlebell-Beginners with Johannes Kwella
How to do a proper handstand with Konrad Maas
Primal Play with Darryl Edwards (Primal Movement)
Natural Movement with Josef Baatz (Student of Ido Portal, Most famous Movement-Coach in Berlin)
The leaders are all coaches/trainers/teachers and are able to respond to every performance level. Most workshops are about basic elements of the movement or basics of Paleo nutrition. Each workshop is scheduled to take place twice a day. If the weather cooperates, we will relocate some workshops outside.
When and where?
 Berlin, Germany on July 25th.
More info can be found on the official website: paleoconvention.org
All BOXROX readers get a special 15 % discount on tickets: Paleo Convention tickets