With a dream of reaching the top level, especially younger athletes make a lot of wrong decisions. We asked Erwin what he thinks (and sees) are the three biggest mistakes aspiring athletes are making.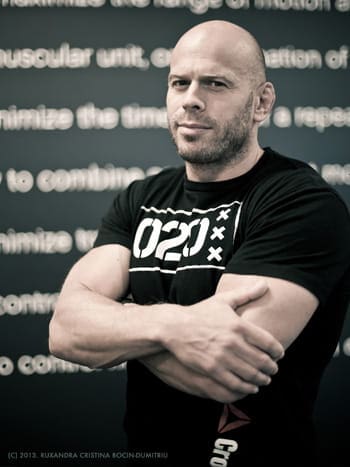 Erwin van Beek has always been involved in sports: starting with Judo at the age of 4, wining more than 15 national medals. He graduated from ALO (sports academy), was drafted for the Royal Military Police Force and later worked for Dutch Police Academy where he was responsible for trainer education of special military and police unites. He found Crossfit in 2008, completed trainer certificates and opened his own box Reebok CrossFit 020 Amsterdam in 2010. Erwin is two-time CrossFit Games 40-44 Master athlete, finishing 4th in 2013.
More: Interview with Erwin van Beek
---
BOXROX: What do you think are the biggest mistakes aspiring athletes – people who want to compete in Crossfit make? What do you think holds them back from reaching the top?
Erwin: There are a few mistakes that are popping into my head right now:
Because of YouTube and all the other online sources available today, you can simply "just grab" the information from the internet. And this is the problem because "everyone is an expert these days". Not that it's a bad thing to absorb information in this way, but because I see a few things happening:
1. Don't concentrate solely on the training and numbers of the Games athletes.
It looks easy when you see Rich Froning and other athletes perform at the Games, but he and let's say the top 100(0) are exceptional. You can watch and admire and want it too, but don't think it comes overnight (I am not saying to lower your goals but you want to be current and set your goals step by step). Becoming such an athlete takes several years of hard training. People think one or two years is long, but I tell them think more in 5-10, and more years in total.
2. Don't get overexcited.
In the beginning you'll get strong really fast: you're learning new movements every day and hitting PRs like it's nothing. But after a year it might get tougher. A lot of people drop out after it gets more difficult (to hit PRs), or because it's time to commit to a long term goal and they simply can't commit to it. Again always plan multiple years. Don't think you will become "a champ" (or get long term results) just like that. And more training is not always better, but better training is.
3. Don't try to figure it all out by yourself.
Find and search a good coach and take some personal training once in a while. Getting a- or a couple of certificates doesn't make you an expert. If you really want to perform and become better together with a multiple year plan, you need a coach to plan it with you. Don't ask the person next to you during the class, but commit to a program, to the coach and listen. A good coach in my opinion must have a full resume of both education/the right experience and achievements (in teaching and guiding athletes).