With 2 second place finishes, Sam Briggs has secured the top spot for herself after the first two events at The Dubai CrossFit Championship.
After recovering from a serious injury earlier in the year, Sam Briggs competed in the Masters division at the 2018 CrossFit Games, where Anna Tobias took the win. She has fought hard to regain her fitness, and the Engine is clearly keen to make her mark as we move forward into a new era of CrossFit.
The Dubai CrossFit Championship is stacked full of CrossFit Games athletes such as Laura Horvath, Sara Sigmundsdottir, Bethany Shadburne, Jamie Greene and Eik Gylfadottir among others. Notable is the sterling work of young Slovak athlete Karin Frey, currently in 4th position with 7th and 3rd place finishes so far.
https://www.instagram.com/p/BrQZG6cDK4R/
Check out the Men's competition at The Dubai CrossFit Championship
EVENT 1
For Time (15 Minute Time Cap)
21 – 15 – 9
Dual KB Snatch 24 kg / 16 kg
Dual KB Front Squat 24 kg / 16 kg
350m swim
EVENT 2
Conditions in the sea were rough, with a large swell producing large waves that athletes had to battle through.
For Time (15 Minute Time Cap)
800m Assault Air Runner
350m swim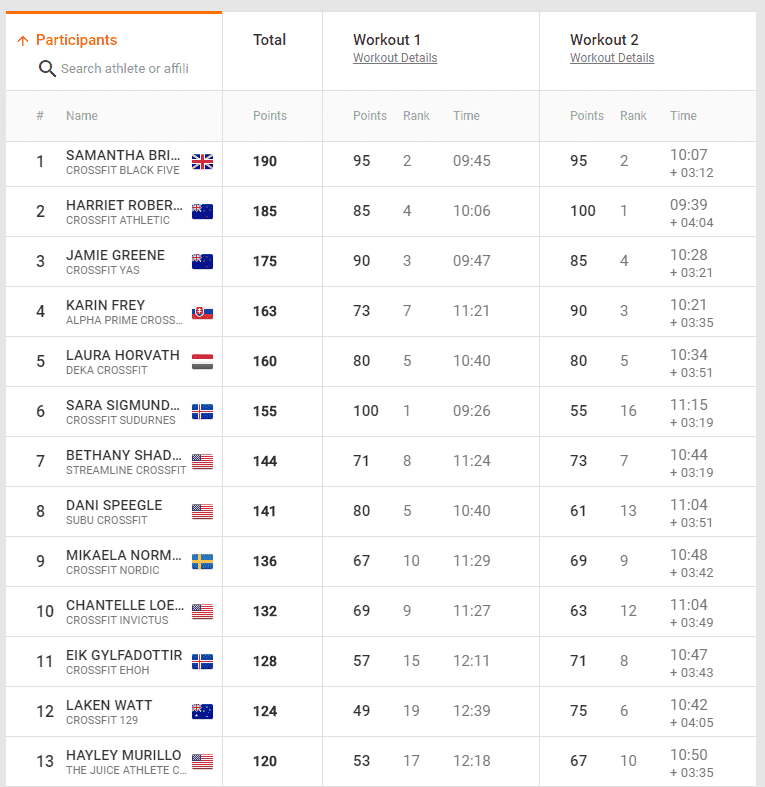 Source: Dubai CrossFIt Championship
The Dubai CrossFit® Championship is a four-day CrossFit, Inc.-sanctioned competition taking place in Dubai, United Arab Emirates with the goal of bringing together individual and team athletes from around the world to compete in the spirit of fitness.
The Dubai CrossFit® Championship (DCC) previously known as DFC has been attracting athletes of the highest caliber since its initiation in 2012, and continues to provide the excitement and challenge sought by athletes internationally.
HISTORY OF THE DUBAI CROSSFIT CHAMPIONSHIP
2018
The Dubai CrossFit® Championship is the first CrossFit®, Inc. – sanctioned event in the world rewarding the first place male, female and team competitors with a qualification to the 2019 Rebook CrossFit Games®.
2016 – 2017
Expanding on the previous success of the event, the introduction of the online qualifier allowed the Dubai CrossFit® Championship to reach more athletes than ever before. In 2017 we welcomed a total of 72 athletes from 19 different countries representing four continents, including 32 CrossFit Games® athletes.
2012 – 2015
Prior to the online qualifier athletes were required to travel to Dubai and compete across multiple gyms and venues to earn a spot to the finals a week later which provided a great platform for the local fitness community to thrive and compete amongst themselves and set the stage for the years to come.