WALL BALL TECHNIQUE TIPS – BREATHE ON EVERY REP
Your muscles need oxygen to produce energy, and you need a fair bit of energy to explode out of the squat and use that force to throw the ball overhead.
By breathing on every rep, you ensure you continue to provide oxygen to your working muscles and, with it, are able to release enough energy to perform the reps as smoothly as possible.
GIVE YOUR ARMS A REST
Holding your arms above your head after you've thrown the ball to the target might seem like the obvious thing to do, but it's also the most tying.
Don't wait for the ball to come back down with your arms extended; this will unnecessarily tire your shoulders. Instead, quickly circle your arms around (like you do when warming up) in the time it takes for the ball reach the mark and come back down.
You can also just let you arms drop back down when the ball is high to help reduce fatigue in your deltoids.
Unless you have superb shoulder strength, bring your arms down or circle them between reps to give them a rest.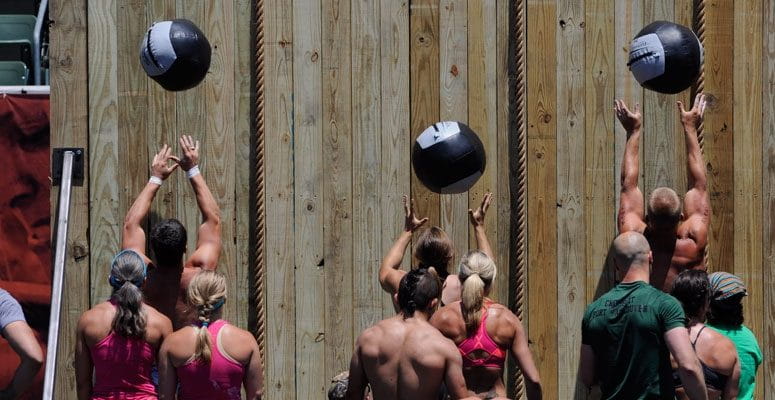 KEEP YOUR FEET ON THE FLOOR
Short athletes especially tend to naturally do a little jump at the top of a wall ball to get that extra height. While it might seem this helps, the exercise becomes very inefficient as you'll be forced to 'reset' your feet in every rep.
Concentrating on keeping your feet on the floor will help your wall balls feel more efficient but, as all tips above, it's something you need to concentrate on otherwise it won't happen.
Try out our technique tips to improve your wall ball efficiency in CrossFit and let us know how you get on below!
7 Reasons Why CrossFitters Hate Wall Balls