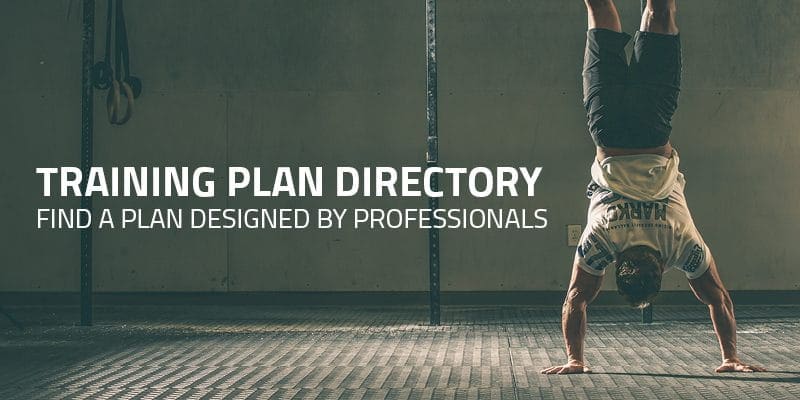 Training
Training Plans
Using a Training Plan is a great way to set your goals, whether it is Crossfit, weightlifting or gymnastics! Our Training plan directory features programs from the most experienced coaches.
If you have decided to step up your game, then you will eventually need to choose one of the many Training Plans. Because there is such a huge range to pick from, we narrowed them down for you to look through and find the best one to suit your needs. The directory will constantly grow and expand so you have the best possible overview of all the Training plans that are out there.
Following a Training Plan is a great way to set and achieve your goals, without losing the unexpected and constantly varied aspect that we all know and love so much. Careful programming will allow you to make more effective progress, target weaknesses, increase strengths and become a much better all-round athlete. It will help you to develop technique, conditioning and strength in efficient and challenging ways, bringing you closer every single day to becoming the best version of yourself.
Check out our newly added programs...
Aerobic Capacity
Designed for intermediate to competitive athletes, this is a personalised weekly endurance program by Chris Hinshaw – CrossFit Games coach and 10x Ironman competitor – for the CrossFit athlete that wants to optimize their aerobic capacity and develop their endurance. Coach Hinshaw has designed a supplemental training program that starts with moderate aerobic workouts and progresses into race-pace simulated intervals. With no gym access required, the program centres around 2 weekly training sessions, each about 60 minutes in duration.
The Training Plan
The Training Plan is your guide to becoming the athlete you want to be. Since 2010, athletes like you have used The Training Plan to win local competitions, qualify for Regionals and podium at the CrossFit Games. Whether your goal is to thrive at local competitions or to stand on the podium at the CrossFit Games, The Training Plan team provides you with the right plan, guidance and support for your journey.
The System
The System is a program for competitive or advanced athletes created by Mikko Salo, winner of the CF Games 2009. Every detail of the program is closely thought out and workouts are tested by Mikko himself. The goal is to develop a large engine and skill base that an athlete is then able to use to progress and unlock their whole strength and power potential. It includes 5 workout sessions a week, plus 4 optional additional sessions, depending on one's ability or opportunity to work out.