Meredith Root finished 30th at the 2018 CrossFit Games, has four CrossFit Regionals appearances, has been coaching CrossFit for six years and is a biological engineer. She was also part of the athlete advisory council in 2020.
She has been sharing advice and workouts on her Instagram account for the past few years.
With such a résumé, you would be a fool not to learn something from her. Here are 8 of her workouts and some training tips from Meredith Root.
Workout 1
EMOM in 20 minutes
2 bar muscle-up
1 snatch + overhead squat
Pick your own weight. "We started at 125lb and ended at 155lb," she wrote on her Instagram.
Accept That You Suck at It
"THE FIRST STEP TO NOT SUCKING AT SOMETHING IS TO FIRST REALIZE AND EMBRACE THAT YOU DO, IN FACT, SUCK AT IT. PRACTISING EVERY DAY AND LEARNING AS MUCH AS I CAN ABOUT IT WILL EVENTUALLY MAKE ME GOOD AT IT, BUT ONLY IF I PUT IN THE WORK.
Workout 2
2 sets as fast as possible:
21 pull-ups
18 strickt handstand push-ups
15 chest-to-bar pull-ups
12 strict handstand push-ups
9 bar muscle-ups
Rest 5 minutes
Workout 3
5k Bike Erg – 5/10 Effort
4k Bike Erg
3k Bike Erg
2k Bike Erg
1k Bike Erg – 10/10 Effort
"My heart rate was 189 at the end of this."
Listen to Your Body
Meredith Root did 30 muscle-ups in under 3 minutes. "An elite time, but only because of the years before this spent as a novice," she wrote. "We do not expect beginner skiers to hurl themselves down an Olympic downhill course, they are on the bunny slopes."
WHEN YOU STEP ON THAT COMPETITION FLOOR, YOUR BODY IS GOING TO REMEMBER EVERYTHING THAT YOU HAVE TAUGHT IT.
Workout 4 – Meredith Root
20 minute AMRAP:
200 metres run
1… 2…. 3… ring muscle-up
3… 6…. 9…. airsquats
Start with a 200-metre run, one ring and three airsquats. That is one round. Proceed to run another 200 metres, two ring muscle-ups and 6 airsquats. That is round number 2. Continue until the clock runs out and count how many rounds you managed to complete.
Workout 5
For time:
21 pull-ups
15 CTB pull-ups
9 bar muscle-ups
Workout 6
EMOM in 20 minutes
5 burpee box jump-over
1 Deadlift + 1 Hang Power Clean + 1 Push Jerk (145lb)
"Repeatability is important. Train it."
Workout 7
For time:
10 unbroken DB push press 35/50 per hand
10 unbroken DB Pendlay row 35/50 per hand
Meredith Root finished in 3:11.
Try New Things
This year Meredith Root competed the Open in the equipment-free version. She replied to comments saying that she still wanted to participate in the fitness challenge, but did not intend to compete in the season.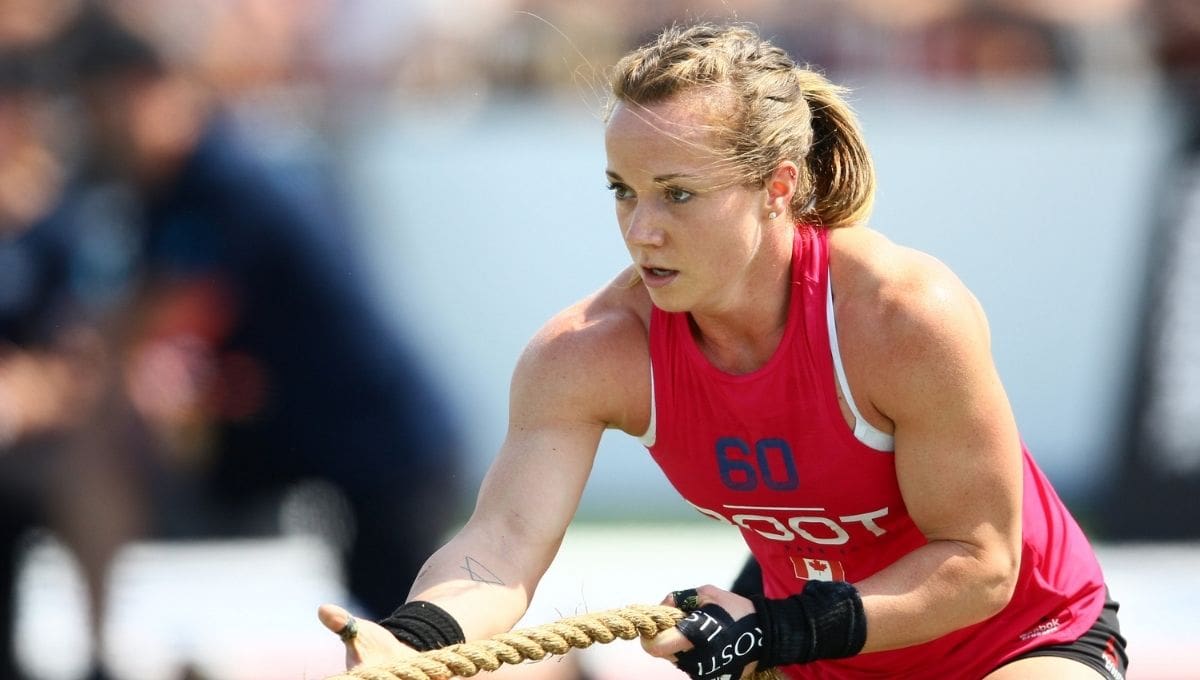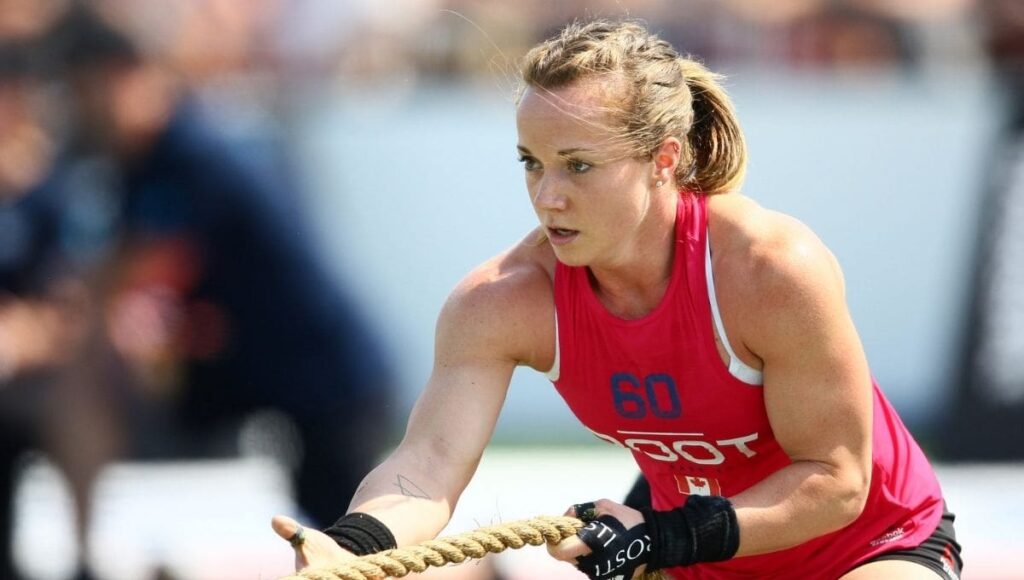 "For someone out there, making it to the Quarterfinals stage is going to be a big accomplishment and I don't want to take that away by competing for a Semifinals spot that I won't take."
"I'M LOOKING FORWARD TO THE UNIQUE CHALLENGE AND PAIN THAT WILL SURELY COME WITHOUT ANY EQUIPMENT."
Practice Breathing Techniques
"Practice breathing techniques right after a workout or during a rest period. I like box breathing which is 4 seconds inhale, 4 seconds hold, 4 seconds exhale, 4 seconds hold.Not only will that teach you how to control your breathing, but it has a pretty profound effect on your parasympathetic nervous system as well."
Workout 8 – Meredith Root
Every 2 minutes
20 pull-ups
1 squat clean (165/170/175/180/185lb)
Perform five sets, increasing the squat clean by 5 pounds every new set.