Danielle Brandon is one of America's most prominent CrossFit athletes. Hailing from the US, Brandon has qualified for the CrossFit Games multiple times, finishing 9th in 2019, 15th in 2020 and 11th in 2021.
She has won over a lot of fans with her incredible shows of strength and endurance. She currently trains in Las Vegas, Nevada, with Underdogs Athletics alongside 2020's Third Fittest Woman on Earth, Kari Pearce, and Bethany Shadburne.
Brandon has a background in track and field, diving and gymnastics; she was part of four state championship teams in track throughout high school, where she competed in the pole vault and 4×400, as well as two in gymnastics, and placed among the top five in the state in diving each season.
Competing in pole vault, she advanced to the NCAA West Preliminary in 2016 and podiumed at multiple Big Sky Championships.
She competed in the pole vault throughout college with great success.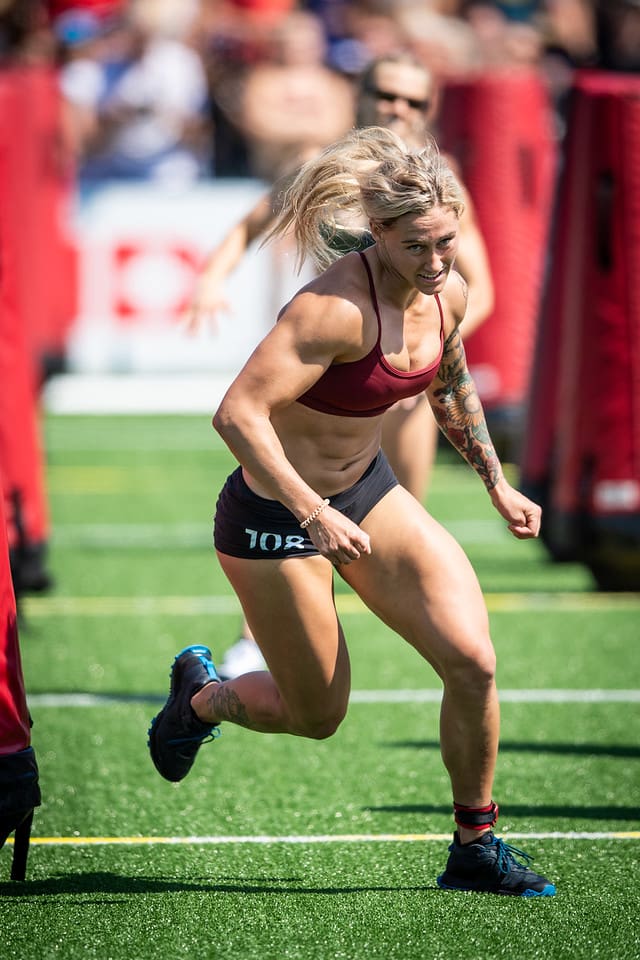 Transformation: Danielle Brandon before CrossFit
Before transitioning to CrossFit full time, Danielle Brandon competed primarily in track and field.
Her event was the pole vault, and she competed outdoors and indoors.
This is Danielle before she transitioned into competitive CrossFit.
Who is CrossFit Athlete Danielle Brandon
Danielle Brandon made her CrossFit Games debut in 2019 after finishing 16th overall in the worldwide CrossFit Open, although her first Open was in 2014.
She had a fairly successful 2020 season, finishing 3rd at the Mayhem Classic Sanctional and finishing 15th after stage 1 of the CrossFit Games.
She was then invited to be part of the CrossFit Games finals Demo Team; a selected team of athletes who test and demonstrate the workouts for the upcoming Games.
Brandon also had an impressive 2021 season. She secured her third CrossFit Games qualifying spot after a podium finish at the West Coast Classic Semifinal and finished a strong 11th place at the Games after much adversity.
5 Workouts from Danielle Brandon
*Text by Danielle Brandon
Workout 1
loving weighted MU!!! Strict ones?? not so much especially after a gnarly metcon @justincotler 🥴 workout was:
2 RDS
30 KB SWINGS 70/53
40 TTB
50 burpees to target
60/50 CAL ROW
🥵 then hit an 8 min emom:
-rest 2:00-
& of course TEMPO DB OVHS W/ the 100# 💁🏼‍♀️🥳
Workout 2
Here's a good full body workout that will be sure to get your shoulders, core, AND legs!!!
4 rounds of:
10 devils press
25 GHD sit ups
50 FT DB front rack walking lunges {all done with 2 50's/35's}
Workout 3
nothing like echo bike intervals
16x
Workout 4
5x –
5 DBALL over the shoulder
15 burpees
1 legless (20ft)
50 ft DBALL carry
1 set every 3:00 🥵
Workout 5
4x
5 mu
50 ft front rack lunges
50 ft hswalk
50 ft front rack lunges
5 mu
rest 2:30
Bonus Workout
things I'm thankful for – another day… oh & coffee 😴 finally got moving today with
5 rounds of
20 cal ab
10 dball step overs
20 ttb
and it was 👌🏼