Angelo Rogers, a first responder from Norfolk, Virginia, created and posted the tribute WOD with the following caption:
"A WOD dedicated to George Floyd and his family. I created this workout as a positive way to channel the pain and emotions so many of us are feeling as we witness the continued injustice so many of us still face today. This is a tribute to George Floyd, this is a timed workout, push yourself. It's designed to challenge your mind, body, and heart. If you can't do this workout, consider donating to his family (link below), if you can't donate, do something positive to make a change. Let's leave it better than we found it ?? ?? Please Share!"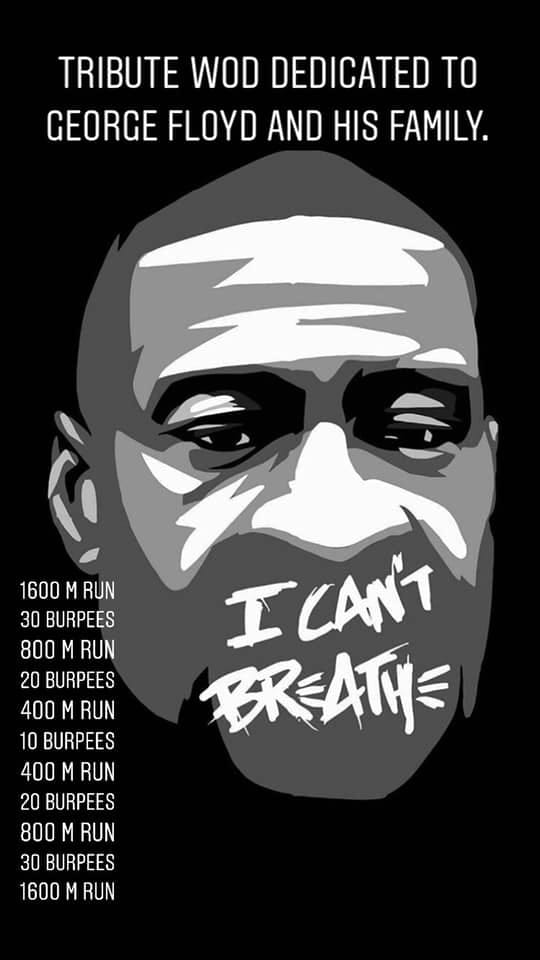 The memorial workout was added to WODwell, an excellent site that houses a huge number of CrossFit workouts.
Angelo responded…
"I'm so incredibly honored and humbled that my tribute workout in memory of George Floyd was accepted and published by WODwell on all platforms. Let's come together, be positive, and get some work in!"
"I was inspired to create this workout simply because as a society we are all hurting in some way, shape or form right now. The loss of George Floyd couldn't have come at a more inopportune time. As a young African American man and first responder I want the best outcome for all people. We need to come together, and I believe any platform or arena where functional fitness is a viable outlet can help move us in the right direction. I think what we all need, myself included is a positive way to channel our emotions and pain during these times of injustice. If this workout helps at least one person to push through and challenge themselves in a positive way then I have succeeded.
I think the name "I Can't Breathe" is an important reminder of the injustice that has sparked the need for change in all of us.
The times we are experiencing humble us and remind us how much we can really push ourselves even when life seems to be crushing down on top of us. The message is not meant to offend anyone. The title is not meant to be a play on words. It's meant to be a reminder of the injustice, to accept the challenge of change and adversity head on. ??"
#georgefloydchallenge
#justiceforgeorgefloyd
#GeorgeFloyd
#memorialwod
You can donate to the official George Floyd Memorial Fund here.
Other memorial WODs in tribute to George Floyd have also been created.