Wall Ball Abs Workouts – KELLY
5 Rounds For Time
400 meter Run
30 Box Jumps (24/20 in)
30 Wall Ball Shots (20/14 lb)
With a running clock, as fast as possible perform the prescribed work in the order written for 5 rounds.
Score is the time on the clock when the last round of Wall Ball Shots is completed.
Good Times for "Kelly"
– Beginner: 34-40 minutes
– Intermediate: 25-31 minutes
– Advanced: 19-22 minutes
– Elite: <18 minutes
Tips and Strategy
Start out with a moderate pace on this high-volume benchmark workout—a fast pace out of the gate will prove to be a mistake. Quality breathing during all of today's movements (especially the Wall Ball Shots) is necessary to keep the heart rate from spiking too high. Match the breath with the movement (i.e. inhale to catch the Medicine Ball, exhale to throw it to the target) to help keep the breath steady and consistent.
Intended Stimulus
This should be a long grind with a healthy number of reps. We want you to be able to keep going, but also we want a big resistance from your body saying: "can we stop now, please?" In that delicate and constant battle is where we want you today. Moreover, when you are there we want you to smile and move on. That's the stimulus that'll guide our scaling. If modifying, keep a high number of reps and rounds, but decrease skill and overall workload to match today's capacity. (source: Juan Acevedo)
Scaling Options
Scale the skill level of the Box Jumps and/or the volume of the repetitions/rounds to move smoothly and effectively through the WOD. If the athlete takes longer than 7 minutes to complete the first round, they should scale back. This workout shouldn't take much longer than 35-40 minutes.
Intermediate
5 rounds for time of:
400 meter Run
30 Box Jumps (20/16 in)
30 Wall Ball Shots (14/12 lb, 10 ft)
Beginner 
4 rounds for time of:
200 meter Run
20 Box Step-Ups (20/16 in)
20 Wall Ball Shots (14/12 lb, 9 ft)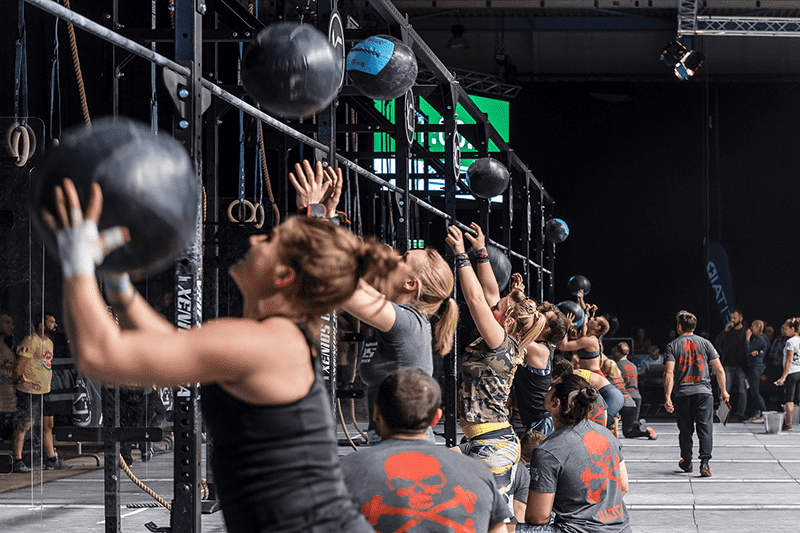 Source: Gensan Italian Showdown
Wall Ball Abs Workouts – OGAR
AMRAP in 14 minutes
3 Snatches (135/95 lb)
1 Muscle-Up
12 Wall Ball Shots (20/14 lb)
JERRY SWINGER
For Time
30 Wall Ball Shots (20/14 lb)
30 Kettlebell Swings (2/1.5 pood)
60 Box Jumps (24/20 in)
30 Kettlebell Swings (2/1.5 pood)
30 Wall Ball Shots (20/14 lb)
ADAM
5 Rounds for Time
7 Chest-to-Bar Pull-Ups
14 Kettlebell Swings (32/24 kg)
21 Wall Ball Shots (9/6 kg)
DVB
For Time
1 mile Run with medicine ball (20/14 lb)
Then 8 Rounds of:
10 Wall Ball Shots (20/14 lb)
1 Rope Climb (15 ft)
Then, 800 meter Run with medicine ball (20/14 lb)
Then 4 Rounds of:
10 Wall Ball Shots (20/14 lb)
1 Rope Climb (15 ft)
Then, 400 meter Run with medicine ball (20/14 lb)
Then 2 Rounds of:
10 Wall Ball Shots (20/14 lb)
1 Rope Climb (15 ft)