ASSAULT RAPID FIRE
5 Rounds for Time
5 Renegade Rows (65/35 lb)
10 Dumbbell Lunges (65/35 lb)
5 Half-Kneeling Presses (65/35 lb)
10 calorie Assault Air Bike
ASSAULT INSANITY
5 Rounds for Time
10 Sumo Deadlift High-Pulls (95/65 lb)
10 Push Presses (95/65 lb)
10 Barbell Lunges (95/65 lb)
10 Burpees
10 calorie Assault Air Bike
ASSAULT FINISHER
AMRAP in 20 minutes
5 Squat Cleans (135/95 lb)
10 Bent Over Rows (135/95 lb)
15 Push-Ups
20 calorie Assault Air Bike
ASSAULT LIFT PYRAMID
For Time
3-6-9-12-15-12-9-6-3 reps each of:
Power Cleans (135/95 lb)
Front Squats (135/95 lb)
Push Presses (135/95 lb)
Calorie Assault Air Bike
DOUBLE TROUBLE
21-15-9 Calories for Time
ASSAULT BELLS
For Time
10-20-30-40-50 Reps of:
Calorie Assault Bike
Russian Kettlebell Swings (30/12 kg)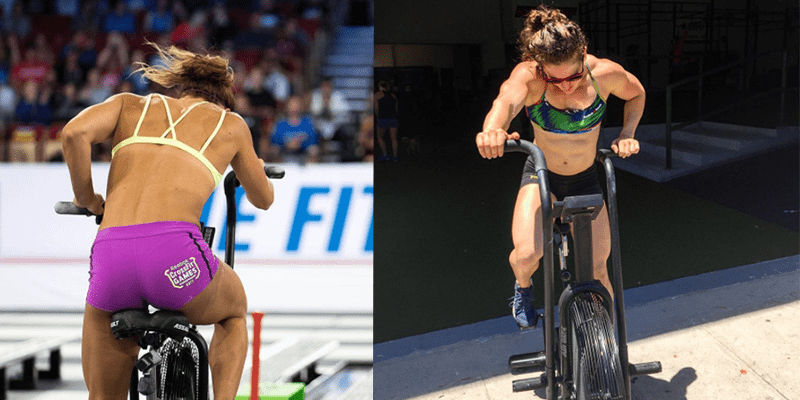 Source: CrossFit Inc / Tia-Clair Toomey
CLC
For Time
8 Rounds of:
8 calorie Assault Bike
8 Double Kettlebell Clean-and-Jerks (2 x 16/12kg)
Then, 8 Rounds of:
8 calorie Assault Bike
8 Single-Arm Kettlebell Clean-and-Jerks (24/16 kg)
SPEED ROUND
AMRAP in 9 minutes
3 Power Cleans (135/95 lb)
3 Front Squats (135/95 lb)
3 Push Jerks (135/95 lb)
9 calorie Assault Air Bike
G-FORCE
5 4-Minute EMOMs in 20 minutes
Minute 1: 20/15 calorie Windbike
Minute 2: Rest
Minute 3: 1 Round of DT (2×50/35 lb)*
Minute 4: Rest
*1 Round of "DT":
12 Deadlifts
9 Hang Power Cleans
6 Push Jerks
I put windbike because I personally have the Echo Bike, but I know gyms have all different bikes…assault bike, concept 2 bike, airdyne, etc… Any of the above are fine. It will suck either way.
In Min 1, the athlete has the full minute to complete 20 Cals (Males) or 15 Cals (Females). The next minute is built-in rest, so if the athlete finishes their bike early, they get extra rest. If the work takes the athlete into the rest min, they just get less rest.
Min 3 is 1 round of a dumbbell "DT" which is based on the hero workout with a barbell "DT." One round of Dumbbell "DT" is 12 Dumbbell Deadlifts, 9 Dumbbell Hang Power Cleans, and 6 Dumbbell Push Jerks. The RX weights are 50/35 lb.
For the dumbbell deadlifts, just the front edge of each dumbbell head needs to touch the outside of the athlete's feet, both heads DO NOT have to touch. For the hang power cleans, the DBs go from the side of the athlete to the shoulders of the athlete clearly breaking the athlete's frontal plane view. The push jerks can be any shoulder to overhead variation, just ensure full lockout is achieved.
Same deal as the calories on the bike. If the athlete finishes the round in the minute of work, they earn extra rest, if their work takes them into Minute 4, they just get less rest.
Athletes need to do 5 rounds of the 4-minute EMOMs to complete the workout.
Scaling
Reduce the number of calories on the bike, and/or the weight of DBs.
ASSAULT ON FRAN
21-15-9 Reps for Time
Thrusters (115/85 lb)
Chest-to-Bar Pull-Ups
Assault Bike (calories)
Weight Loss Journey – HOW TO LOSE WEIGHT
How to lose weight fast – By knowing what and what not to eat, you will maximize your efforts trying to lose fat. Calorie balance is an essential aspect of this understanding.
Weight Loss Journey – UNDERSTANDING CALORIE BALANCE
Calorie balance is the ratio between calories taken in and calories expended in any one individual at any given time. This is the MOST IMPORTANT factor when it comes to changing your weight. What you actually need on a daily basis will be individual to you based on your age, lifestyle and fitness habits.
There are 3 states of calorie balance:
Negative calorie balance (hypocaloric diet)
Calorie balance (eucaloric diet)
Positive Calorie balance (hypercaloric diet)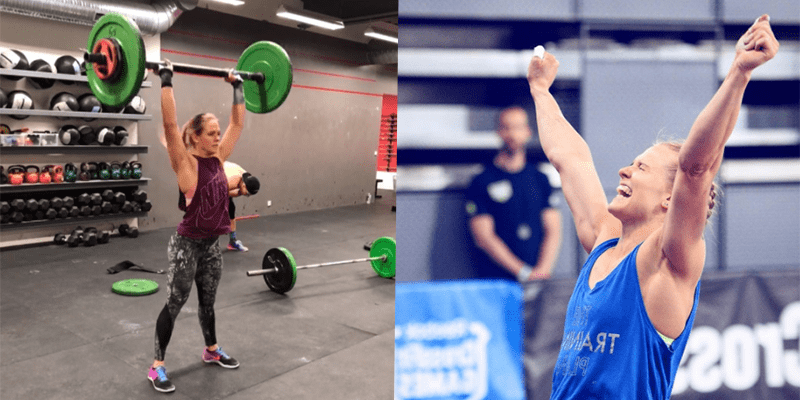 It is impossible to be in more than one of these states at any one time.
A negative calorie balance will always result in weight loss. "Even though body water alterations may occasionally mask this loss of tissue, it is always going to occur, with ZERO exceptions so far discovered."
A eucalorie balance means that the athlete will not gain or lose weight because they expend as many calories as they consume.
A positive calorie balance means that the individual is consuming more calories than they are using.
Weight Loss Journey – EATING THE RIGHT MACRO NUTRIENTS
The second most important aspect is making sure that you are eating the correct amount of macronutrients that your body needs. Macronutrients consist of:
Protein (4 calories per gram)
Fat (9 calories per gram)
Carbohydrates (4 calories per gram)
There is technically a 4th, alcohol, but I'm not going into that one specifically. However if you drink alcohol, you should know that 1 gram of alcohol has 7 calories and they do count. They just won't build muscle.
The seven tips below will guide you on your way to proper nutrition and efficient weight loss.
1. Your Weight Loss Journey – Cut Sugars and Starches
The most crucial part to cut off in your diet when trying to lose weight is carbohydrates (starches). To give you a little bit of a background, insulin is responsible for storing your fat. Insulin-release is also stimulated when you eat too much sugar that comes from starch or carbohydrates.
The more sugar you eat, the more your body releases insulin, and the more it stores fat. But when insulin goes down, you don't give your body a lot of chance to store up on fat, making it burn more to fuel your body instead.
Another benefit of lowered your insulin level is that it allows your kidneys to do what they are supposed to do – and that is to get rid of excess sodium and water in your body. Excess sodium causes you to bloat up and store the water as weight exces. As soon as you get rid of carbohydrates on the first few weeks of your diet, you will notice you are losing more weight than expected.