The new Nike Metcon 3 Black X Gold Collection has arrived! Building on the legacy of the Nike Metcon 3, they have introduced new models for both women and men. The female version comes with a wolf grey sole combined with the black upper and metallic gold swoosh and detailing.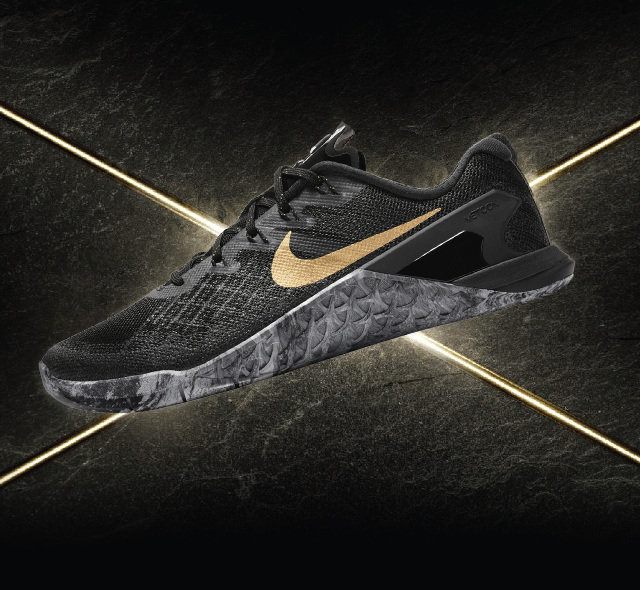 The version for male athletes features a gum sole and an a gold outlined swoosh.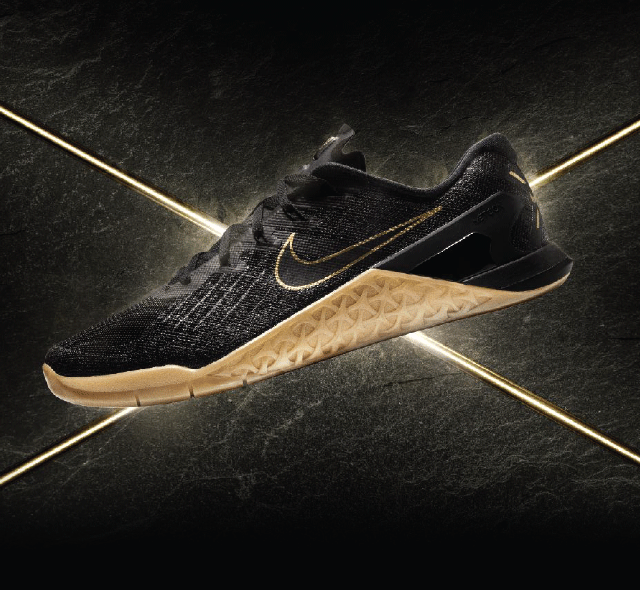 BUILT FOR THE TOUGHEST WORKOUTS
With its updated style, unique colour combination and improved features, this new training shoe will have you smashing your WODs in style.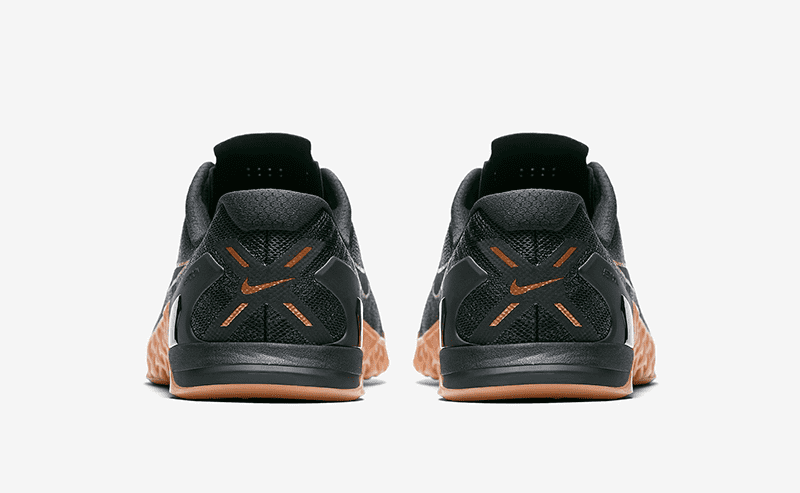 The Nike Metcon 3 Black X Gold training shoe has a branded X on the back of the rear of the design. This references the X of Cross Training and is a visual representation of the four aspects of performance that make up the Nike design principles for functional fitness. These are:
LOCKDOWN  – The athlete's foot must be securely fastened in place to allow for enhanced sprinting, jumping and general responsiveness.
MOBILITY – The shoe must be flexible yet strong. Many movements in functional fitness require flexibility and strength in the forefoot. From walking lunges to split jerks, wall balls to box jumps, the feet of an athlete are required to move with precision.
ADAPTABILITY AND GRIP – The training shoe must be responsive and perform well on all obstacles and equipment. For example, the iconic grip section of the midfoot is perfectly suited for rope climbs. The grippy rubber sole also allows for quick movements.
STABILITY – Explosive, powerful lifts always need a strong and stable base to work from.
FEATURES OF THE NIKE METCON 3 Black X Gold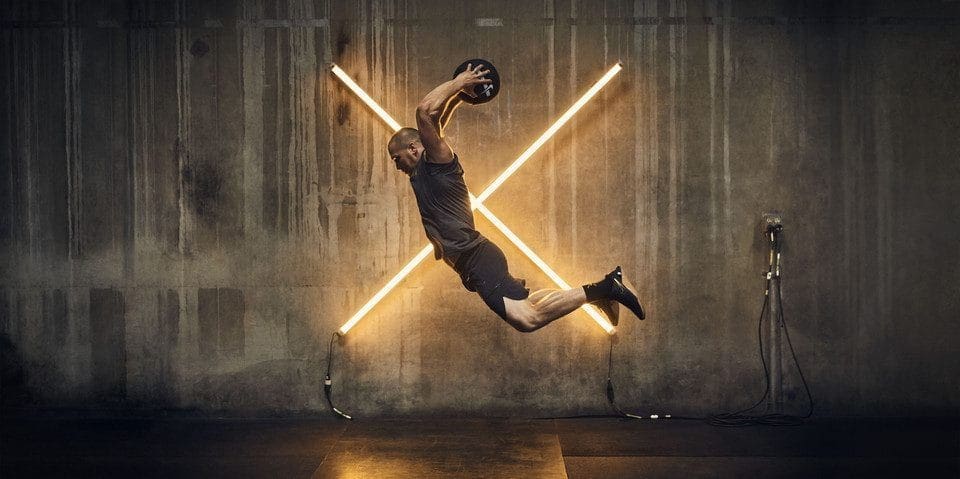 FLAT, STABLE PLATFORM FOR EXPLOSIVE LIFTS AND HIGH-INTENSITY TRAINING
When you are regularly switching between different barbell exercises, or working your way through tough complexes, then you need a strong base to work from. This also applies to exercises such as wall balls that require a great deal of force to be generated from your legs. The same is true for compound lifts such as squats and deadlifts. The stable platform of the Nike Metcon 3 Black X Gold creates a pragmatic foundation and instills confidence – both of which are completely essential when going for that big lift or new PR!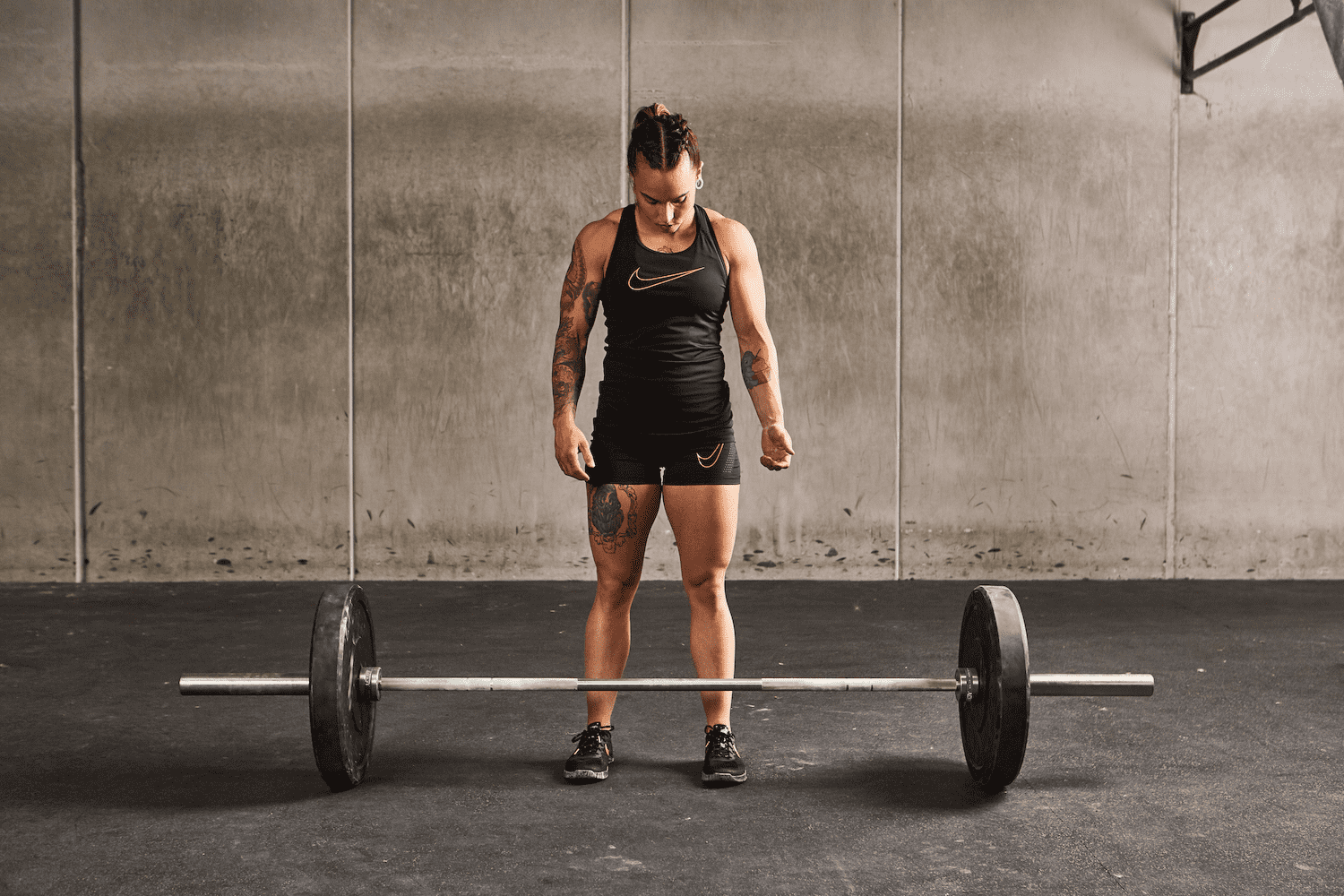 CUSHIONED COMFORT UNDERFOOT SO YOU CAN PUSH THROUGH YOUR WORKOUT
The new insole on the Nike Metcon 3 Black X Gold provides support and comfort without any loss of stability or power. This is especially noticeable on longer workouts involving high rep exercises such as box jumps.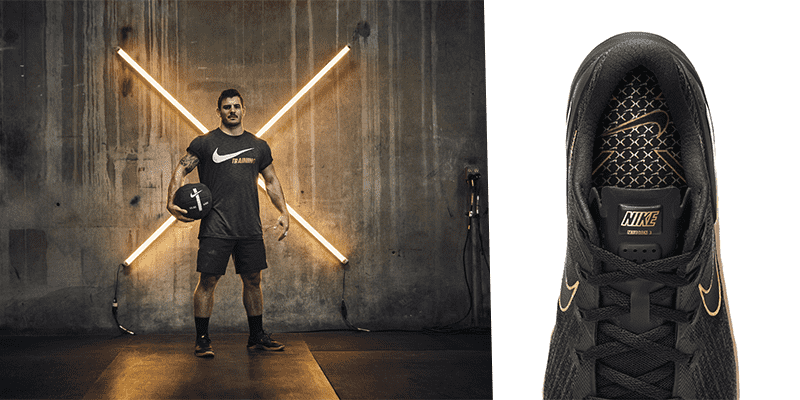 HEEL CLIP HELPS TO REDUCE DRAG DURING HANDSTAND PUSH UPS
All great design offers a simple solution to a complex problem. The specially crafted heel clip minimises the contact surface area between the training shoe and wall when you perform handstand push ups. This helps make the movement easier and smoother, and as you know, any advantage can be a huge benefit when you are training and competing.
TEXTURED RUBBER MIDFOOT FOR DURABILITY DURING ROPE CLIMBS
If you look closely at the image of the sole below you will see that the textured rubber curves around the centre of the midfoot. This gives enhanced support when you want to lock the rope in place whilst climbing.
EXTRA TRACTION FROM STICKY RUBBER SOLE
Its much easier to move well when you feel fresh. Once fatigue sets in, it becomes a lot harder to keep movements efficient. Exercises such as box jump over and bar facing burpees require quick footwork and fast turns. This is where the extra traction that the Nike Metcon 3 Black X Gold provides really comes into its own, enabling you to focus on the task at hand without worrying about slipping whilst you move.
The extra traction is also exceptionally useful for lifting during workouts. When you are working on a snatch one rep max then its time for the Romaleos but for high rep barbell cycling, this additional grip is a big help.
FLYWIRE CABLES OFFER POWERFUL LOCKDOWN
With the Nike Metcon 3 Black X Gold the flywire technology allows you to securely fasten your feet in place and provides a snug feeling of support.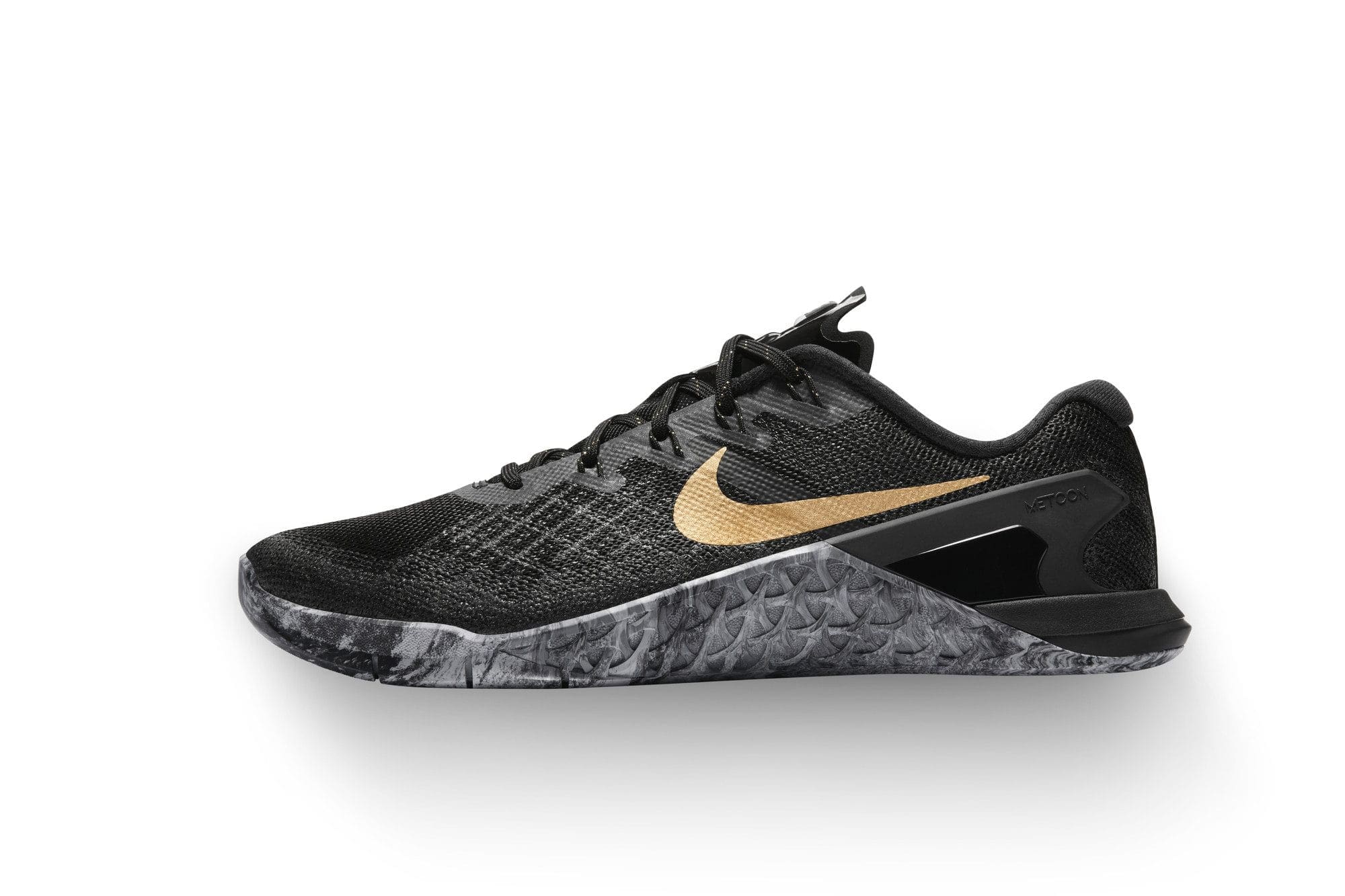 Stretching from the midfoot, the cables are concentrated in areas where they are most needed and more evenly spaced out across other sections of the training shoe. This means you can lace them up and tackle varied workouts that may involve high rep conditioning exercises such as wall balls alongside heavier weightlifting exercises such as deadlifts or squats.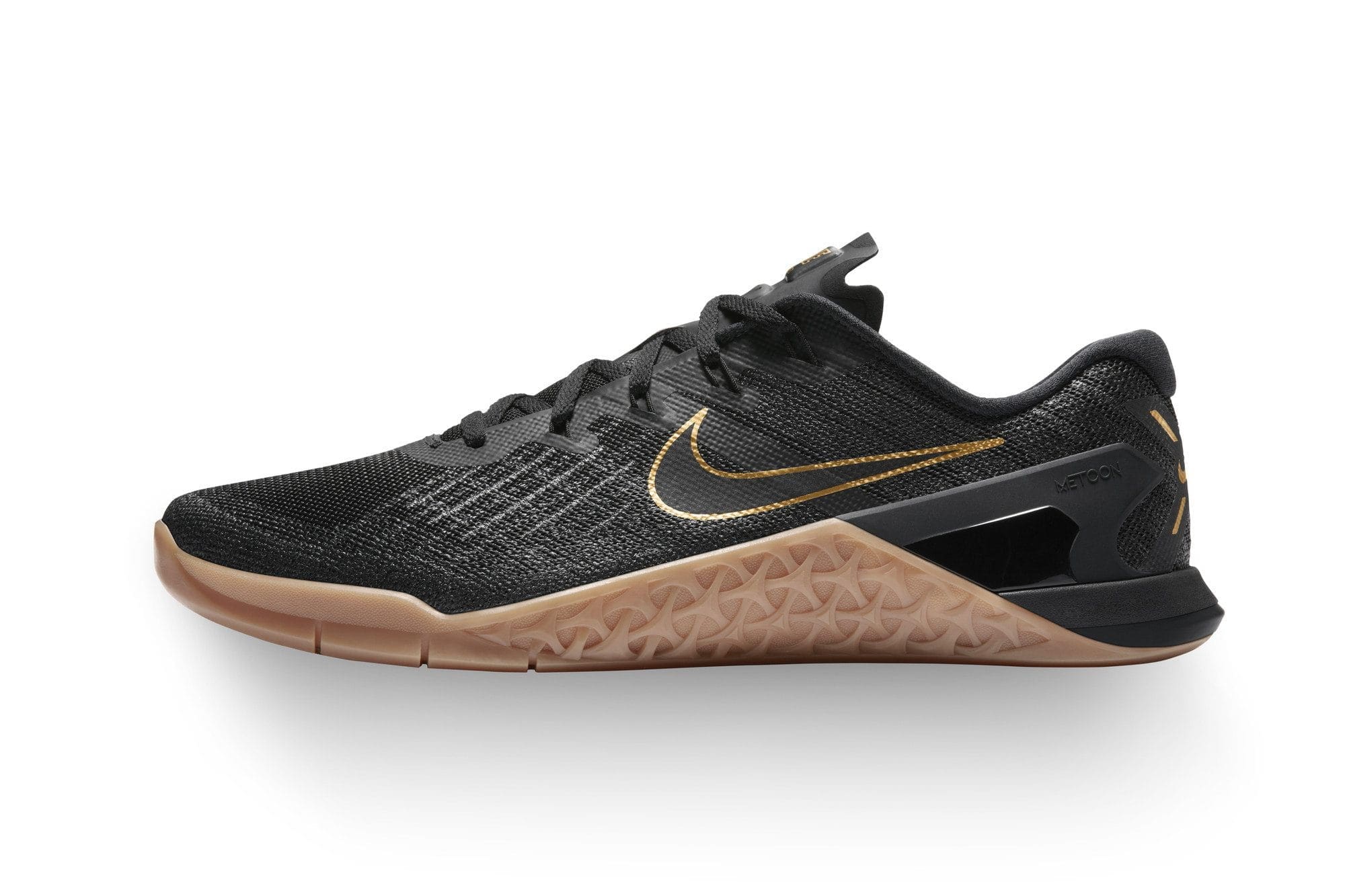 ICONIC STYLE
There is no doubting the striking aesthetic of the Nike Metcon 3 Black X Gold. The gold detailing adds style to the minimal simplicity of the stealth black upper, which is repeated on the X on the back of the shoe and on the insole as well. The gum sole adds a retro, classic feel, and shows a training shoe that is in touch with its history yet fiercely focused on the future. Unfortunately the Nike Metcon 3 Black X Gold was a limited edition and is not available on Nike anymore.
Shop Shoes from the Nike Metcon Collection
Image Sources
Nike-Metcon-3-Black-X-Gold-Collection-Sara-Sigmundsdottir: Nike